Dusted Features

In the latest installment of 'Still Single,' Doug Mosurak checks out singles and LPs of various sizes by Black Dice, Mindflayer, Panda Bear, Yellow Swans, Burning Star Core, Jack Rose, and more.



Still Single: Vol. 3, No. 3
SUBMISSION GUIDELINES
Yours must be a single (or vinyl-only album) pressed on any size of vinyl. CD-Rs of singles will not be reviewed; they will be destroyed. We need the artifact here with original artwork, not some duplicate/digital copy. Only records released within the past six months will qualify for a review.
Still Single now runs bi-monthly, so there is no deadline for submission. I will do my best to make sure that records are reviewed in the order in which they are received.
ANY genre of music will do - don't hesitate to send punk, hardcore, metal, goth, pop, rock, country, hip hop, electronic, experimental, dub and reggae … all genres accepted and welcome.
Information on your pressing (quantity pressed, color vinyl, etc.) should be included if at all possible.
Submissions can be sent to:
Doug Mosurak
PO Box 1552
Long Island City, NY 11101
(NOTE THE NEW ADDRESS.)
Records need to be shipped securely in sturdy mailing materials and marked FRAGILE because the post office will destroy them otherwise.
Keep sending in submissions, please!
---
---
Singles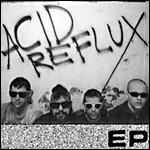 Acid Reflux
s/t 7" EP
(No Way)
I was getting worried about a dip in quality of these No Way bands, but Acid Reflux brings it back out, loud and fun, with a little Angry Samoans worship for the youth of today. Silly, big, and fun, "Vasectomy Boys" and "Customers Fuck Off" being the most fun and prescient selections here. Edition of 1000 copies, 200 on gold vinyl with pink sleeves.
(www.nowayrecords.com)
---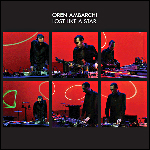 Oren Ambarchi
Lost Like a Star 12"
(Bo'Weavil)

Ambarchi fires off two sides of plangent, multipartite, astoundingly clear drone in which all of the requisite elements (guitars, motors, bowed percussion, cymbals, samples) can be picked out of the mix and focused upon. There's something very settling and spot-hitting going on here, a warmth of character and material that remains even as the offerings shift into dissonance and conflict. "Lost Like a Star" was recorded for play with a Japanese dance troupe; "The Final Option" made in an Australian television studio for broadcast, and takes its sweet time to build up. Both are wonderful, meditative pieces with lots of room for interpretation. The low-rent side of this scene gets dull after a while and it's always nice to have a noted pro like Ambarchi wiping the slate now and again. Numbered edition of 650 in a beautiful textured jacket.
(www.boweavilrecordings.net)
---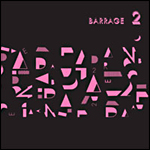 Barrage
Barrage 2 7"
(Feral Media)

Skittery, blunt mix of DIY electronic/minimal synth solitude and a marked New Romantic sense of melody and melancholy here, Melbourne's Barrage working in a one-man mode in which a lot of his modern day counterparts (Glass Candy, Chromatics, Minimal Wave/Wierd Records acts, even Dan Deacon) are missing a bigger picture. Rapidly engaged in a pop core and an android shell, here are two songs that will linger in your ears longer than you'd expect. Edition of 200 in silkscreened sleeves, and each one comes with a 1" badge unique to your copy. Only available from the address below, or at Barrage shows, until it's gone.
(www.feralmedia.com.au)
---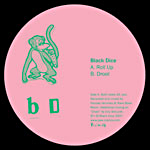 Black Dice
"Roll Up" b/w "Drool" 12"
(Paw Tracks)

Two new ones from the hottest Dice in town, an advance marker for a full-length CD of some manner coming later this year on Paw Tracks. Both offerings come from their most recent phase of tribal rhythmic patterns spread out amidst insect synth twitter and significant low-end. "Roll Up" is the more static and action-filled of the two, humming along at a galloping clip, while "Drool" phases in and out of intensity and interest. Still, they're so far ahead of the curve at this point that it's incredible anyone's paying much attention – they're very fortunate that they've zeroed in on a fan base that can at least pretend to wrap their heads around this sort of thing, as past attempts (Cabaret Voltaire springs to mind) had slightly less commercial success in this arena. Edition of 1000, white sleeve disco 12" with a 24"x24" poster enclosed.
(www.paw-tracks.com)
---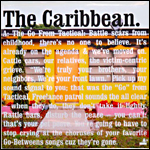 The Caribbean
"The Go From Tactical" b/w "The Beverly Boys" 7"
(Hometapes)

Sensitive aftershave rock for beards, glasses, and tight t-shirts. Use only as directed (a/k/a never). I got three copies of this thing somehow. Thanks? Clear vinyl.
(www.home-tapes.com)
---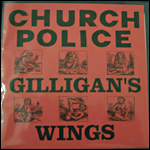 Church Police
Gilligan's Wings 7" EP
(Skulltones)

Church Police were from Concord, CA in the early '80s. If you know them at all, it was probably from their appearance on Maximum Rock 'n' Roll's Not So Quiet on the Western Front hardcore compilation ("The Oven Is My Friend," covered by Sebadoh), which stares a hole right through side 4 of that collection. Looks like RRRon Lessard did a single at some point in the '90s on Stomach Ache, too. Regardless, you haven't seen those around in a while. This single collects three more tracts, unflatteringly detuned dirge caterwaulings that belie a certain melodic randomness and complexity that trained musicians would fail to accomplish. The whole thing is just so loose, low, and lost. Gothic elements can be detected in the chanting on "Gilligan's Wings" but those get pushed out of the way by psychedelia, via a wash of delay and reverb all over the tracks. Gentler than Flipper, but along those same give-a-shit vibes, and definitely of its own kind. Chromosome-damaged remembrances from the past, drooling all over today's shoulder like the big Benjy it is. Edition of 300 numbered copies, and it will go fast.
(www.skulltones.com)
---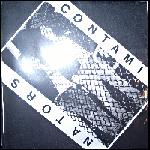 Contaminators
s/t 7" EP
(Going Underground)

Blaring, mildly triumphant garage duo from out in the Bay, piling on the vocal treatment and overdubs (full band sound and setup for just two guys). Vocals are pretty much obliterated by delay, and the confusion only adds to the level of quality here, which is right above average. Fun, but not really a groundbreaker or even totally married to an image, which I guess is pretty good for them. Nice push on the first and last tracks.
(www.goingundergroundrecords.com)
---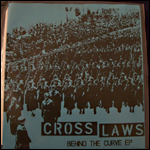 Cross Laws
Behind the Curve 7" EP
(self-released)

More new hardcore from North Carolina, a la Double Negative. These kids are a trio and sound pretty raw, with a touch of youth crew aggression that sort of dates their involvement with the music they play. Gleefully messy, with a recording that'll make you tired by side two. 300 numbered copies and it's already gone from where I sit. Better than most young sloppy bands, and has potential to clean up and become something massive in the near future.
(www.myspace.com/crosslaws)
---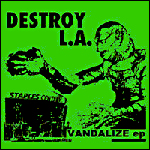 Destroy L.A.
Vandalize 7" EP
(No Way)

Bass-heavy, 5th string West Coast hardcore. Can't hear the guitar! This one's kinda weak, capable at best. Mine's one of 200 on green from the 1000 pressed. Wanna trade?
(www.nowayrecords.com)
---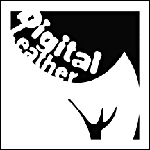 Digital Leather
"She Had a Cameltoe" b/w "Abrasion"
(Goner)

Kind of ironic that the first Digital Leather (solo Ryan Wong) song that comes off as even remotely catchy (and yes, this A-side is really killer) is ruined by really, really dumb lyrics, but I'd expect no less from this constant failure of a project. Gotta stick with "Abrasion," riding a wild calliope melody with pretty forceful/condensed surf beats and beleaguered Goth vocals. Glad the guy's finally gotten a fucking pulse; still withholding further judgment as 1.5 good songs does not a fan make. Typical Goner edition of 100 or so clear vinyl copies is long gone.
(www.goner-records.com)
---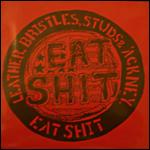 Eat Shit
Leather, Bristles, Studs & 'Ackney one-sided 7"
(CIA)

So goddamn weird … Eat Shit were British crust punks riding the worthless wave who built up some sort of mythology that they were from rural Nebraska back in their early-to-mid '80s existence. The two tracks on this single allegedly come from a live Conflict recording – Eat Shit rushed the stage after the band finished, parted cheeks, and squeezed out these two turdballs, which survived as the tape rolled on. The "songs" are nothing but a barrage of poorly-played guitars and drums, microphonic feedback, and incomprehensible yelling. More noise than anything else, and it's very likely this record is a hoax altogether, but the unreal levels of crud piled atop the songs make it an undeniable pleasure for a lot of us who bother to dig in septic sumps for extreme sound. T-t-t-t-totally, dude! Edition of 550, with a generous booklet of "information." Beyond inept and barely music, but violent and disgraceful all the same, and for once, that's enough.
(think it over before searching)
---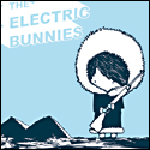 The Electric Bunnies
s/t 7" EP
(Florida's Dying)

Odd, noisy pop from a bunch of dudes trying on a bunch of different sounds. "Eskimo" is pop from a dented can, like Redd Kross as covered by Pavement beneath a layer of sickly mechanical noise. "Eat Worms" shifts down into primate garage and charging guitars. The B-side "Counting Sheep" weighs in far more bizarre than either, with a low-wattage drum machine pulse and hovering synths fleshing out a minimal drone and choral chanting. These are all coming from a place of originality, if not talent, the band sounding like they're being weird for the sake of it rather than to tell us anything new about strange musical tangents.
(www.floridasdying.com)
---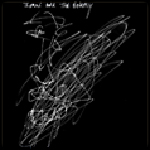 Family Pet
s/t one-sided 7"
Ideas Are the Enemy one-sided 7"
s/t one-sided 12"
(Foreign Frequency)

It's about this time that I start asking "what" and "why" when I take on the responsibility of reviewing dozens of anonymous singles for this column. But where else would Maine's Family Pet, a keyboard/sax/drums duo who sounds like they got most of their ideas from Bob Clampett's "Porky in Wackyland," get coverage? These three singles are interchangeable in their loose recording, unfocused energy, and schizoid manner of performance, but then again, who cares? These guys are harmless, each of these recordings out in an edition of just over 100, with blank B-sides. Their banging, improvised scatter knows no bounds of restraint or taste, but they probably feel better when all is said and done, and I guess the therapeutic qualities for them as people make this somewhat worthwhile. You have a bad day at work, meet up with your friend at the practice space, and out it comes. At the bare minimum, the existence of these bizarre recordings serves to make someone feel a little better, and really, that's all that matters. No sense in trying to put any logic behind it. Someone though these important enough to release, and they're clearly not aiming for any commercial aspirations. Let them be.
(www.foreignfrequency.com)
---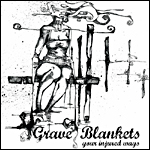 Grave Blankets
Your Injured Ways7" EP
(Record Time!)

Hot, swampy garage action from a big-sounding Columbus trio that's so well-oiled and present they could pass for Detroit (last track on here sounds a lot like the Dirtbombs, actually). Swingin' hard with a lot of bottom, they got something to prove, and the formula they play into leaves a lot more room for interpretation than all of their snotty, sniffling peers. Fans of the Gun Club, as well as the top of the second-stringers of recent times, like the Broke Revue or Black Time, should take note. Edition of 500 (100 on dark blue marbled vinyl).
(www.myspace.com/graveblankets)
---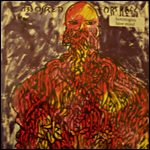 Hototogisu/Hive Mind
Bored Fortress Volume 2 No. 5 split 7"


(Not Not Fun)

Gravel and grubs. Hototogisu provides the scrape, Hive Mind the friction and pulleys in need of oil. Two new selections that bring the Bored Fortress singles series to a hover. Torched, camphoric sentiments by artists not out to "bro down" with you. 500 numbered copies, all of which are spoken for.
(www.notnotfun.com)
---

Katie Katty
Monster Cat Creep Show 7" EP
(Peeping Tom)

Ridiculous, thick, unruly thrash/metal/punk hybrid from three Japanese women who sound like they're living the life required to play music this manic. Just this side of apocalyptic (see Bastard), these ladies throw down enough rambunctious rock 'n' roll stomp and garage riffs down (think the Didjits) to get noticed, then layer it with way more distortion and aggression than you would have expected. The singer's vocal cords must look like ground chuck. Intense and forceful sounds. They'd get by on those alone, but the songs are catchy and do what they gotta do. Excellent record, released by the drummer of Finnish Japcore devotees Selfish. Great cover art, too.
(email to oitkonen@cc.joensuu.fi)
---

Messages
"Destination" b/w "Glades" 7"
(The Social Registry)

Side project action for Tres Warren of Psychic Ills, in a duo with Taketo Shimada. This is some heavy, humid drone, pregnant with 4am electricity and, in the end, thick fuzzy beats. "Destination" vibrates with downtown candlelight mystery; "Glades" marches persistently through rippling sine waves and shimmering guitar. A beautiful surprise, engaging even in its abstract tendencies. Best record in the Social Registry's singles series to date. Edition of 750 numbered copies in letterpressed sleeves.
(www.thesocialregistry.com)
---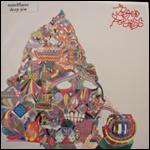 Mindflayer/Deep Jew
Bored Fortress Volume 2 No. 6 split 7"
(Not Not Fun)

More blocked breathing tube squelch and rapid-fire drumming from Mindflayer here (they seem to have worked themselves into a cul-de-sac with respect to sounding all that interesting anymore, hence the abatement in activity) – hard to really get behind this stuff anymore, but it's not hurting anything, as most who are on board with them right now are the band geek types who can't believe how fast Chippendale can play. Deep Jew are new to me, and offer up two tracks of blasted, truly gone hardcore/noise, crossing the wires of Lambsbread, early Black Dice, and Crossed Out – sick shit with a pulse, a hard-on and a deathwish, thus capping off the second run of Bored Fortress singles on a high and positive note. Edition of 500 numbered copies. Hot stuff.
(www.notnotfun.com)
---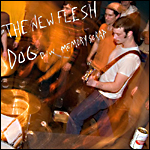 The New Flesh
"Dog" b/w "Memory Scrap" 7"
(Terra Firma/Human Conduct)

More pus from this chronically oozing Baltimore sore, a power trio that pummels as hard as possible outside of the showy confines of metal. The New Flesh pounds, slams and tears its way through two cancellations here, the circular "Dog" and the wounding force of "Metal Scrap," all simmering aggression and white-knuckled fear. They proudly converge on the sort of spiteful, venomous swing of early Unsane, no mean feat considering that not even Unsane can get to that point anymore. Edition of 500, with 200 on red/black marbled vinyl.
(www.terrafirmarecords.com)
---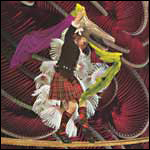 Panda Bear
"Take Pills" b/w "Bonfire of the Vanities" 7"
(Paw Tracks)

"Take Pills" you know from Person Pitch, and if you don't, man, it's the best record of this year so far, and months of casual and focused listening bears this out. Mammoth, generational, all-encompassing and human. The whole record is somewhat of a successful realization of the artist's work as Jane, nothing but loops and sing-songs shuffling together in divine ways. "Bonfire of the Vanities" is the more animated flip side, running manipulated movie dialogue and a distinct dub pattern behind some markedly soulful singing (soulful in the Daryl Hall sense, perhaps) and for what it needs to do (occupy a B-side of a single from a great album) it really works well. Undoubtedly limited, and for this year, a must-own piece of an elaborate puzzle.
(www.paw-tracks.com)
---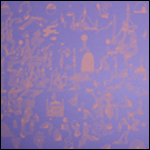 Robedoor/Yellow Swans
Split 7"
(Arbor)

Robedoor's side is a halted, shimmering drone that seeps through the tape like a piece of fried chicken through a paper towel (your "window to noise weight gain," perhaps). Flip it over and Yellow Swans drag along at their most wasted yet, high RPM motor hum/loose casing syndrome over power saw and suggestions of tone and dignity. About as subtle as running over ketchup packets, and with the satisfying crunch you expect from such a juvenile activity. Edition of 500 in silkscreened sleeves.
(www.arborcdr.com)
---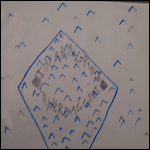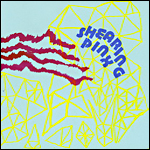 Shearing Pinx
s/t 7" EP
(DNT)
Shearing Pinx/Silver Daggerssplit 7" EP
(Arbor)

Make way for the specific and somewhat imposing presence of Vancouver's Shearing Pinx, cutting ties with all music since Sonic Youth in '83 and kicking up a mighty cloud of clattery guitar racket. Displaying quite a bit of punk-alley abandon and anti-heroic anthem to go with the Thurston/Lee soundclash, the trio bashes away at these mostly longer songs with patient precision, muddled by a lo-fi, redline quality to dirty things up. Their own EP has some moments of untogether sprawl, but the material on the split shreds, violent and thrashing. Silver Daggers do the sort of agit-prop (hah, Otis, you said agit) that a few hundred of you have already come to expect, right-angle spasmo jazzbo herkajerk, here offset with industrial-strength drum machine with tons of headroom – making their second track on here one of the best they've done yet. S/T EP is on green vinyl and in a hand-stamped sleeve; the split is on grey vinyl and in silkscreened construction paper. Edition of 400 numbered copies on each.
(www.dntrecords.com)
(www.arborcdr.com)
---

Sudden Walks
s/t 7" EP(Never Heard Of It)

Three wallops of rough, angry punk rock from these Connecticut dwellers, holding a firm garage stance but adding fists of ham and a rock salt-gargling vocalist, in turn coming to a sound primitive enough to meet the Queers' first few singles at eye level. Busted, jagged shards of guitar solo confuse and the vibe let off is definitely that of a kick to the teeth. Great artwork, too. Looking forward to more. Edition of 300 (25 in a collectors' edition sleeve).
(www.myspace.com/suddenwalks)
---

These Are Powers
s/t 7" EP
(Elsie & Jack)

Downtown witchcraft of an obtuse and discordant nature, of note to some for the participation of former Liars bassist Pat Noecker and Knife Skills' Anna Barie. Branca chimes, pre-industrial throb and atonal vocals provoke interest, if not all-out excitement, over these three tracks, which could have been made at any time between 1978 and today. Strategic and clinical, they're at least trying to work against the difficulty in finding a voice for themselves. Edition of 700 copies, all white vinyl, with 100 of those containing a CDR and a slightly different cover.
(www.elsieandjack.com)
---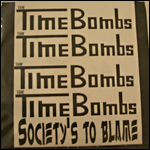 Timebombs
Society's to Blame (Doc Brown) 7" EP
(Nilbog)

Teenage Nardcore ineptitude, patted down with a mega-shitty, demo-quality recording and bad color copy artwork. If Mystic Records was still an active concern, these guys would have signed by now. Will probably be worth a fortune someday, regardless. Edition of 300 numbered copies.
(www.myspace.com/thetimebombstba)
---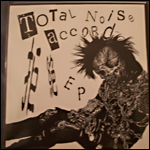 Total Noise Accord
s/t 7" EP
(Crust War)

A couple steps beyond a reasonable or even excitable hardcore, thrash, or metal outfit here, Japan's Total Noise Accord comes out swinging hammers in the pit and crushing hands and heads with big, dirty work boots. Their beyond-saturated sound only offers the suggestion of chords and hooks, each garbled element of their sound (psychotic vocals, collapsing drums, layer upon layer of shit guitar and only the suggestion of bass) canceling itself out of the equation, leaving nothing but noise and stains behind. Fuck aggression, this straddles the line of chaos. Caustic, chemical, bleeding-from-the-eyes sound. Must be endured to be believed. A benchmark for recent disgusting times in Japanese hardcore. My god.
(email to crustwaroverseas@earthlink.net)
---
---
LPs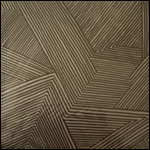 Burning Star Core
Everyday World of BodiesLP
(Ultra Eczema)
Spencer puts down the violin for this limited outing, relying instead on his voice, percussion, synths and cracked electronics to create an air of diffuse confusion and kinetic activity. Pretty strange but intriguing volume in the story of BxC, desperate and close with the heat of performance, excepting this one strange MIDI jam on side 2 that sounds as if it could have fallen out of a late '90s indie "quirky" movie score. Comes in a big silver and gold six-panel foldout and on gray vinyl. I believe this one's out of print already so look under the couch cushions or something.
(www.ultraeczema.com)
---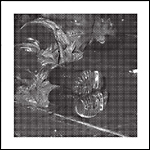 Clair Obscur
C.O.I.T.: A Collection of Isolated Tracks 1981-1988 2xLP/box set
(Vinyl-on-Demand)

Strange that Vinyl-on-Demand reissues whole albums' worth of quality material by under-known artists and then refuses to write up any liner notes or offer supplementary information on the acts. Is it the air of mystery that's driving non-subscription sales? A little poking around on the Internet reveals that the material on C.O.I.T. has been dredged up on CD already, beginning in 1995. That beautiful $30 sealed double LP staring at you from the record store wall has a certain siren call about it, however, one which lots of you continue to yield to, as we have to talk to others to find out what the deal is – that, and the band is high Goth in all its phases and conceptions, and anyone who's ever cared about punk knows its charms; we all want that tall, dark, dangerous counterpart in our lives to smell their leather or push our head between those velvet-encased cans. Clair Obscur is definitely the band piquing the most interest in this latest batch of VOD titles, and it's been the hardest record to find out of that lot in stores over the past few weeks (and a boxed version with t-shirt and bonus 7" is long gone, though there's hardly any way to justify its extra expense). They're Goth, alright, and cover so much territory in that scene, from Sisters marshland to fragmented darkwave experiments. It works, if you have an affinity for Goth, and everyone else should run for the hills. Not me, though; I love this stuff. Regular edition of 600 numbered copies w/ seal in craft, inside-out sleeve. Deluxe edition includes the items listed above, in a numbered edition of 418. Happy hunting.
(www.vinyl-on-demand.com)
---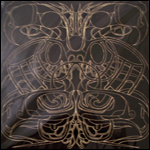 Ettrick
Feeders of Ravens LP
(Not Not Fun)

Screamin' slop from this Bay Area death metal free j'hazz duo, just sax and drums, or drums and drums plus sax. No real level of control or sense of delicacy has been applied here, the group just leaning in for full-bore, undisciplined destruction. Those who've spent some serious alone time with free jazz and European improv will find little to tolerate here, but beginners might get a kick out of their immediacy. My own opinion falls somewhere in the middle; the effort is applauded but I don't really see myself coming back for more of this, barring some drastic change in education or influence of its core membership. Edition of 350 copies.
(www.notnotfun.com)
---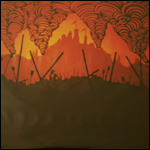 Ex-Cocaine
Esta Guerra LP
(Siltbreeze)

Second album, I'm guessing, from this mystery free/folk/noise duo, who sandwich two structured folk-pop cat's cradles (sounding like a Sic Alps record in the mud, or maybe grotty Alasdair Roberts demos) between three improvisations unencumbered by shape. Double-drumming palate cleanse gives way to bloodshot amp torture ("The Tempest") and, ultimately, some supremely righteous storm-of-heaven shred ("With the With the When the One"). Another rager from a revitalized Siltbreeze that's yet to falter. Edition of 500 copies.
(www.siltbreeze.com)
---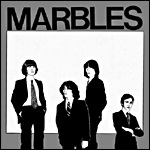 Marbles
s/t LP
(Vinyl Countdown)

Collection of singles, live, and uncompiled tracks from this NYC power-pop/pomp outfit which skirted the Bowery and Max's from 1976-78. Those looking for something cohesive might consider turning away, but the Marbles seemed to have quite a knack for assembling sounds from the earnest/hurtin' side of that whole era (Raspberries, Blue Ash and the Left Banke come to mind) as well as the exploratory, groundbreakin' edge (Television, the Mirrors, and Sparks are immediately identifiable in the mix, as is some Rundgren). That the songs don't always hold together – the shifts in between moods can happen mid-song – doesn't negate the unique and intricate power brokered across these dozen tracks. Edition of 500 copies, and that's it. The curious should get involved and be patient with this one, as it will reap a pretty sizeable reward, given your ability to pay attention. Really loving the keyboards and the whole thing captures that struggle with unrequited tumescence that the best power-pop eternally ached with.
(www.vinylcountdownrecords.com)
---

Pavillon 7B
Dark Life LP
(Minimal Wave)

Collection of cassette-only and early unreleased tracks by this French dark wave outfit. This is a really strange record, because you rarely hear these digitally frigid bands sounding like they're having this much fun. The material here is really busy, simplistic, and repetitive, with treated spoken vocals and a digitally frigid demeanor, and sounds like it was a blast to play these songs and have them fall all over the scene's topography – they are cold as Goth, minimal in structure if not performance, and engaging enough to direct all the attention in the room towards them. I've been waiting for something on Minimal Wave to strike me in such a fashion, and happy (yet stern and jaded-looking) that it's finally gone down. 500 numbered copies on 180g vinyl, including a really nice-looking embroidered patch with the group's logo. If you would wear the type of garment fine enough to stitch this patch on, you will probably be into this record.
(www.minimalwave.org)
---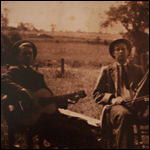 Jack Rose
s/t LP
(Tequila Sunrise)

Vinyl reissue of an arcHIVE CD, documenting Rose's skittish but ongoing affair with Fahey-esque guitar folk/feats of strength. Rumor has it that this material was begrudgingly documented for its initial release, which makes very little sense. What it really does is showcases a traditional, skill-based side of Rose's idiosyncratic guitar super-ability separate from his group Pelt. I'd have to guess that he didn't want to make some slavish paean to something which most consummate musicians might want to hold closer to their chests, but it's a beautiful album, passionately recreating folk and raga within strict Appalachian confines. Rose's playing is exquisite, mannered, and warm. Edition of 800 in a beautiful tip-on sleeve with obi strip.
(www.tequilasunriserecords.com)




By Doug Mosurock