Dusted Features

In the latest installment of 'Still Single,' Doug Mosurak checks out singles of various sizes by The Dead C, Fucked Up, Parts & Labor, Vietnam, and many more.



Sill Single: Vol. 2, No. 9
SUBMISSION GUIDELINES
Yours must be a single pressed on any size of vinyl. CD-Rs of singles will not be reviewed; they will be destroyed. We need the artifact here with original artwork, not some duplicate/digital copy. Only records released within the past six months will qualify for a review.
Singles must be postmarked by the 20th of each month to qualify for the next installment of this column.
ANY genre of music will do – don't hesitate to send punk, hardcore, metal, goth, pop, rock, country, hip hop, electronic, experimental, dub and reggae … all genres accepted and welcome.
Information on your pressing (quantity pressed, color vinyl, etc.) should be included if at all possible.
Submissions can be sent to:
Doug Mosurak
PO Box 1552
Long Island City, NY 11101 (NOTE THE NEW ADDRESS.)
Records need to be shipped securely in sturdy mailing materials and marked FRAGILE because the post office will destroy them otherwise.
Folks, use the new address. Seriously, if you sent anything to the old Brooklyn address recently, I didn't get it, and probably never will.
On with it.
---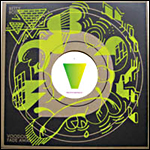 Betty Botox
s/t 12" EP
(RVNG Intl.)

Alias for Optimo's JD Twitch, the story of Ms. Botox started with a DJ edits collection last year, and enters the studio for the first time on this EP. If memory serves, Twitch has been out of the recording studio since Mount Florida ended, so we're inundated with new ideas here. Ostensibly an electro record, "Voodoo1" shoots such a notion so far out of orbit that it may never see the sun shine again, opting instead for a hard, funky midtempo NYC disco, bridging Can to some way-out guitar Sharrockage by way of Ike Yard. Grimy synths, frightened B-boy vocals, dub studdastep, guitar feedback and a thick, Moogy countermelody suggest breakdancing on top of a moving subway train. After a brief female vocal acapella at the end, side B kicks back in with tool tracks "Voodoo2" and "Voodoo3," full of extended drum breaks for experienced hands to blend in and out of. Taken out of that context, though, they're completely hypnotizing, and most DJ's wet dream. Edition of 1000 and change, in four different, die-cut silkscreened sleeves.
(www.igetrvng.com)
---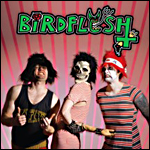 Birdflesh/Hatebeak
split 7" EP
(Relapse)

Birdflesh plays wacky Swedish death/grindcore, wearing costumes and taking a heavy but novel approach to this whole thing. They're not that annoying, but you can easily see nerds' pores erupting with pus over a band like this. The jokey melodies and look-ma style of play suggests "carnival grind" (their words, not mine) and that should tell you all you need to know. Just forget it, put it aside. Baltimore's Hatebeak, on the other hand, work the novelty factor in another, more righteous direction: their vocalist is a parrot named Waldo. His imitations of the human voice are looped and treated over super-amped tech-grind. I'd rather listen to these guys wail away under a bird, any day. Their side is actually pretty great, reckless metal. Waldo sounds like Rebby Sharp!
(www.relapse.com)
---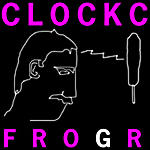 Clockcleaner
"Frogrammer" b/w "Early Man" 7"
(Richie)

These assholes had the nerve to ask me to write this thing up last minute. Richie drove up to NYC and dropped off the record 2 hours ago (currently it's 1:00 A.M., EST, on the night before publishing) so what could I do? Is this Sharkey singing? You won't believe this; it sounds like Warsaw with a handpuppet on vocals. Pretty tight, though. Needs some unpacking, as everything else they've done has been so harsh, and this is like "Mongoloid." This is Philly, not Chicago. "Early Man" appears here as a demo version, and it's a little more basic here, all sounds of prison and scraping guitars. The pride is back. Let's fight.
(testostertunes.blogspot.com)
---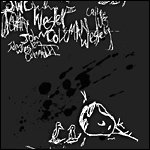 Wesley Coleman
s/t 7" EP
(BoomCHICK)

This edition of the column has a lot of examples of doing it wrong vs. doing it right. There are one or two pretty weak garage records in this month's batch, and then there's this one guy, Wesley Coleman, pitching an earnest, Buddy Holly-ist rock agenda against reckless latter-day garage rock stomp like MOTO or even the Cynics. A shock and a surprise, as Wesley howls through these songs like a wildman, keeps the sincerity level at an all-time high, and cheerfully destroys a couple decades of nostalgia in one dirty swat. Serious, seizure-inducing lo-fi garage pop like you won't believe. Three fantastic songs, pistachio-colored vinyl. He'll get you in trouble, girls, and then you'll have to marry him.
(www.boomchickrecords.com)
---

Cripple Bastards/Sublime Cadaveric Decomposition
Slimewave Vol. 2 split 7"
(Relapse)

Way more fun and yet far more serious than the first installment of this crazy series, Relapse's thrash/grind collection continues on with Sweden's Cripple Bastards and France's Sublime Cadaveric Decomposition. Had no idea Cripple Bastards were even still around, but man! They're tight as shit now! Precise, flailing thrash with what almost sounds like … keyboards filling out the melodies? Anyway, it's fast, with blast beats and circle-pit breakdowns, yet it has the professional sheen of the new tier bands who fail to emulate why thrash was so great in the first place. SCD plays in more of a traditional death metal style, a bit slower, but with bright, prog- and pop-structured hooks. It took me about 12 tries to decipher their logo, which ends up spilling out into torn ropes of intestinal tract. And isn't that one reason why you got into death metal anyway? Hand-numbered edition of 1000 on white/baby blue splatter vinyl.
(www.relapse.com)
---

The Dead C./Hi God People
split 12" EP
(Nervous Jerk)

After 20 years, we're actually hearing another side of the Dead C. Actually make that 15 years, as these live recordings from the Los Angeles All Tomorrow's Parties in '02, finds one of the greatest bands in the history of the Southern Hemisphere playing with melodies as round and buoyant as anything you'd find on a Tortoise record. It's a confusing start that turns out it's just the tune-up phase for their "L.A. Confidential," one of their most outwardly rock offerings since the Vs. Sebadoh EP. What's great is that the recording is compressed in such a way that any escaping undertones fight for the width of the audible spectrum, as a feedback phantom rhythm coats the backbeat and bass frequencies with the presence of some sort of dance music. It's the damnedest thing, and must have happened purely by luck, but it gives the track a character that none of their other recordings has. Their "L.A. Blues" follows it up, somewhat to its namesake, a lengthy, free drone/rock meditation that sounds like sentient factories crooning themselves to sleep with the sounds of howling, seared scrap metal, industrial grinders operating at full speed, and bricks rubbing against one another. Robbie Yeats' kick foot will be bronzed someday. Australia's Hi God People play ascendant, temple-of-priests style psychedelia, allowing analog synths to swoop through sine waves, possessed Jonestown-style chanting, and shambling electric instruments and percussion rolling beneath. Their sound references both This Heat and Royal Trux at the same time (via Confusion is Sex-era SY) and have that thousand-yard focus that separates psych-folk crossdressers with those who can improvise. As good as everybody's been telling you it is, maybe a bit better. Edition of 500 in a silkscreened sleeve; well worth the high price tag.
(www.nervousjerk.com)
---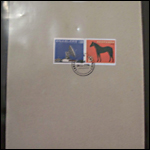 Enablers/Redpanda
split 7"
(Lancashire & Somerset)

Enablers hail from San Francisco, feature members from groundbreaking '80s and '90s outfits bands long gone (Swans, Tarnation, Nice Strong Arm, Toiling Midgets, among the many), and play like those bands played - with the sort of conviction and belief that they're making something new, something that matters. "New Moon Knockdown," from this split, is a little too short to make such a claim, but these guys might have found a way to put the old outsider rock hat on, and make it sound new again. In the space of a few minutes, the band - fronted by spoken word artist Pete Simonelli - comes across as a serious, creative threat, all control and tautly-strung, carefully-crafted emotive lift. White-knuckle volume swells and carefully-pronounced sentiments are overdone and trite in the wrong hands; these gentlemen do them right, like I'm hearing these sounds for the first time. Redpanda have big shoes to fill on the flip, and they do so with raw-throated voice thrash and plaintive, Slinty guitar chimes. Again, not enough here to make much of a determination (both songs end quite abruptly, in fact), but there's promise here, as well as promise fulfilled. Edition of 400 in lovely hand-assembled, stamped, and numbered sleeves.
(www.lancashireandsomerset.co.uk)
---

Fucked Up
"Year of the Dog" b/w "Last Man Standing" 12"
(Blocks Recording Club)

Double-grooved 12" single by this hockey team, which might throw you for a bit of a loop, in that the double grooves demarcate slightly different mixes of the songs on each side. Seems like one groove finds the singing and drums phased down to the back, so the guitars stand out, while the other is a more conventional mix. Either way, this is Fucked Up at their most grindingly slow and meanest in some time, with "Year of the Dog" clocking in at nine minutes of ruggish, thuggish slam, offset by whistling and glockenspiel. It's heavy, sounds like intro music for a professional wrestler switched up with "Brown Sugar" (play the intro backwards for more sense, and some rough justice) and hits with enough force to break down a door, ATF-style. Same trick on "Last Man Standing," kicking back into high speed and presenting a very harsh mix in the secret groove, against more lengthy, girthy action. This track is fun, with the whole Black Flag-style broken arrangement building out every stray note with steamrolling, dick-punching force. Taking more of a chance in hardcore might seem redundant to some, but Fucked Up still manage to make it all work. Edition of 1100 in nice, handmade letterpress sleeves.
(www.blocksblocksblocks.com)
---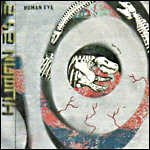 Human Eye
Dinosaur Bones 7" EP
(Ypsilanti)

Manic, fried, Chrome-meets-MX80 garage warfare in a half-dimensional timewarp. "Dinosaur Bones" and "Hologram" bangs incongruously on synths, rolls through breakneck drum beats, and rides atop this chaos like the Silver Surfer in a Misfits mask, indicating that there is finally more of a method behind this Detroit band's incalculable, curb-biting ardor, as if they're trying to play known styles of song using those same altered hands. A wild surprise; thousands of nervous tics that comprise a band. Extremely noisy and radical. Edition of 500 on red/gray/clear splatter vinyl. Don't really recall them playing this fast.
(www.myspace.com/ypsilantirecords)
---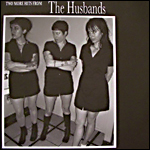 The Husbands
Two More Hits From the Husbands 7"
(Goodbye Boozy)

Three-girl thumpers from the Bay Area, all waitress outfits and black cat tattoos. "What the Fug is the Frug" slinks out in heat with an ornery, raspy crawl, tough vocals, and a sultry dance beat. "The Hustler" is a Sonics cover, with organ, and it's done decent justice. But all in all, we're looking at one more garage band for the gristmill, it seems - the songs are fun, but not entirely necessary or mindblowing. Would be fun live, though. There's not a ton of enthusiasm within the songs or the recording; it presents a mood of tossed-aside boredom, then walks away. You'll do the same. So limited the label can't be bothered with things like a website. Have fun finding a copy, if you want.
(no contact info provided)
---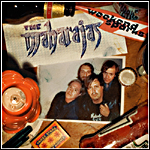 The Maharajas
Weekend Sparks 7" EP
(Crusher)

Really basic, traditional garage rock which pits frat-rock arrangements over a modern, informed sonic palette. A little too much acting here, with these Swedes reaching for Nuggets II and landing in Children of Nuggets instead, which, while adequate, is not the real thing. Aside from the Mersey-influenced power ballad "(Take a) Look at Yourself," this is pretty standard stuff, revved up but sitting in neutral.
(www.crusherrecords.com)
---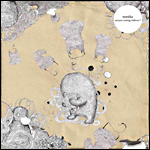 Monika/Chris Setel
split 7"
(Gracetone)

Honestly, this Monika side is madly overwrought, a swollen, ladylike romantic lilt imposing itself on a melodramatic waltz. I can't really deal with it; she sings like she has marbles in her mouth at some points, and I can't make out much. For people who hated to sit still in church, and now don't go to church at all anymore, this isn't for you. Chris Setel, on the other hand, comes off as a Greek Peter Jefferies, playing simple, powerfully moving singer-songwriter solo material. Layers of guitar and synth wash over the track in time, building from a gentle start; it's a sound that's been done before, but Setel plays it like he invented it. That conviction is missing from a lot of ornate, polite, sad musics, so I have to applaud him for it.
(www.gracetonerecordings.com)
---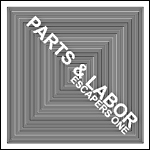 Parts & Labor
Escapers One 12" EP
(Broklyn Beats)

P&L ditch the rock instruments and convert to an all-electronic, digitally saturated sound on this one-off EP. Shards of circuit-bent toys, a SIDstation, and 8-bit crunch spell out big-boned industrial compression, huge lo-fi noise waves, and a sensibility not unlike a Jan Hammer or Harold Faltermyer in crucial spots. Mostly they just like to make noise, though, and Escapers One proves just as full-sounding in that regard as their last rock album, and possibly an obsession with breakcore that could split their fanbase. Strong Amps for Christ influence on "Davenport Amphitheater." Nice shit, gentlemen.
(www.broklynbeats.com)
---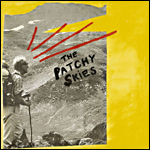 The Patchy Skies
They're Just Girls 7" EP
(Extra Small)

Brokedown, lo-fi indie pop trio, playing rather loudly for the genre, totally tone-deaf and mistake-laden, stuck on syllables-els-els-els-els-els-els. There's charm in this record somewhere, living in tribute to past pop savants and purists, and the intersection where they sit down and share a popsicle. There's a determination in the way they keep pushing the songs, despite any sort of limitations on vocal pitch. They probably sound like rock gods to themselves, and since they believe it, they can help get you to that level, too. I like "Just No Telling" the best. A nice, safe time. Clear vinyl.
(www.extrasmallrecords.com)
---

The Shanks
s/t 7" EP
(BoomCHICK)

Ramshackle, jagged three-chord garage punk stomp (the secret's in the treble and the tape hiss). Little to no control is exercised as these ladies blast these four songs out, rendering vocals as merely a buried suggestion. Not enough here to keep the fire going, though they sure as hell burned a lot of matches to get here. Weird, mucus-colored vinyl. Ew.
(www.boomchickrecords.com)
---

SIDS
My Other Vehicle is a Stretcher 7"/CD/DVD
(Goodnight)

Average synth-punk by kids who are no doubt "living the lifestyle," attempting to re-envision the Faint as Killing Joke, with roughly the same level of skill that the Faint were operating at around Blank-Wave Arcade. "6 Ft. Tall Wind Up Doll" gets a nice room-flooding overmodulated sound and loud, imposing drums, but that's about the only innovation at stake here. Comes with a CDR, a DVD (neither watched nor listened to), and the kind of artwork that identifies the sort of lame "goth" screw-ups who think the world revolves around them. Neon yellow vinyl, an easy target. What happened them between the Kandy Kane single and this?
(www.goodnightrecords.com)
---

Spider
Witch Cookie 7" EP
(Hozac)

Extraordinary synth-punk by grown-ass men and women who are no doubt "at work," attempting to have fun while playing and, in essence, make a classic minimal synth-punk single. The sound is right; skill level is unimportant since the songs are even less than a hook and a glare. This music works best when a sense of claustrophobia and panic is introduced, when it sounds more like a door buzzer than a dance tune. Their cover of Redd Kross's "Charlie" is just OK; "SpiderLili" (which could be directed at Volt's Lili Z.) is the best Volt song they never made, and when it's revealed at the end exactly what it is, you'll smack me for insinuating that there wasn't any life left in the genre. Then there's "Witch Cookie," where all the notions of alienation and cold computer sentiment get pushed aside. It is the return of the "Twinkie Defense," mentioned at length in a recent edition of Still Single. Cruising by with perfectly mimicked Euro-stiff attitude, it's like they took Mike Nesmith's "Tapioca Tundra" and made it rock out with a Rat pedal and replicant pride. Such a strong song, so let's hope they have more. Edition of 500, first 100 on gold, and I believe they are all sold out at this time, so diggggg for it, brodie.
(www.horizontalaction.com)
---

Think About Life
"Paul Cries" b/w "Going Deaf in the Summer" 7"
(Every Conversation)

More fun, exciting synth pop, this time with more of the 8-bit Nintendoid mentality intact. Think About Life races "Paul Cries" across persistent drum machine tracks that percolate with superstar melodies and the claustrophobia of multi-track digital recording. "Going Deaf in the Summer" finds some R&B sensibilities at play, obscured by that same sort of casual, championing anthemic vision that Broken Social Scene has. I like it, in particular how ambitious the songs get, and imagine that I'll be digging it even more with repeat listens. Edition of 500, Japanese import, all gone.
(www.myspace.com/everyconversation)
---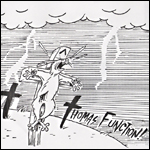 Thomas Function
s/t 7" EP
(DNH)

Progressively better and better with repeat listens, Alabama's Thomas Function is a fine, capable band playing the strident, open, amphetamized rattle of hard college rock (or, at least, the best of Dramarama, or the first time you heard the Strokes) with a twitching mouthful of energy in frontman J.D. McSillyname. This is the kind of thing you can only pull off when you're young, mostly because it's at that age when you can speak with any notion of authority on things you probably know nothing about. Mostly he sounds like Tom Verlaine on a speed-reading jag, but the combination of his screeds and the more-than-solid backing band beneath offers a new and viable direction for garage punk to mature into, and more or less competition for the Ponys at their own game. Very, very nice. Edition of a few hundred. Spraypainted inners in a random selection.
(www.myspace.com/dnhrecords)
---

Veer Right Young Pastor
Don't Touch Me, I'm the Ghost of Magnetism 7" EP
(self-released)

VRYP is a full band, but this single collects two solo recordings from principle songwriters Andrew Sadowski and Jason Anderson. "Shave Your Head, Say Goodbye" is Anderson's number and he plays with the delay pedal like he just bought it, phasing his voice in and out over trembling, reverberating guitar. For about 10 seconds, things congeal to raspy, Modest Mouse-like levels of angst, before drifting back into the haze. Sadowski, on the other hand, sings his "The Shine on the Tide" with the sort of hallucinatory karaoke delivery you'd expect from someone on the verge of insanity, the type of thing that might surface in an Angelo Badalamenti soundtrack for David Lynch, with its two-note, descending synth drone and affected R&B maniac vocals. Hold TV on the Radio responsible, maybe, for the singing; the music is coming from a more daring place, and the grating on a reviewer's nerves is only part of the learning period. Not denying their skill, and this could grow on me in time, which is what I'll give it. As I write this, it's too late in the night to try me. Edition of 200, clear vinyl, knock yourself out.
(www.myspace.com/veerrightyoungpastor)
---

Vietnam
EP #1 12"
EP #2 12"
(The Social Registry)

I turned my back to focus on more focused music, and lookahey, Vietnam turned themselves into a familiar-sounding singer-songwriter act. The first two of three EPs that coincide with the band's debut album, it didn't hit me until side 2 of the first one as to what they're going for: MELLENCAMP. Johnny Cougar. John. Uh-huh. Overshot Neil Hagerty completely and ended up suckin' on a chili dog outside the Tastee Freez. Rising from a shambling, glamorous mess, they've turned into that sort of band that makes pronouncements in their lyrics, filled with its certainty to the point of lifting its guitar over its head in triumph. This is our country. Big points on #1 for Puerto Rican guitarist Johnny Torres' "Te Amo" and what would have been a nice Canned Heat/Mungo Jerry style rural jug stomp, if not for the lyrics recited loudly atop. By EP #2, the other serious influence became apparent: Greg Dulli. Won't give 'em the satisfaction of Dylan. It's Fat Greg, saying profundities to moisten sundry pantaloons. Also covering surf rock, a Camper Van Beethoven soundalike, and Dr. John (lazily), I'm kind of back to the notion that they're a singer-songwriter outfit right now. These sort of stylistic clashes take balls, and these guys are having trouble walking around. I can't complain about any of the music - it's all great, or maybe not - but at this time, I can't help but feel like I'm outside of this music, looking in. Fortunately, Vietnam's playing at the sort of natural levels that both dare you AND allow you to take them seriously, solely on the strength of their convictions. The line of irony smudges even further, this time revealing a few truthful sentiments. Fuckin' crazy, right? Editions of 1000 hand-screened copies.
(www.thesocialregistry.com)
---

Volt
Man on the Ground 7" EP
(Hozac)

Another record of reductive, sexaholic lo-fi garage-electro headband from Paris's Volt. Four more songs here, with less presence than their previous 12"s but a freedom missing from their higher-fidelity efforts. Loose, goofy, recklessly fun noise, with the right kind of sense of humor (the one not obvious for its situation). Edition of 500, with 100 on clear.
(www.horizontalaction.com)
---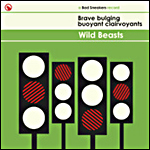 Wild Beasts
"Brave Bulging Buoyant Clairvoyants" b/w "The Old Dog" 7"
(Bad Sneakers)

Whoa, wtf is up with those vocals? Somebody's singing with the back of their throat. It's so distracting that I nearly missed out on the sort of nu-disco going on in the background. The lounge whinnying continues on the flip. I can't take it!
(www.badsneakers.co.uk)
---
---
LPS

Group Doueh
Guitar Music from the Western Sahara LP
(Sublime Frequencies)
I've never heard anything quite like Group Doueh, and most likely, neither have you. Situated in a long-suffering territory in between Morocco, a corner of Algeria and Mauritania, on the coastline closest to the Canary Islands, guitarist Doueh grew up, fusing raw, distorted rock sonics and a piecemeal sense of structure with nearby folk musics to effect sahrawi, a "music from the South," sung in the Hassanian language. It totally makes sense why Sublime Frequencies would press this up on vinyl (there's no CD issue planned) - it has the inflamed, lo-fi burn and wide-eyed psych-out stare presence as Dead Moon or Billy Childish. You won't believe this guy's face-searing tone and manic style of playing. It's like the Cramps demos as threaded through the Earth and yanked out in a land of unrest. Fans of garage punk should be able to grasp it, and brothers and sisters of improvisation and Sun City Girls-style cultural assimilation won't believe how deep this guy works out on a phaser pedal. Oh yeah, he does a fine Eddie Hazel impersonation on the album's closer, "Cheya Ya Haiuune." Incredibly important, blow-yer-mind type record. You won't believe it. Edition of 1000 on 180g vinyl, in a full-color gatefold sleeve.
(www.sublimefrequencies.com)
---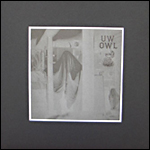 UW Owl
Thorn Elemental LP
(Phaserprone)

Electro-acoustic improvisations made by Jonas Asher (ex-Red Scare!) and Jochen Hartmann. Asher's overwhelming synth manipulations (and Todd P's glowing, overwhelmed PA cabinets) sent me running for the exits at a UW Owl performance sometime last year, but Thorn Elemental is something different altogether. Ranging from bits of anchored free clatter, to tracks that would qualify as loose minimal techno, the range of influence they hold over their tortured circuits is formidable and vast, putting bass in your face at that point in techno where Luciano meets Fennesz. Engrossing electronics, really fills up the space of its container quite nicely. Edition of 333 in letterpressed, die-cut sleeves, very nearly gone.
(www.phaserprone.com)
---

White Heaven
Levitation LP
(Farside)

Skillful, accomplished Japanese psychedelia, adventurous and capable. This is an old record, the band's third album, pressed in an edition of 300. Guitarist Michio Kurihara went on to join Ghost. Oh, paying attention now, huh. Yeah. There's a bonus track here you can pretend you heard way back when, too. Why should I tell you what it is? You already have it, right? Stop fronting on Japanese psych like you were there if you weren't there, Mr. Blogger. I'm gonna find you at a show and pull down your fuckin' pants in front of all your blog buddies. Forced Exposure should probably hold a mailing list of people who used to get their old zine and catalogs and hold it as the yardstick of credibility. Time to see who is and who isn't. Why you shakin' like that. Quit hitting yourself. Why are you hitting yourself. Where was I? Oh yeah, for those of you humble enough to not be a Johnny Know-it-All, you should get to know White Heaven. They were real, traditional Japanese psych in a sense that few understand anymore, in that there's understatement in even the most over-the-top guitar passage that control is never given up.
(try www.forcedexposure.com)
---

Various Artists
BIPPP LP
(Born Bad)

Subtitled "French Synth/Wave 1981-85," this is the latest in a series of European synth and darkwave/xpr. compilations to arrive in the last year or two (also see So Young But So Cold, Minimal Wave's The Lost Tapes, and the efforts of Wierd Records). The tracks on side A aren't very minimal at all; they're the kind of records you'd expect a city known for cabaret to treat new wave. Expect to hear an avidly campy Depeche Mode (TGV's "Partie 1," a floorshow Tubeway Army in Comix, some earnest Joy Division posturing (Vox Dei) and the general kind of vibe that would make the first half a suitable alternate soundtrack to "URGH! A Music War." Thankfully, side B gets considerably darker and more minimal, and every song is a winner in its own right. No skimping on the synths, either. The kind of music that some people tend to make whole lifestyles out of. Just … don't hurt yourself, but enjoy it, okay? Edition of 500, with a lyric book all in French.
(www.bornbadrecords.com)




By Doug Mosurock