Dusted Features

In the latest installment of 'Still Single,' Doug Mosurak checks out singles of various sizes by Hot Chip, Prinzhorn Dance School, Sic Alps, Witchcraft, and many more.



Sill Single: Vol. 2, No. 8
SUBMISSION GUIDELINES
Yours must be a single pressed on any size of vinyl. CD-Rs of singles will not be reviewed; they will be destroyed. We need the artifact here with original artwork, not some duplicate/digital copy. Only records released within the past six months will qualify for a review.
Singles must be postmarked by the 20th of each month to qualify for the next installment of this column.
ANY genre of music will do – don't hesitate to send punk, hardcore, metal, goth, pop, rock, country, hip hop, electronic, experimental, dub and reggae … all genres accepted and welcome.
Information on your pressing (quantity pressed, color vinyl, etc.) should be included if at all possible.
Submissions can be sent to:
Doug Mosurak
PO Box 1552
Long Island City, NY 11101 (NOTE THE NEW ADDRESS.)
Records need to be shipped securely in sturdy mailing materials and marked FRAGILE because the post office will destroy them otherwise.
Welcome to 2007, with Still Single still trudging along. Thanks for your submissions, and keep them coming. Please make note of our new address, and don't be too chicken to send something in.
The albums column was such a success that I'm forgoing the quarterly installments, and just including any vinyl-only full-length releases in a section beneath the singles reviews. It's not really fair for someone to have to wait up to three months before a submission gets some coverage, which by that point could either have stopped momentum on a new release, or on the other hand, may have already sold through its pressing. You should be buying these records from the labels, not from some schmuck on eBay, and the sooner you know about them, the more quickly you can respond.
As always, thanks for reading, and I hope your New Year's resolution to buy less records was only made in an effort to placate someone close to you.
---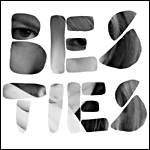 Besties
"Rod 'n' Reel" b/w "Working Title" 7"
(Hugpatch)
Here we have two girls and a guy strumming away in a pink indie-pop style, but the results aren't necessarily twee, but rather a velvet hammer. The romance of their brand of music is thankfully outstripped by some merited musicianship, all the cooing, girly elements sullied by some real-life issue lyrics and the occasional potty mouth. This is how these kids work it out – hearts bare and spirits smiling to keep up the appearance. I'm more into the lovely jolt and second-half dynamics of A-side "Rod 'N' Reel," especially the way the girls sing the words "Amanda Avenue," but both songs will work. Pink vinyl in a nice pro-printed glued sleeve.
(www.hugpatch.com)
---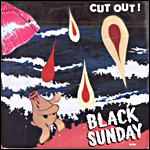 Black Sunday
Cut Out! 7" EP
(Tic Tac Totally)

I put this one on without even looking and heard competently frantic, female-fronted, nervous new wave punk sounds coming out. When I finally looked at the sleeve and found out that it was a new Alicja Trout record (Lost Sounds, the Clears) I had one of those hit-self-in-head-with-palm-of-hand moments, then started getting sad thinking about how she's pretty much the only person in the entire garage punk scene who could make this sort of music not sound like music from "The Munsters." The three songs with vocals are excellent, especially "There's No Time," and there's a dark, soundtracky instrumental at the end. Here's hoping that this lady finds an even remote challenge to her craft somewhere out there, because at this point she pretty much owns the entire playing field. Edition of 1000: 100 on red, 400 on blue, 500 on white.
(www.tictactotally.com)
---

Thomas P. Heckmann
Tangents 12" EP
(Bpitch Control)

One of the pioneers of electronic music in Europe, Heckmann's been DJing since the early '80s and recording since 1991. He comes across here as a skilled minimal craftsman, projecting very cold, twitching vibes across a perfect electronic matrix. While not always exciting (the title cut fails to deliver), Heckmann's compositions are loaded with analog synth blips, shots and washes, adding layers of spontaneity to the otherwise linear proceedings.
(www.bpitchcontrol.de)
---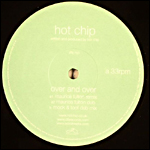 Hot Chip
"Over and Over" (Maurice Fulton Mixes b/w Mock & Toof Dub Remix) 12"
(DFA)

Fulton's a champion remixer and really pulls out the smooth side of the big Hot Chip single that, really, is what drove people to it in the first place. Disco bass, congas, and unsteady snare fills keep this track in orbit around planet Chic. All things being fair, I'll take his dub mix over the regular mix. Mock & Toof show up on the flip, spacing the track out to showcase some chiming, laser light twitchery. The snares are blippier and the waveforms steady enough to put this track into dancing robot land, somewhat glammy but mostly just a blissed out 16-bit acid hollow. Quite a nice single here, giving us more to do with the track by eliminating the overt preppyness of the original.
(www.dfarecords.com)
---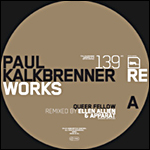 Paul Kalkbrenner
Re/Works Vol. 2 12" EP
(Bpitch Control)

Second volume of remixes from Kalkbrenner's Re/Works album, spread out over three white-vinyl 12"s for the DJs out there. Ellen Allien and Apparat race "Edge of Seventeen"-style guitar riffing beneath a classy flutter, icy rhythms, and inside-out bass. As with most things these two have touched in the past year, it's a keeper. Modeselektor's rude, skanking take on "Gia 2000" is tight as hell, and makes me wonder when the rap world (well, the one outside of France) is going to wake up and get these guys in on the production end of things. Agoria's mix of "1, 2, 3" is stern, dark, and filled with the sort of subfrequencies that could destroy a lesser PA. It's fairly even-keeled as well, never raising much above a whisper, and featuring a wonderfully timed break where it sounds as if the track is being taken off life support, only for the bass to come back in like a pro. Good stuff.
(www.bpitchcontrol.de)
---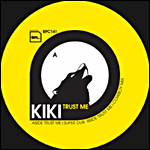 Kiki
"Trust Me" (Super Dub b/w Cowboy Mix) 12"
(Bpitch Control)

"Super Dub" just washed over me, which is what the occasional Kiki track will do. He's out of the goth phase, and the super-glitzy disco phase, digging back into long-form propulsive tracks of coy repetition and loose, primitive structure. "Cowboy Mix" treads the same ground with more fun and more successful results, going a bit cosmic with the sound effects and the steel guitar sample framed above it all. Compelling extenders for the dancefloor, from a guy who's never anything less than great.
(www.bpitchcontrol.de)
---

Lambsbread
King of the Crop 7" EP
(Skulltones)

I'm not so stoked that I had to miss seeing these guys tonight. Blown-out, tangled up guitars 'n' drum UFC matches here, both musical constructs trying to dismantle one another with energy. I hear a lot of Harry Pussy comparisons and I'd say that what Lambsbread does is as much of a meditation on hardcore for these guys as it was for them. But there's a sense of discovery coming out of these tracks that pulls listeners in, rather than presenting some game face of music fuckery that nobody wants or needs. It's not hard to connect with. Dudes live in a farm outside of Columbus, OH and burn one for all time. Three unlabeled tracks. Edition of 300 numbered copies. Forthcoming release on Ecstatic Peace is most looked forward to.
(www.skulltones.com)
---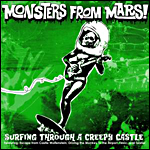 Monsters From Mars!
Surfing Through a Creepy Castle 7" EP
(Tic Tac Totally)

Slightly Gothic-influenced surf rock outfit, torn between playing long complex originals originals (organ is way more dominant than the largely Dick Dale-influenced days of the '90s surf revival) and hokey, chops-dominant covers. They should stick to the former, as I'm pretty impressed with the slow, sinister burn of "Driving the Monkey to the Airport," and less so with their novelty reading of Britney Spears' "Toxic" and too-brainy, too-sincere cover of "Telstar." 1000 copies, 300 on green/white swirl vinyl.
(www.tictactotally.com)
---

Paul Nazca
Happy To Be Here 12" EP
(Bpitch Control)

One-off on Bpitch for French artist Nazca, playing in deep, repetitive strokes, full of cleanly menacing rhythms and more than a touch of acid worship. The B-side's "Ephemere/Juste" suite is particularly favorable, all business up front as the beat crests, then crashing into a dark, evil bass pulse with telegraphing synths over top. Hypnotic and very strong, a fantastic effort.
(www.bpitchcontrol.de)
---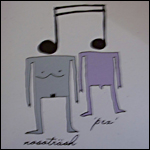 Nosoträsh
Pez 7" EP
(Hugpatch)

Four fairly long, e-z listening numbers from this Spanish indie-pop concern, entering its 12th year of existence. Singer Natalia covers bossa nova and chanteuse stylings in a charming, more or less inviting fashion, her band supporting her ably in clean transitions and sharing a winking sense of purpose and humor. Perfect for your next cocktail party or whathaveyou.
(www.hugpatch.com)
---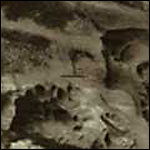 Overhang Party
Otherside Of 2xCD+7"
(Pataphysique)

Normally wouldn't touch a CD here, much less one from six years ago, but this one came with a single, and the entire package is new, still in print, and worth mentioning. Overhang Party are Tokyo psych mainstays, having been at it since 1990, across a plangent set of styles that mixed the melodies with the mope to achieve a Paisley Underground sort of effect, albeit with virtuosic guitar freakouts by leader Rinji Fukuoka. They're still active, with new releases of live albums (Live 2004-2006 being self-explanatory) and performances on DVD, but this effort is a best-of from the mid-to-late '90s, prior to the band's recent personnel shifts. The single contains two songs from the band's 1999 US tour, one which was cut at such a length it was causing my stylus to drag. "Le Few Follet" is presented here in a beautiful, ballad-like pop-psych layering, Fukuoka's and then-bandmate Akira Yamanouchi's dueling lead guitars leavening all that falls beneath with thick, confident strokes. On the flipside, "Cut Up Us" outlines a collage of sounds from the entire tour, rushing forth with Kevin Shields-esque aspirations within symphonic tapeloops and whatnot. The CDs are great; psychedelia in the classic sense, shot through with majestic melodies, challenging and progressive outlines, ripping leads, and proper song structures. All of these tracks, recorded in Japan, rattle the cages of every young, "tribal" drug-pee band out there these days with the skill and professional freakout-making abilities they all lack. Edition of 1000 numbered copies.
(www.overhangparty.com)
---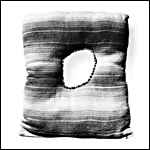 Prinzhorn Dance School
"You Are the Space Invader" b/w "Eat, Sleep" 7"
(DFA)

The DFA guys are being really kooky about not revealing too much about this new signing of theirs (hailing from Brighton, England). They're certainly unlike any of their labelmates, outside of their ability to keep a beat steady; the School emerges from the traditions of bedroom and DIY pop (think Young Marble Giants or Beat Happening), as well as early '80s post-punk, mostly a very minimal, rhythmically stringent outcropping of the Fall or ESG. The C'n'C twang is present (actually the A-side sounds so much like the Fall's "Who Makes the Nazis?" that someone might owe MES), and for that matter, so is a lot of space within the track – nobody here really plays like a musician ought to, outside of being magically able to keep the beats steady against plodding, skeletal arrangements. It only takes a few listens for their many charms to seep through, with absurd lyrical pronouncements like "White bread gives you cancer!" rising up like generational slogans. Will pass over many unprepared heads, so pay attention.
(www.dfarecords.com)
---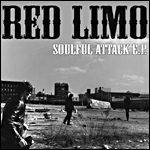 Red Limo
Soulful Attack 7" EP
(Made on the Moon)

Garage rock trio from Brooklyn who play within this strangely haltering, outsider vibe that actually works. Haunted, oddly sung, propulsive songs cut from the typical NYC glam sound, but through a weirded out, real-person perspective, like the guy from Sister Ray as channeled through Gary Wilson. Four songs recorded crudely yet with ambition, in a style that works both for and against these songs, as the scope of the production outstrips the abilities. Still, way more unique sounding than I had a right to expect. Edition of 300 hand-numbered, autographed copies (furthering the slightly "off" fumes this thing gives off).
(www.myspace.com/redlimo)
---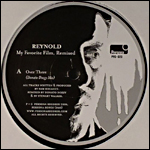 Reynold
My Favorite Film, Remixed 12"
(Persona)

Remixes of forthcoming Reynold tracks hardly merits a "various artists" credit, but so it goes. Donato Dozzy's "Over There" mix is superb, minimal machine funk in a deep, dark Detroit mode, ominous orchestra loops and prayer bell hits weaving all around the off-kilter rhythmic core. Stewart Walker opts for lightness on his "Wish I Was There" mix, a breezy, bouncy, dithered starter track, pleasant but of no real consequence. Definitely check the Donato mix, though – killer times.
(www.personarecords.com)
---

Sic Alps
Semi Streets 7" EP
(Skulltones)

This is the third record I've heard by this ever-changing Bay Area psych outfit, following an excellent 12" on Mt. St. Mtn. and an earlier LP, Pleasures and Treasures, which suffered somewhat from a too-many-cooks problem. These tracks come from a cassette recorded sometime in between the two. "Semi Streets" dishes out coarse, distorted chord-pop moan under the duress of four dirty studio tracks; yet surprisingly concerned with sonics to the point that the distortion on the guitar sounds as if Sic Alps own the patent. There's a similar dirge on the flip with "Brill Building," along with a short experiment called "Social Strats," and a motorcycle field recording called "And What Came Next." Hazed out slouchy noise-pop for a crispy-fried populace. May your 20s never, ever end. Edition of 300 numbered copies.
(www.skulltones.com)
---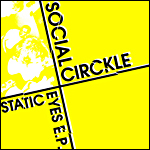 Social Circkle
Static Eyes 7" EP
(No Way)

Rockin', frozen-in-time, very Britpunk-influenced hardcore from Boston. You get the sense that these guys took the first Sorry record to heart the same way DC punks used that Empire album to kickstart Revolution Summer. Four songs here, some entering an iffy garage-type space ("Cut Me Loose") but the others leaving a sizeable dent, in particular both songs on the B-side and especially "U.S.S.A.," dropping the tempo down to a stiff march, but still managing to retain the sentiment. Excellent times herein. Edition of 1000, first 200 on yellow vinyl.
(www.nowayrecords.com)
---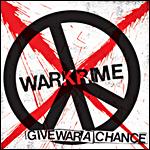 Warkrime
Give War a Chance 7" EP
(No Way)

Crazy, '80s-perfect thrash from Tiburon, CA. They're holding onto the hate, yelling about beating up hippies and celebrating war. Musically these guys are totally there, working themselves up to Septic Death levels of intensity, and with a cruddy lo-fi recording that gives this thing the authentic feel of a demo long lost. Given the level of musicianship here, it'd be nicer to hear them recorded so that instruments don't get buried in the mix the next time. Pretty fuckin' brutal. Edition of 1000, 200 on red vinyl. Nine songs.
(www.nowayrecords.com)
---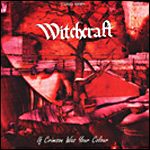 Witchcraft
"If Crimson Was Your Colour" b/w "I Know You Killed Someone…" 7"
(Rise Above)

New single from this upstart Swedish doom band, and it sounds to me as if the wheels are starting to come off. "If Crimson Was Your Colour" bursts forth with the rhythmic chug of a bullfight, and basically keeps it up for the entire song, not really advancing their agenda too far. The flipside is much better, with a worthy but not mindblowing riff and decent Ozzy-meets-Arthur Brown moribund vocalisms, including that trick where they get run through a Leslie speaker. The arrangements are unrealistically static, though, and both the riff and the plodding energy aren't strong enough to carry this one through, though the solo is kind of nice. Not all there, once again, and worse off for it. I just don't get the hype on these guys anymore. Due to the exchange rate, expect to get hosed no matter how you buy it. Pressing stats: 225 on black, 336 on red, 525 on clear.
(www.riseaboverecords.com)
---

Various Artists
No Bullshit Vol. 2 7" EP
(No Way)

This comp of six raging hardcore bands is exactly what the title claims. Social Circkle kicks things off with "Burn Me Up," using that whole "In My Eyes" style half-time prologue to a crisp and strident advantage. Rabies comes out somewhat weak, smart-assed punk rock running on attitude, but Brain Handle redeems side 1 with a concise and prudent retuning of OC hardcore a la early Bad Religion with the blank stare seething of Agent Orange's Living in Darkness. On side 2, Warkrime jump in with the fastest and angriest offering here, spat out with disgust. Cardiac Arrest pull off more of their machine-tooled, drill-sergeant hardcore, and Wasted Time closes things out with a rowdy bang, with the fullest sound of any band here. Aside from Rabies, this thing is nearly perfect, finds a few of today's notable hardcore few playing against type, and might put braces on my kid's teeth someday. Edition of 1000, first 200 on aqua.
(www.nowayrecords.com)
---
---
LPs:
---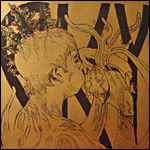 Bird by Snow
Sky LP
(Gnome Life)

The Bird by Snow story continues, and Fletcher Tucker is learning from previous transgressions: he's becoming a much more accomplished arranger, leading songs that walk up to the edge of acid folk, but steer towards rock with their various distorted elements, and the solid, melodic backbone most of these tracks have. Borders on Durutti Column-esque new age aether in parts, and towards forest-minded deadheads like Still Life in others. Tucker's voice was what shot him in the foot on previous releases; dude can't help it, he sounds a little Muppety, and too much like James Taylor when he projects. Fortunately, he plays the vocal card with more subtlety here, allowing the strength of his compositions and co-instrumentalist Spencer Owen to fill in the blanks. Fleshed out with field recordings and more real, desolate charm than ever before, this is a record of great intrinsic worth, and manages to do something new and consistent within a genre largely held together by image and one-trick skills. They even manage to incorporate dub elements into their sound, sounding perfectly natural and not at all cheesy or forced. Incredible and very worthwhile. Edition of 300 in a silkscreened sleeve, on blue vinyl.
(www.gnomeliferecords.com)
---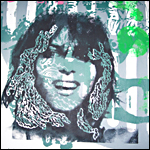 Dreamhouse
s/t LP
(self-released)

Bizarre, primal basement screams that could have only come out of art school. Four kids throw free rock/performance piece percussion melees, microphonic feedback, trebly guitar, saxophone, and ripped-throat hollers from a Gypsy feel at points into a completely lurid, sweltering ritual sound. Had me lost there for a bit on side 1, what with all the poetry reading and all, but by the flip this thing turned into a snarling beast of slapback, pummeling drums, crazy-eyed rants, and lost brain cells, as if Twin Infinitives were re-recorded in a bathtub full of cow guts out in the desert. Young, impressionable, and strong-smelling anarcho-skree; really won me over on their exuberance, and other intricacies not revealed in initial listens. Packaged in this crazy four-panel silkscreen poster, and comes with a haphazardly-stapled booklet of full-size photocopies "bound" into a piece of tarp. You'll go crazy trying to figure this one out.(54 Franklin St., Allston MA 02145 or just look around the Internet)
---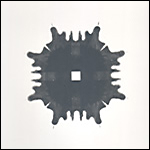 Glass Organ
Two Tapes LP
(Tone Filth/Twonicorn)

Simple, beautiful, dense deathdrone sides here, made from guitar and saturated tape, by the duo behind Devillock and Panther Skull. Employing simple, forlorn leads and more noticeable scuzz/feedback on side A, the group invokes comparisons to Gate on the worst day of one's year, soaked with heavy mist and wallowing in emotional helplessness. Things get thicker on side B, the fuzz ebbing in and out of a considerably murkier, obliterated bed of drone. There's so much more to this record than this description lets on, though; this is the kind of man-made drone that ruled placid, stoned nights in the '90s, back when this music still had its teeth and nails intact. Dark, foreboding, unsafe noise forests in which to shudder in. A beautiful and rare thing. Edition of 365, in silkscreened covers.
(www.tonefilth.org / www.twonicorn.com)
---

Jackwacker
…Things From Inside Your Body LP
(Black Velvet Fuckere)

Guitar/drums duo who hailed from a couple of Midwestern cities, playing death-prog algorithms over and over in some grody basement somewhere. These are archival recordings from the '90s, when a band this tightly wound would have been guaranteed a number of all-male fans to make their endeavors possibly seem strangely inadequate. Crazy time sigs, tape effects that make the guitar take on saxophone skronk overtones, spoken-word decrees that sound serious … those were the days, when a band like this would have fit comfortably in between the Flying Luttenbachers and Don Caballero. Plenty of material jammed onto this LP, stylistically all over where the map I've drawn for you above could allow.
(blackvelvet79(at)hotmail.com)


By Doug Mosurock