Dusted Features

Dusted co-editor Otis Hart pitches his favorite albums and songs from 2006.



Continental Drift (Otis Hart)
The big news around the Dusted watercooler these days is that Sam Hunt and I differed on the best record of the year for the first time in our five-year existence. At first, I was bummed out. We had a nice little run together -- Black Dice in '02, Sufjan in '03, Joanna in '04 and Death Vessel in '05. The fact that we both loved the same records gave each of our picks added legitimacy, as if there was an actual "best album" every year. Well, 2006 was our reality check.
In the course of commiserating, we both came to the conclusion that there wasn't that one great record this year. Only now am I realizing how silly that argument sounds. There were plenty of great records this year (five extraordinarily excellent ones from my standpoint), and in retrospect, this has got to be one of the best crops in a while. Anytime you start a Top 20 list with LCD Soundsystem, you know the release date gods were generous.
If I had to pick one artist that represented 2006 for me, it would have to be J Dilla. That certainly could appear a sympathy pick, given the man died of Lupus in February, but here's where I'm coming from: the man made a monumental record on his death bed. Given the choice between a) giving up, b) fighting for his life and c) fighting for his life and, oh, by the way, recording an album that he knew would be perceived as his defining artistic statement, Dilla chose the latter. Who knows if he even thought of this as courageous – he might have just said 'fuck it' – but regardless of his intent, he set an example that history will have no choice but to remember. See, there was never any doubt that Dilla's tragic situation would make headlines – he had more than enough laurels to rest comfortably during his final year on earth. He could have coasted to the finish. Personally, I would have been like, "Shit, I produced '1nce Again' when I was 22 years old, I don't need to prove a goddamn thing." But Dilla ignored that temptation, or maybe never even felt it in the first place. Either way, James "J Dilla" "Jay Dee" Yancey redefined death with dignity
---
The Top 20:


20. LCD Soundsystem - 45:33: Nike+ Original Run (Nike)
Only James Murphy could turn the opportunity to sell out into an outlet for complete artistic freedom. The Sound of Silver looms.
---


19. The Knife - Silent Shout (Mute)
Bringing genuine weirdness to well-adjusted kids everywhere. They came for "Heartbeats" and stayed for the asexual Goth extravaganza. I have no problem with that.
---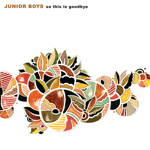 18. Junior Boys - So This Is Goodbye (Domino)
Strong from beginning to end, cresting with the song of the year, "In the Morning." Free of the flamboyance plaguing other synth rock bands, Jeremy Greenspan's lyrics shoulder the full spectrum of emotion.
---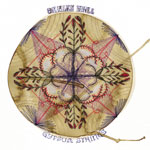 17. Oakley Hall - Gypsum Strings (Brah)
Fellow Middlebury alum Pat Sullivan finally started getting the recognition he deserved in 2006, thanks to two very good countrified roots-rockers. The second one, on Oneida's Brah imprint, is a huge step up in production, hence the accolade.
---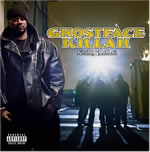 16. Ghostface Killah - Fishscale (Def Jam)
The best traditional hip-hop record of 2006, which sounds like a backhanded compliment, but isn't intended as such. Honest.
---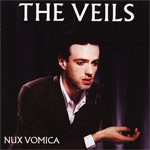 15. The Veils - Nux Vomica (Rough Trade)
New Zealand's Finn Andrews wins for best straightforward rock album of 2006 (even if it never came out in America). Doug Mosurock sums it up nicely here.
---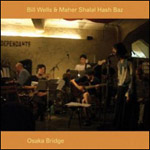 14. Bill Wells & Maher Shalal Hash Baz - Osaka Bridge (Karaoke Kalk)
As a high-school trombonist, my first reaction to this record was, "huh?" I thought someone had recorded my early days at the Monteverdi Music School. But after repeated listens, I realized that the seemingly haphazard was actually expert songcraft and the futility was character. Charm overfloweth.
---


13. Steffen Basho-Junghans - In the Morning Twilight (Kning Disk)
This live recording of the fingerpicking maestro is already sold out on CD, but Kning Disk is thankfully offering it on MP3 here. Keep an eye on this label. The limited edition L. series discs are all praiseworthy and I expect the label to take a huge step forward in 2007.
---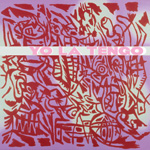 12. Yo La Tengo - I Am Not Afraid Of You and I Will Beat Your Ass (Matador)
Ira Kaplan, Georgia Hubley and James McNew, meet Abbie Hoffman. The political innuendo seeping out of this album could result in some very hip politicians someday. They get extra points for knocking your favorite NME band on "Black Flowers."
---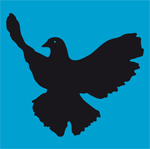 11. Ekkehard Ehlers - A Life Without Fear (Staubgold)
Academia's relationship with the blues usually consists of a distanced appreciation by default, in that those privileged enough to spend their days studying instead of working have no business espousing the soundtrack of the downtrodden. Ehlers, by any definition a scholar, shouldn't have been able to pull off such a poignant take on the genre. Then again, who am I to critique authenticity in the blues. I run an "online publication" in New York.
---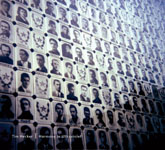 10. Tim Hecker - Harmony in Ultraviolet (Kranky)
Laptop music took a hit in recent years thanks to the rise of misguided noise artists that epitomized Macbeth's eloquent take on life. This album should go a long way in reestablishing the circuital elite. Too loud to be ambient, too soft to be noise, and too good to keep out of the Top 10.
---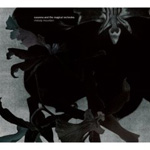 9. Susanna and the Magical Orchestra - Melody Mountain (Rune Grammofon)
Susanna Wallumrød, Morten Qvenild and Deathprod somehow equal Jeff Buckley's cover of "Hallelujah." Crazier still is that it might not even be the best song on the album. This austere assembly of Depeche Mode, AC/DC and Scott Walker covers also makes for a great air conditioner come summer.
---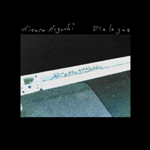 8. Hisato Higuchi - Dialogue (Family Vineyard)
Sighs for the times. Higuchi literally breathes life into his guitar, speaking volumes often by simply exhaling. Some have called these solo electric guitar exercises the blues. I found it to be one of the most joyful records of the year.
---



7. Sharron Kraus, Meg Baird & Helena Espvall - Leaves From Off the Tree (Bo'Weavil)
Your obligatory late-bloomer, this wonderful disc of Appalachian and English traditional songs has captivated me since its November release. Kraus, a UK folk singer, was living in Philadelphia and growing homesick, so her friend Meg (of Espers) would get together with her and sing little pieces of England to quell the heartache. Eventually Helena joined them (with a cello, no less) and the trio recorded the album in one long afternoon. Arresting stuff. Don't listen to "Barbry Ellen" while driving unless you want to join its protagonists in the afterlife.
---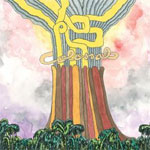 6. Colossal Yes - Acapulco Roughs (Ba Da Bing)
Utrillo Kushner spent 10 years preparing this massive paean to the days of all-right AOR. It's steeped in the '70s, but you can also sense its just as much a reaction to the present's bullshit posturing and obsession with irony. If you're in the same boat (or yacht), Yes is the answer. Don't let this one sail into the sunset without you.
---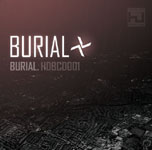 5. Burial - Burial (Hyperdub)
While it came out of leftfield, there was nothing "chill" about this stone-cold classic. Slow-moving, yes, but positively quaking with nervous energy, prone to explode at any moment. Burial is even a danger to its own genre. As dubstep's ambassador, it's great, but as an introduction, it leaves nowhere to go but down.
---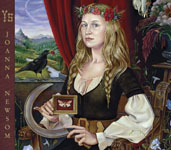 4. Joanna Newsom - Ys (Drag City)
Rolling Stone infamously called this an EP in an ill-conceived review that took all of five minutes to write. But it was right in one sense. Ys, at five songs and 55 minutes, is too short. I could listen to Joanna forever, Van Dyke'd out or not.
---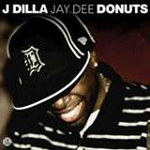 3. J Dilla - Donuts (Stones Throw)
A modern day Proust, James Yancey composed some of the beats on Donuts while dying in a hospital bed, determined to spill his soul before God took it. If you loved Donuts as much as I did, donate to The J Dilla Foundation here: http://www.jdilla.org/donate.php.
---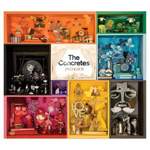 2. The Concretes - In Colour (Astralwerks)
This Stockholm septet made many of my favorite songs of 2006, apparently in spite of themselves. Lead Concrete Victoria Bergsman quit halfway through the year and the band couldn't hold it together for a U.S. tour. The tension at their New York show was palpable. Perhaps it isn't a coincidence that no other band reconciled the weariness of the world and the infallible beauty of being in 2006 quite like The Concretes.
---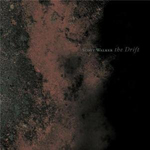 1. Scott Walker - The Drift (4AD)
The Drift poses an eternal question that cuts to the core of criticism: why do you listen to music? Pleasure? Empowerment? Relaxation? Energy? Distraction? Serenity? Emotion? Nostalgia? If your answer lies above, then you have every right to dislike The Drift. Nothing I've heard before in my life quite prepared me for this monstrosity, not even Walker's devastating Tilt. It operates under a different set of rules, cinematic by nature but undiluted by images and the light that inevitably rides shotgun. It's no wonder that the album works best late at night, in the dark, a wolf running rampant where sheep usually reign. I listen to music for all of the reasons listed above, but I admit there are more corners to my mania. I like surprise. I like bewilderment. I listen to music often just to hear what comes next. And every time I listen to The Drift, it's as if I've never heard it before. A harrowing, humbling experience.
---
Favorite 50 Songs That I Heard
Note: Many of my favorite albums were only experienced as wholes, masking individual songs. Scott Walker, Joanna Newsom, J Dilla, etc. worked so well as singular expressions, I can't really differentiate the parts. The following are the songs I kept queuing up in '06.
50. Charlotte Gainsbourg – "The Songs That We Sing"
49. Archie Bronson Outfit – "Dead Funny"
48. Luomo – "Really Don't Mind (Radio Edit)"
47. Lupe Fiasco – "Kick Push"
46. Burial – "Wounder"
45. Herbert – "Moving Like a Train (Smith 'N' Hack Remix)"
44. Audion – "Mouth To Mouth"
43. Six Organs of Admittance – "River of Transfiguration"
42. The Veils – "Nux Vomica"
41. Spank Rock – "Bump"
40. Coughs – "Life of Acne"
39. Peter Bjorn and John – "Young Folks"
38. Camera Obscura – "Lloyd, I'm Ready To Be Heartbroken"
37. Burial – "U Hurt Me"
36. Minilogue – "The Girl From Botany Bay"
35. Death Vessel – "Dancers All"
34. Shit and Shine – "Practicing to be a Doctor"
33. Clipse – "Trill"
32. The Concretes – "On The Radio"
31. Kelis – "Bossy"
30. Hot Chip – "And I Was A Boy From School"
29. Loney, Dear – "The City, The Airport"
28. The Knife – "We Share Our Mother's Health"
27. Ghostface Killah – "Be Easy"
26. The Thermals – "A Pillar of Salt"
25. The Brunettes – "Loopy Loopy Love"
24. Damian Schwartz – "R y F 3"
23. The Concretes – "Chosen One"
22. Burial – "Southern Comfort"
21. Ghostface Killah – "Back Like That"
20. Clipse – "Wamp Wamp (What It Do)"
19. The Pipettes – "Pull Shapes"
18. Gnarls Barkley – "Crazy"
17. Herbert – "Something Isn't Right"
16. The Concretes – "Song for the Songs"
15. Yo La Tengo – "Black Flowers"
14. Vetiver – "Been So Long"
13. Ricardo Villalobos – "Fizheuer Zieheuer"
12. Thom Yorke – "Black Swan"
11. James Blackshaw – "Transient Life in Twilight"
10. Wooden Shjips – "Dance, California"
9. The Knife – "Silent Shout"
8. Carla Bozulich – "Evangelista 1"
7. Cassie – "Me & U"
6. Jarvis Cocker – "Running the World"
5. Spank Rock – "Sweet Talk"
4. Epic Man – "More is Enough" feat. Plan B
3. The Concretes – "Grey Days"
2. Camera Obscura – "Let's Get Out Of This Country"
1. Junior Boys – "In The Morning"

By Otis Hart