Dusted Features

In the latest very special installment of 'Still Single,' Doug Mosurak checks out full-length records from a variety of artists.



Still Single: Vol. 2, No. 7
SUBMISSION GUIDELINES
Yours must be a single pressed on any size of vinyl. CD-Rs of singles will not be reviewed; they will be destroyed. We need the artifact here with original artwork, not some duplicate/digital copy. Only records released within the past six months will qualify for a review.
Singles must be postmarked by the 20th of each month to qualify for the next installment of this column.
ANY genre of music will do – don't hesitate to send punk, hardcore, metal, goth, pop, rock, country, hip hop, electronic, experimental, dub and reggae … all genres accepted and welcome.
Information on your pressing (quantity pressed, color vinyl, etc.) should be included if at all possible.
Submissions can be sent to:
Doug Mosurak
PO Box 1552
Long Island City, NY 11101
Records need to be shipped securely in sturdy mailing materials and marked FRAGILE because the post office will destroy them otherwise
This column runs the first week of every month on Dusted (give or take). Its success depends on you sending in singles for review.
I've been doing the singles column here for a while, so it's inevitable that a bunch of albums will get sent my way now and again. Sometimes I attempted to slip some of these by you in the column, and believe it or not, people actually complained to me, face-to-face, that I was breaking format. Also, I tend to buy records (I am a fan and a collector, after all), and a few things that I'd picked up this year weren't receiving much press in many traditional outlets. Reviewing them all here might seem like an exercise to some, but it's also a good way of keeping up with a number of things across an extremely wide berth of genre, style, and approach.
A handful of these albums have digital counterparts, but most are vinyl-only. Some might be out of print already. Something here might be one of the better things you've heard this year, and you might not have known it otherwise. But all of these releases here have been sorely under-represented in the public consciousness, at least from where I stand. A handful of people have staked a portion of their livelihood and well-being on these projects, in the hope that someone will come across it, listen, and feel the same connection that drove them to put it out in the first place. By and large, these recordings will disappear without the proper attention. I've suffered that pain before. The quarterly Albums Roundup column, starting here, aims to remedy that.
With all of this in mind, I apologize in advance for running capsule reviews, but honestly, you try listening to 26 albums and writing full, cogent criticism of each one. Take it or leave it. I hope you take it.
Information on the artists represented here is as-is. If you see any mistakes, I'm sure I'll hear all about it. And with that, enjoy, and support your local music merchants as they are fighting an uphill battle.
---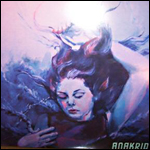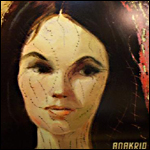 Anakrid
Father LP
Rapture of the Deep LP
(Stereonucleosis)

Two new recordings have surfaced this year from Anakrid, the experimental outlet of Chris Bickel (the raconteur behind In/Humanity, one of the greatest groups of hardcore agitators of the '90s, and its follow-up, Guyana Punch Line). Here he applies the smashist manifesto against atavistic darkness of the pre-laptop variety, evoking an affected take on Nurse w/ Wound and their contemporaries in the mailorder aether in more than a few ways. This comparison is particularly apt on Father, recorded with what sounds like a home full of disused instruments, second-hand sound sculpture, and the ideas found on countless cassette-only xpr releases of the '80s, returning to roost on the mostly empty temple of No Fun style extremity. It's balanced, rhythmically primal, fairly engaging head music that leverages the occasional reheating of landmark ideas with a refreshing purity of craft wholly missing from the current noise landscape. Fans of This Heat, Test Dept., and early Controlled Bleeding will know what I'm talking about here. Rapture of the Deep subtracts the percussive elements, leaving the listener floating in a sea of blue-black death ambience, without any pre-determined boundaries. Song titles and the cover painting of a woman drowning all but spell it out for you, so I'll spare any further nautical/asphyxiatory metaphors and just inform you that this work leans toward the sedimentary, eternal evil type of drone once practiced by Coil than that airy, Stars of the Lid style; it's more granular and by side two becomes quite terrifying. Anakrid has two more records in the can, one coming out on Beta-Lactam Ring in '07, and by then these editions of 350 each should be long gone. Please hurry.
(Email anakrid@aol.com for details.)
---

Black Merda
s/t LP
(Lilith)

Russian repress (with Cyrillic liners) of this 1970 Chess label black rock outfit's lone album. Chess was running out of steam by the time of this band's release, and soon after the group disappeared from view. That's not to blame the band, who touched on some Gamble/Huffisms like a more rock-oriented O'Jays or one of the early '70s Motown ensembles, like the Undisputed Truth. Fittingly, there's a lot of issue music here, with messages fully intact, but the hot moments – opener "Prophet," searing psych guitar runs in "Good Luck," and the deep and bluesy rocker "Cynthy-Ruth" – prominently featured on the Chains and Black Exhaust boot – come through to save the session. The band takes its time getting pretty much anywhere with a lot of these tracks, which probably cut down n their commercial appeal, but it's not hard to see why Chess signed these guys, as they're maybe one step removed from the sounds of their rock projects for blues musicians series, like The Howlin' Wolf Album or Electric Mud. All in all, it's not exactly essential, but a nice slow burner, and an easy way to obtain what can be a fairly high-dollar collectible. No pressing info provided, but it's on nice, thick 180g vinyl, and seems to come from a legit licensing source.
(Email info@lilith-spb-ru.com)
---
Buzzov*en
Revelation: Sick Again LP
(Sounds of the South)

These were reportedly the final Buzzov*en recordings, rejected by whatever label was working with them at the time and shelved until recently. All the slow, brutal black tar dirges you'd expect, and all the soundbites intact, too. This record sounds like the heroin had taken its toll with them and it was rehab in making it. That could be true, and it certainly works as a mythos. Like the slowed-down, Sabbathed-up real world equivalent of Monster Magnet, and twice as brutal. Wherever you can find this very limited edition LP, you best pick it up.
(http://www.myspace.com/xbuzzovenx)
---

Canell & Watkins
Luftkluster/Luftfluks LP
(Oscillatone)

A dozen tracks of loose, hesitant avant-pop reduction and experimental-minded sound collages are featured on this, the second album by the duo of artist/musicians Nina Canell and Robin Watkins. Luftkluster is the more pop-oriented of the two sides, with Watkins providing vocals are more than a little reminiscent of David Grubbs, in essence coloring this music in academic, neutral tones. It's warmer than one might expect; the duo tends to sing in tandem, with a layered vocal approach over slow, studied guitar melodies that almost demands headphone playback, fitting in alongside Animal Collective or maybe Ariel Pink as far as reticent, cubbyholed songwriting and approach is concerned, or perhaps lost Grenadine tapes played over a shortwave radio. Luftfluks is the more kinetic side, working more in loop and atmosphere than structure. "Fluks" chugs along with its ric-tic, palm-mute scrape and mechanical buzzing, while "Isblock/Iceberg" couples up field recordings with harmonium dirge. The rest of the offerings to this side fall in line somewhere in between; sonic imagery informed by deliberate tones. More interesting than it lets on, though there are any number of artists working in these "boundaries" who might give you just as much of a thrill. I'd hate to think that this took any great amount of time to produce, as it seems too infatuated with the mediums used to make the music than the music itself. It shows in a most disappointing, unoriginal effort. In line with the worst Teenbeat releases. Edition of 250 numbered copies on white vinyl.
(http://www.oscillatone.com)
---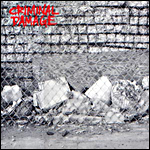 Criminal Damage
s/t LP
(Feral Ward)

Portland-based street punk project, featuring Tragedy drummer Paul Burdette on vocals if you need something to hold on to referentially. You might as well pull out your Blitz records while you're at it, as there's something similarly powerful yet simple in the approach here – hard, melodic, tough street punk, with gang vocals, big reinforced melodies hoisted out of early Misfits songs, and production perfectly suited to the dirty, desperate vibe they put forth. I picked this one up over the summer, listened to it the first time with friends, found myself somewhat unimpressed, and filed it away. But in the last few weeks, this album has risen to the top of my listening pile. Its appeal lies in that it's constructed out of parts so basic and sturdy-sounding, that the best songs here get stuck in your head as soon as they're finished, and stay there for weeks; Yannick's perfect $67 production job is the capper, dating this record back to the times when this music first hit the import shelves. Records like this serve as that dividing line between who gets it and who won't: people who grew up with punk being something you couldn't buy in a mall, versus those who don't quite understand that there is a ground floor mentality that preceded even the tawdriest of pre-pube fashion screamo crud. The credentials are all here, and they made something of worth. Recommended to all fans in the genre, from crusties to Exploding Hearts fanatics; there's something for all of you here. CD version may also be available as well; I didn't check.
(http://www.feralward.com)
---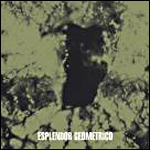 Esplendor Geometrico
Early Recordings 3xLP+7" box set
(Vinyl On Demand)

Prior to picking up this box set, I had experienced limited but fond exposure to Esplendor Geometrico through my college radio station, WRCT Pittsburgh, and its propensity for collecting experimental and noise recordings for broadcast. EG always struck me as brethrens to an impending electronic/technoid movement than it did to any sort of harsh power 'lectronic/noise-industrial scene, but the early releases presented here – a recording of their first live date in March 1980, the EG-1 cassette, the "Necrosis en la Poya" ("Necrosis of the Cock") 7" EP, the first album El Acero del Partido/Heroe del Trabajo, and an unreleased live excerpt from 1986 – find the Spanish outfit, sometimes a trio, sometimes a duo, splitting the difference handsomely. Every selection here is driven by pinging, pounding rhythms and informed by the harsh cold and brute force of industrialized society, with tape loops and primitive effects pedals augmenting the chaos. The brutality is all TG or SPK; the aesthetic resides within more esoteric groups like Cabaret Voltaire. Though much of this sounds like adventurous folks getting buck wild with contact mics and a reverb tank, it's got the charm of being very nearly danceable in points, and its forcefulness will not be lost on lovers of extreme music. Personally, I can't get enough of it, and wish I could hit the lottery and pick up all of this label's offerings. Check the URL and wet yourself with envy. This set comes in a heavy box with textured, embossed sleeve reproductions, in a hand-numbered edition of 500.
(http://www.vinyl-on-demand.com)
---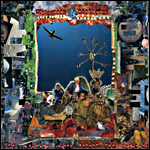 Functional Blackouts
The Severed Tongue Speaks For Everyone LP
(Criminal IQ)

Chicago's Functional Blackouts refine their formerly blunt, Pagans-esque murder punk approach on their second album, more obsessed with outsized, confrontational punk/agitprop bands of the '80s, from the Dicks to the God Bullies. Largely, though, I am unconvinced of their prowess in this area, to be the "shocking" band that pulls the covers off of reality and button-down society and shows us this bacchanal of Roman orgy proportions. Most likely that orgy is stocked with cans of cheap beer and maybe some crystal meth and a gravity bong, mostly dudes, and pretty wound up. I'm impressed at their reach, but the execution is off – I don't think they were really feeling the songs this time around, but they went and recorded them anyway, and the flat, shitty production and methodical performances really work at odds with the spontaneity these songs need. These guys were more interesting to me when they were blown out and wild, rather than making concessions to become the Insane Clown Posse of garage-punk. When it ends, you won't remember any of it. Really not feeling this one at all. There's a CD version as well. Have fun with that.
(http://www.criminaliq.com)
---

George Steeltoe Ensemble
Church of Yuh LP
(Heat Retention)

Some large-ensemble free improv sessions here from a loose collective, anchored on both sides by Jay Dunbar on bass, Lathan Hardy on reeds and percussionist Brian Osborne. Two distinct sessions, recorded a day apart from one another. Side A trades in between Euro discomfort and Jaap Blonkisms (replaced by a scratchy radio broadcast instead of a man with a voice of demons), then leans into a loose, early Art Ensemble sort of pushy swing moment, before denigrating into noise/guitar loose rock/jazzist terrain for the finish. Aside from demonstrating some abilities in a few different styles of avant-garde fuckery, it falls way short. Elements congeal markedly better on side B, featuring Daniel Carter in on a variety of instruments and generally more assured, chaotic sense of structure that carries through the whole track, from its startled beginnings right through to the final crash.
(www.heatretentionrecords.com)
---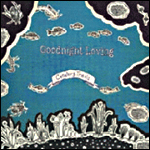 Goodnight Loving
Cemetery Trails LP
(Dusty Medical)

Following the lead of Oxford Collapse and others who cherish '80s jangle, the Goodnight Loving of Milwaukee, WI make playing roots-oriented country rock with some obvious chest-beating garage influence under it, seem like an act of courage. This part of the decade is all but forgotten in lieu of the Duran Duran or Guns 'N' Roses contingent, all last-call action, whiskey-shootin' before the broom sweeps you out the door type of action. It's a shame they can't seem to excise themselves from the more obvious hayseedery therein, but hey, it took Oakley Hall three albums to figure out something somewhat new to say in the medium, so these guys have some work to do. Which leaves the more original-sounding half of this record to contend with. It's a corker, with leadoff track "Dead Fish on the Banks" being the strongest here, bright and hopeful with the punk-derived energy of, say, the Knitters, and the open-chorded chug of folk-pop balladeers. It's an inspiring, single-worthy moment that these guys might need to play up on in the future. "Deadweight" and "It Takes Its Toll" impress in much the same way, sunny and energetic but close to the cuff on its obvious influences. The whole affair is rendered beautifully by producer Greg Cartwright (Reigning Sound, Oblivians), which was a wise decision, as few others could bring these guys across with such sincerity. Overall, a worthwhile time for sundown. Vinyl is in an edition of 500 (analog recorded and mastered from tape), with 100 on colored vinyl, and there's a CD version as well.
(http://www.dustymedical.com or http://www.myspace.com/dustymedicalrecords)
---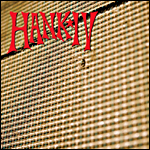 Hank IV
Third Person Shooter LP
(Hook or Crook)

Older gentlemen still having fun (ex-Icky Boyfriends, Bum Kon, other bands of yore) in a sort of loose, esteemed, chaotic garage-gentry mode. Third Person Shooter is nine songs of yesteryear, songs that wouldn't sound out of place next to Volcano Suns, Great Plains, or Dan Melchior. It's hard to get too worked up when the originals are collecting dust on my shelves. These dudes are basically just reheating the old style, and if I were still in awe of my elders as I was when I was a young whelp just trying to learn as much as possible about all that came before me, maybe I'd get more excited. As it stands, this is a lively, rambunctious rock record that sets the bar a bit lower than it could have. All vinyl copies come with a CD version inside; 200 of them are on magenta/black splatter vinyl.
(http://www.hookorcrook.com)
---

Harrius
Enter the Cotton Ring LP
(Ehse)

Scattered, strangely alluring sketches and improvisations for voice and small instruments by this duo collaboration between Chiara Giovando and Metalux's Jenny Graf Sheppard. Enter the Cotton Ring works better as individual pieces than it does an entire album, its eight tracks dashing between a handful of solid musical ideas (largely on the psych-folk vibe the kids love so much these days … someone here's got a pretty nice voice), and enough material from manipulating items that were most likely laying around, to stretch it all out to a suitable length. Low-end rumbling and circuit bent tweakery don't always a convincing piece make, but when things do come together, like on the opener "The Cotton Ring," and most of the epic "Ebolatime" (save a predictable noise-jammed finish), there's an impressive ability showcased that bridges two fringe genres together into a unique whole. Apparently this serves as a soundtrack to a film, which makes a bit more sense – lining this thing up to the appropriate visuals would possibly open it up a bit more. Still, the label's offering this and other releases up for free download off of their site, so I hope you take them up on that. Vinyl is an edition of 500 copies.
(http://www.ehserecords.com)
---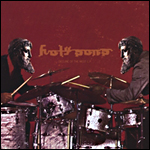 Holy Sons
Decline of the West LP
(ABC Group Documentation)

The word "ascetic" came to mind while listening to this album, far before I had realized that Emil Amos had named his second album as Holy Sons Staying True to the Ascetic Roots. No joke; this thing is threadbare – quiet guitar, hushed vocals, cheapo drum machine. And it's sort of a shame, as Amos (who does double-duty drumming for both Grails and Jandek, two musical extremes I can't even begin to stitch together) has an obvious knack for inclusively-written singer-songwriter fare, a common touch that invites listeners into these songs, which are more humbly presented than they let on. Doing it for yourself is one thing, but the bare lightbulb dynamics of this, his fifth album, start to work at odds with the warmth and welcomeness woven into these songs. Fleshing out to a full band setup on a few tracks, including a sumptuous cover of Eric Gaffney's "Level Anything," it's clear that Amos is comfortable with more ambitious arrangements, but it'll take a seasoned ear and multiple listens to appreciate what he's laid down here. And once it does grab you, you'll be glad you worked for it, but after this long, maybe it's time to start paying it back to the people who offered to release this music by throwing them a bone and making something more avid and fleshed out. CD version available on an Italian label called Awful Bliss; no info available there.
(http://www.abcd2.org)
---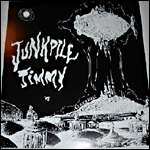 Junkpile Jimmy
Alberhill2xLP
(Cartel Ilustre)

Really, this record was the inspiration to actually line all these records up in a column. I wanted to talk about this jam for a while now. Junkpile Jimmy is a one-man band that's taken considerable cues from Doo Rag, Pussy Galore, Ween's The Pod and the Oblivians to make supremely in-the-red, crass punk blues/proto-industrial noise using guitar and any number of found implements as percussion (roof flashings washing machines, oil drums, electric sander, weed whacker, etc.) That in itself would be something to ponder, and almost definitely a good bashing time, but this dude tracks the blues to all of its obvious and accepted forms, including glam ("Boogie 06" is essentially T. Rex's "Buick Mackane," thoroughly fucked by bottleneck slide, hoarse hollerin', and what sounds like banging on ductwork with a wrench). At points the percussion on here seems like grotesque parodies of an exotica record. As with most things that have been done like this, there's only so far the sound can make it on its own; it's the inspiration behind it that makes it all go beyond being merely somebody else's ideas. Jimmy's new in town, but he bashes this thing to the next level with a determination and ownership of the sound that hasn't been heard since Jon Spencer trotted out A Reverse Willie Horton. Recorded in chunks between 1998 and 2003, this bodes extremely fucking well for the future. Micro-edition of 235, with paste-on sleeve and a couple of inserts. 28 extremely personal songs that sound like the amplified struggles of every day life, like when all those car horns and shifting construction dumpsters on the backs of flatbed trucks get synched up with the rhythm of your windshield wipers. They're sequenced in chronological order as well, so you can hear the guy get better (and better ideas) as this thing rolls along, Unreal. Highest fuckin' recommendation.
(http://www.cartel-ilustre.com)
---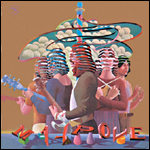 Maypole
The Real LP
(Anopheles)

Continuing in a tradition of fine vinyl collectibles from the bottomless well of taste that is Karl Ikola's Anopheles imprint (Debris, George Brigman, Twinkeyz) comes this lost rock concept notable by Baltimore's Maypole, barely issued by Colossus in 1971 and all but lost to the buying public in that label's collapse. Those who know, know that music created in and around 1970 is generally "thee shit," it being a banner year for stars to align for all manner of heavy/psych/proto-metal/dark pop, and in that sense, Maypole succeeds completely; there's still the sense of creating a work more grandiose than is expected (conceptual themes, songs running together into side-long suites, mentions of how the Beatles raised the bar for their kind of music, etc.) and while there are strains of lofty sentiment here a la S.F. Sorrow or the first Gracious! album, these guys are clearly into their own thing. The liner notes speak of a band that only wanted to be free, and was cursed by uninformed decisions, bad business, and personal tragedies – while completely ignoring that the listening public typically has no attention span for something this layered and progressive – it's very hard to get a bead on all that wallowing when listening to the album. It's a definite keeper, with great, ragged U.S. garage tendencies stretched to accommodate loftier song structures, with some surprisingly heavy moments like "Look at Me" and "Johnny" that tactfully avoid the easy answers that a more knuckledragging, besotted bunch (like Dust) might have produced. They also make the complete bum-out track work in their favor, in the album's bittersweet closer "Stand Alone." Like all Anopheles product, this is a beautiful reproduction, the album receiving its first-ever solid remastering job, pressed on audiophile clear vinyl and housed in a beautiful tip-on sleeve repro. It'll be gone before you know it, so get in there. CD version forthcoming on Gear Fab, but as of now vinyl is the only way to get it.
(http://www.anophelesrecords.com)
---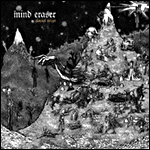 Mind Eraser
Glacial Reign LP
(Painkiller)

Boston-area guys straight killing it on their second album, hoisting up the raw tonnage of powerviolence out of the '90s West Coast scene, both as blastbeat concussive and La Brea sludge extrusion. Mind Eraser bring it off with better production than most of their predecessors, in no small part due to Will Killingsworth's stainless, atomically heavy production job, fusing their tracks with denting, metallic force. The one-two KO of "Yes Man" and "Wrote Off," particularly the breakdown in the latter, could demolish a building, and the two-into-one epics that close each side prove that these guys don't need any work in their long game, either. A huge triumph in a time when there are more losers than winners. Also available on CD. First vinyl pressing is on 1109 copies, with the first 284 on white vinyl. The label's sold out of vinyl and going to second pressing, so check your distro or record shop of choice.
(http://www.painkillerrecords.com)
---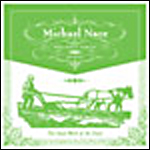 Michael Nace and the Nace Family
The Good Work of the Dead LP
(Ionik)

Nace used to play the mathrock in Drill for Absentee, went soul searching across a predictable axis (wide as Nick Drake to the Sea and Cake, dont'cha know), and found out, like one in ten frustrated indie rockers, that he's a hayseed at heart. The Good Work of the Dead is that hick folk-bluegrass musical honesty statement, one where the music drives the performers instead of the other way around, and one whose experiments fail laughably. Ramblin' country folk-blues, while acceptably performed, is strained by the presence of goofy vocal deliveries and hard-on-the-ears drone experiments layered within. Unbelievably trite. Edition of whatever, white vinyl, silkscreened sleeve. Also available on iTunes.
(http://www.ionikrecords.com)
---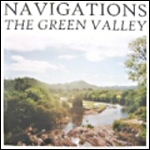 Navigations
The Green Valley LP
(Northern Varieties)

Three Finnish guys who wrestle guitars for a living come up with an instrumental bout of tension with The Green Valley, playing up to that fractured, crystalline pattern playing of post-rock as evidenced by American Don-era Don Cab, Slint, Cheer-Accident, and You! Fantastic. Repetition and sentiment combine to produce a sinuous, labor-intensive stop-start fest of moody and meticulous noise rock, exacting in its various pirouettes. Didn't think guys were so into non-verbal expression through music in this world for a while, but I'm proven wrong. Built-in audience, and of course if you're curious, I'd say yes, this should be yours. It's complex and satisfying in familiar ways.
(http://www.navigationsband.com)
---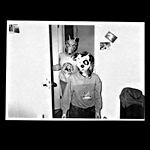 Paavi
s/t LP
(Lal Lal Lal)

Very physical, sidelong piano dominant instrumental "white ragas" for focus and dexterity. Pensive and taut, Paavi hammers on the keys at marathon length, allowing for the construction of the instruments to vibrate throughout the recordings. Murky and weird-sounding, which makes it all the more effective. Listen in: you're nervous. Comes packaged in question-raising paste-on sleeve art and with a full-color photo of a woman nursing a baby. It's anyone's guess, really.
(http://www.hammu.com/lallallal)
---
Donna Parker
Debutante LP
(Twisted Village)

Lo-fi amp torture that really benefits from a thorough lack of subtlety as voiced by Bostonite Ms. Parker (who performs solo and with Jessica Rylan in Secret Diary, taking on producer roles here). Buzzing, moaning sonic violence that vibrate like a roach's guts in a demolition site. Supports the notion that a well-crafted tone ably knocks out any need for embellishment using any of the archetypal "noise musician" getups (e.g., bondage/S&M, serial killer worship, thumbsuckery, etc.) Six songs that leveled New Bedford. Paste-on sleeve, undoubtedly a limited edition. Whatchoo waiting for?
(http://www.twistedvillage.com)
---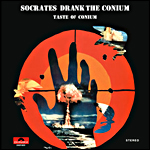 Socrates Drank the Conium
Taste of Conium LP+7"
(Anazitisi)

Socrates Drank the Conium (later shortened to simply Socrates) existed for a patch in early '70s Greece, a country not unfamiliar with drastic, romantic music or its steady march into more progressive forms (see Aphrodite's Child, particularly in its final stages with their Vertigo double-album 666). Much of Greece's psych past is being reissued in beautiful LP-only editions by the Anazitisi label, who last year unearthed vinyl of the first SDTC album with a bonus 7" of earlier material, culled from original master tapes and presented quite professionally. That record is a minor underground prog-psych classic, singlemindedly riff-ripping over a burning guitar-led power trio state of mind; impossibly cool, basement-minded hardscrabble rock that's got a foot in the basement and another on complex yet catchy guitar leads. Taste of Conium is their second album (originally issued on Greek Polydor in 1972), and inexplicably finds the group stepping into a UK blues mode some years after the fact, with an intense yet sloppy 11+ minute cover of "Satisfaction" dominating most of side one, unnecessary covers of "See See Rider," shit like that which makes things a little less fortunate this go-round. It's like they got really into Paul Butterfield or Jimmy Page, kept the weird aspects of their sound (including the acid yellow guitar constant, and the crooning vocal delivery) but basically steamrolled the adventurous parts for a garage-blues aesthetic which doesn't work. It still rocks appropriately, and I'm sure this was a fun thing to witness live (had I been strolling around early '70s Athens, at least). A couple of tracks grew on me with repeated listens, but all told, I'm out $40 on this one, and all I have to show for it is a Socrates poster I can't afford to hang up. The 7" is a nice touch but doesn't fare much better. I hope that their remaining albums get reissued, though; their third, On the Wings, is 100% killer, as they ditch this 12-bar nonsense and get back to the headburn.
(http://www.anazitisirecords.com)
---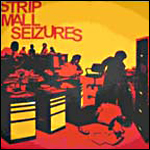 Strip Mall Seizures
s/t LP
(True Panther Sounds)

Dude, what is with the Bay Area and fucking circus music, anyway? It's bad enough that us New Yorkers have to put up with, like, Gogol Bordello, but you folks have your own subculture dedicated to it all. Here's some wavo kids from out that way, obsessed with, Indymedia and Lene Lovich, stuttering out this stormy metal-meets-Oingo Boing style romp, with accordion and church organ moshing it up around edgy subversive scatter, from noise overload to that stupid fuggin' evil clown waltz type shit. Who is into stuff like this? Is this Burning Man's fault? Edition of a few hundred, red vinyl, silkscreened sleeve and "challenging" photocopied booklet.
(http://www.stripmallseizures.com)
---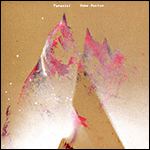 Tarentel
Home Ruckus LP
(Root Strata)

I'm assuming this is the same Tarentel some know and love. I haven't listened to them in some time, nor do I know if they are active (and I don't have the time to look it all up, so stop bothering me). This record, however, is brilliant; a thick and soupy mix of aimless free jazz reeds, blown out sub mass overmodulation, decaying loops, and smooth-like-silt tape loops, floating in a murky abandon. This is analogous to the Anakrid records above in some ways, but not as oppressive in their totality of sound. These are sketches for mood and shadow that happen to live underwater, and I for one can appreciate the effort that went into this partly-structured clatter, and the ability for the band to step up out of their roles as well-behaved post-rock. Comes in a screened, spraypainted sleeve; limited pressing.
(http://www.rootstrata.com)
---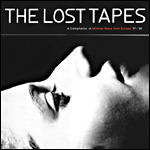 Various Artists
The Lost Tapes LP
(Minimal Wave)

Collection of outmoded, mostly Belgian minimal synth tracks, revealing precursors to new beat/EBM, culled from cassettes released in the '80s. Unlike Wierd Records, these tracks are made by long-expired groups, and the motives can't be determined as easily. That said, this collection is somewhat jarring in its track selection and sequencing, presenting eleven largely non-commercial, iconoclastic artists in a series with little contextual clues in the package overall. I suppose you can go to Minimal Wave's online archive and learn more, but things don't flow as well as they should. Plenty of frigid, stiff songs by folks like the Neon Judgement, Portion Control, and BeNe GeSSeRiT, shivering with Cold War fear, bouts of internal depression, and clinical thoughts of sex (ADN' La Catastrophe's "Sex Cinema" fits well here, porn loops undercut with rhythm box clatter and a general acknowledgement of the act, probably concealing a throbbing boner within). Ensemble Pittoresque take it up a notch with their sleazy "My Baby," but for the most part this is wrapped in plastic and delivered as-is. I can appreciate the sentiment behind obsessing over this music, but not the actual product. Perhaps you can, though. Numbered edition of 500.
(http://www.minimal-wave.org)
---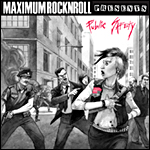 Various Artists
Maximum Rock 'n' Roll Presents Public Safety LP
(Maximum Rock 'n' Roll)

It's been a while since there's been any recordings curated by the MRR camp, but possibly the resurgence of a punk and hardcore underground on any/all fronts (to the extent that Japanese bands exist to play Finnish hardcore), the time seems fairly ripe for a scene survey. Featuring 26 bands, half of which are from America, the others from recognized hardcore hot zones (Nordic lands, Japan, Denmark, Spain, Canada, even Israel), Public Safety might a point here and there, but it'll give you more than a world scene overview. It's sequenced to provide a great sense of how energy is expended by contrast to the bands: some keep it organized and tightly bound, while others rage outside the perimeter thrashing wildly, but it's clearly all being run out of the same wall outlet. After one listen, I remembered the skinny-tie death rock of No Hope for the Kids, the pent-up queer rage of Limp Wrist, and Nightmare's punishingly fast thrash meltdown. These are all exclusive tracks, and nobody handed in second-rate material. The focus finally dissipates about three songs out, with Smalltown's hardcore-influenced pop-punk, but for the bulk of the record, Public Safety remains an impressive, passionately rendered snapshot. 350 on red vinyl, the rest black – represses to follow. Also available on CD.
(href=http://www.maximumrocknroll.com)
---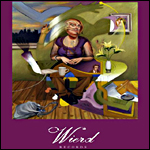 Various Artists
Wierd Records 3xLP+7"
(Wierd)

Really nothing could have prepared me for this collection, or the quality of craft found within. Wierd (as in "Carissa's"; their spelling, not mine) is a party that once took place in Williamsburg, Brooklyn's tiny Southside Lounge on Tuesday nights, as unassuming a night for DJ Pieter to play a well-tended selection of goth, coldwave, New Romantic, death rock, electro-cabaret and minimal synth records. Live performances even happened in – and on – the bar, and if you were ever in the space, you'd know what feats that would entail. I never considered myself "fabulous" enough to attend, as the bar was a good $20 cabride or countless trains home from my apartment at the time, but far be it from me to even assume that there was a new and active generation of inspired individuals out there who were actually making this music out of the context of the early '80s. Wierd Records proves otherwise. Sixteen acts in all contributed, most largely unknown (the only ones I recognized were 2VM, featuring Marc Houle and Minimal Wave's Veronica Vasicka, and Blacklist, with all-around great guy James Minor on guitar – consequently the only group with traditional rock instrumentation here). I must say that I am duly impressed by the overall quality of the offerings. There is a passion behind this music that gleams through frigid exteriors, rescued on this massive collection from the half-life of the CD-R under-underground of bedroom coffins and demo trading, across four slabs of thick vinyl, in a full-color gatefold with an album-sized, 32-page booklet. It takes a bold, noble spirit to put yourself out on the line like this, and it would seem that Pieter and co. have selected just about everyone worthwhile they could locate in the scene, from NYC and around this country as well as Europe, to submit tracks for this collection. Listening in, I feel like I'm back in high school, discovering the Legendary Pink Dots, Joy Division, Tuxedomoon, even the Cure's earlier works, for the first time – the feelings of isolation and the incurable complaint of acceptance in rapidly changing yet oppressive world, come rushing back. A great thing to sit alone in your room to and brood with. If you don't have an appreciation for the darker, chillier side of things, this collection is not for you. But if you have any inkling of love for the boys and girls of the night, there will be something here to draw you in. Aside from the artists mentioned, I'm also a big fan of Diako Diakoff's dubular "By the Lake," and the claustrophobic cold of Opus Finis, amongst others; there's not a dud in the whole collection, which comes off as very personal, and truly emanates a vibe of something you and I most likely missed out on. Hand-numbered edition of 1000, with no CD version planned.
(http://www.wierdrecords.com)


By Doug Mosurock