Dusted Features

In the latest installment of 'Still Single,' Doug Mosurak checks out singles of various sizes by Meg Baird, The Dead C, Jason Forrest, Love is All, and many more.



Still Single: Vol. 2, No. 6
SUBMISSION GUIDELINES
Yours must be a single pressed on any size of vinyl. CD-Rs of singles will not be reviewed; they will be destroyed. We need the artifact here with original artwork, not some duplicate/digital copy. Only records released within the past six months will qualify for a review.
Singles must be postmarked by the 20th of each month to qualify for the next installment of this column.
ANY genre of music will do – don't hesitate to send punk, hardcore, metal, goth, pop, rock, country, hip hop, electronic, experimental, dub and reggae … all genres accepted and welcome.
Information on your pressing (quantity pressed, color vinyl, etc.) should be included if at all possible.
Submissions can be sent to:
Doug Mosurak
PO Box 22183
Brooklyn, NY 11201
Records need to be shipped securely in sturdy mailing materials and marked FRAGILE because the post office will destroy them otherwise
This column runs the first week of every month on Dusted (give or take). Its success depends on you sending in singles for review.
Hey guys, here's a bunch of singles. I hope you find something you like, and at least share a laugh at that which I don't. As always, thanks for your continuing support of this endeavor. It's a really good time.
Some of you have sent in album-length releases to Dusted on vinyl, and we urge you to continue doing so. We've received comments that they don't belong in this column, and we tend to agree with that sentiment. In a few weeks, we'll be running a vinyl-only album installment of this column, written by me, and if things go smoothly, it will be running quarterly. All of you who've submitted material, please, hold tight – we have not forgotten about you.
---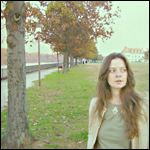 Meg Baird - "Waltze of the Tennis Players" b/w "Clear Companion (A Capella Version)" 7"
(Tequila Sunrise)
Meg is a Baird Sister and an Esper, which would put this into the hands of a lot of you sound unheard. Rest assured, it's worth your time and effort. Her playing here is simple but assured, her voice velvety and with a tiny bit of Carter/Dalton crag to it. She dances sweetly through the Fraser-Debolt tune "Waltze of the Tennis Players" and her perfect pitch carries "Clear Companion" all on its own. Not much to say; it's unadorned and lovely, getting by on far more than charm and goodwill. Limited to 1000 copies.
(www.tequilasunriserecords.com)
---
Big Toe - "Direct Sales" b/w "Cycling Shoes" 7"
(Bathysphere)

How does this get to be a single? Quiet laptop folk with raccoon eyes tendencies? In what world did someone sit there and listen to these tracks and think "hmm, this has GOT to be a record?" For people who think the Books are too edgy, a girl reading out of a diary and humming along to deep but useless bass and some simple guitar plucking and computer ebbing (no flowing). Please stop.
(www.bathysphere.co.uk)
---

Bob Burns and the Breakups - "Hydrostatic heart" + 2 7" EP
(Plastic Idol)

Sometimes I panic when these competent garage-punk singles land on my desk, if for no other reason that I get really bummed when they all start to sound alike. Bob Burns and his band come from Wisconsin, and they're not all about trying to cut the cookies with the same cutter; there's ragged edges on these three tracks here strong enough to yank on for the record's short runtime, and the energy levels never flag, the songs never get boring or stay in the groove they start with, so that's a good thing. They're in a worthwhile vein, balancing melodies with the screaming and wildness (think newer stuff and less Estrus/West Coast classic-minded action from the early '90s), and never letting one overtake the other for long. Clear vinyl, edition of a couple hundred, and that's it.
(www.plasticidolrecords.com)
---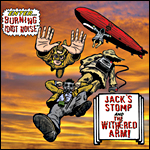 Burning Idiot Noise - "Jack's Stomp" b/w "The Withered Arm" 7"
(A Hare Called Lucifer)

Normally when a record is lame, you know it right away. Burning Idiot Noise gave it away with nonsensical comic book illustrations and cheeky band description (e.g., "drummer" = "hits things"), but I believe in giving records a fucking break sometimes. And for about 20 seconds, this thing kicked in hard with a thick, modulationally superior keyboard groove, locked-in bass, and solid drums, to the effect that I was truly excited. No way they would ruin this with some sort of alternateen vocals that sound like Geddy Lee fronting some band from "The Young Ones," right? Or some crazy iguana-with-sunglasses guitar riffin', correct? Well, they goddamn did it. They blew it by going for the cheese, the "Tank Girl" route. My hopes were dashed for "The Withered Arm" after "Jack's Stomp," but goddamn it, they did it again: laid down another respectable groove with its tendrils sucking the life out of the Modern Lovers or the Velvets, and you know what, the singer comes in again and ruins it. Can't even complain about the guitar this time. Please get rid of this guy and retool these songs to a more suitable style so that this professional jagoff can be free to ruin some other, less talented band. And have him take that stupid name and those trite art concepts with him. You're better than that.
(info(at)burningidiotnoise.com)
---

Cococoma - "6 1⁄4 - 125" b/w "Take My Time" 7"
(Goner)

Out of just guitar, organ and drums, Cococoma cranks a sound more impenetrable than most bands mining the garage-punk thing with way more instruments. Total sound is crucial to winning their divisional contest; nothing else will work, not sexy bad girls, not cool hair and clothes, not amazing eyeball tattoos. Really, filling the space completely with whatever you have to play through is just about half the battle, and Cococoma match up the rest with fun, low-functioning songs that get everything expected of them out of the way by the end. I liked their singles from earlier in the year and I like this one, and I'm excited to see them perform tonight in Brooklyn. Less copies on clear vinyl than on black.
(www.goner-records.com)
---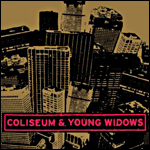 Coliseum/Young Widows - split 7"
(Relapse)

Louisville punk bands of brothers share this split EP. Coliseum are pretty much straight-and-narrow hawdcore with tight screws and loose shoes, banging out two standard-issue numbers with all of the energy and none of the hooks. Again, late-period Flag shows its face, or maybe early Neurosis, somewhat for the worse. It's holding them back. Young Widows shook themselves free from Breather Resist. I saw them this summer; they were loud, had a lot of really nice gear and a light show, but all of the staying power of the second Janitor Joe record. They got one on here that sounds like beefed-up In Utero outtakes that I'm kind of into ("Baritone #3") but the opener "Future Plans" is that sort of interminable tough-guy noise that overstays its welcome by twice as much, the kind of overplayed action that their heroes the Jesus Lizard would never stand for. I'm sure these guys can figure it out at some point, but it's not happening here. Out of all the things to do musically on the axis between tribute and innovation, I can't figure out why these bands would settle for instrumental competency and vague nostalgia. Edition of 1000, on various colors of vinyl.
(www.relapse.com)
---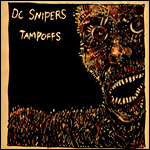 DC Snipers/Tampoffs - split 7"
(Daggerman)

I expect one and only one thing from the DC Snipers: fun, stupid punk rock with catchy riffs. They dumb it down like no others of this day, and for that they will always and forever be a great band in a sea of just average bands. These songs don't have the staying power or the quality recording of their album, but that's OK, they'll be forgiven so long as they continue to exist and perform sporadically. Tampoffs are from Boston and play a bit too much like greasers for my taste. They're Fonzie to the DC Snipers' Gorch. Is that Jersey enough for you? Go back to York, PA and when you see an old man forcing you to "wear a car," don't come crying to me.
(daggermanrec(at)yahoo.com)
---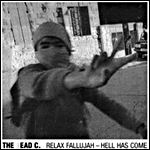 The Dead C. - Relax Fallujah – Hell Has Come 7"
(Ba Da Bing)

The Dead C. have long been one of my favorite bands, but the interesting thing was that in their heyday, they were a great singles band as well, uncommon for the noise-oriented bands they were stacked against, and ultimately unfathomable today. Then again, only one Dead C. could ever exist. No other band could forge such gripping music out of so little. Both tracks here top out at two chords apiece – an unreleased version of 1990's "Power" and their classic "Bad Politics," pressed up to accompany the release of their double-disc retrospective Vain, Erudite and Stupid – and they both completely slay, due in no part to their musical acumen, but the ability to build atmospheric dread (the fallout of a war victim, left to die after bombing) and venom-spitting slashery out of virtually nothing at all, other than maybe being way smarter and more subtle than anyone else. I can never hear either of these tracks enough, and in a perfect world I'd see these guys perform every week or so. Sadly they are halfway around the world in New Zealand, and my chances since 1995 to catch them live again have been tragically few. I don't have the time or the column space to try to convince you of their greatness, and for your sake I hope the Dead C. changes your life like it did mine lo these many years ago. Less than 1000 copies and going fast.
(www.badabingrecords.com)
---

Direct From Hollywood Cemetery - 6 Feet Under the Mason Dixon Line 7" EP
(Go Ape)

Been seeing this name popping up around Halloween here in the city. Turns out it's some Richmond/Brooklyn cross-pollination thing, with at two members of Tralala (don't wanna say which ones, but one used to be in the Young Pioneers). They're playing goofy, funny horror-themed go-go garage, Rocket from the Crypt guest-starring on the New New Munsters. Not all too different from Tralala in the songwriting department, but a different, more potent kid of fun, with a lot more potential for instrumental chaos going for it. A real good time. Nothing wrong with that, man. High camp.
(www.myspace.com/dfhc)
---
DJ Ordeal - Sea/Seagull 12"
(Entr'acte)

Ordeal is a collage artist working in aural mediums of the stripe mentioned in the title. "Sea" managed to cut up a whole side of ocean sounds, dropped in with the odd ominous bas or clatter, and punctuated with a rather musical seagull effect. On "Seagull," things get really interesting as he strips it all out save for the seagull sample, which is actually made up of a vocalist singing in the artist's neighborhood – the various samples of her singing are sped up and pieced together to the effect that she sounds like the titular bird of low tide filth. This is a fascinating side of music, hypnotic and strangely satisfying, its noise simultaneously maddening and scratching an itch that it formed itself. I feel like I'm going to be highly suggestible when this side closes. Edition of 200, and the sleeve suggests that you turn the cover art into a yellow kite and fly it outside.
(www.entracte.co.uk)
---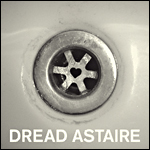 Dread Astaire - Take Time to Hate Me 2x7" EP
(Fuzzie)

No sooner did I file Dread Astaire's 10" away that this double 7" shows up, pressed on thick vinyl and costing a small fortune to ship over from Greece. Four songs here, expanding on the simple themes of bass grooves and 4 A.M. death-rock hypnotic circuitousness presented before. They're starting to remind me of a New Zealand band, maybe like the Clean meets the Gordons, in their relentless pursuit and pounding flat of the VU beat. With a little more echo, they'd sound like Loop; with less drums, like Spacemen 3; as it stands, they are on the right track to find the divine, but may need to derail overtly rock-oriented aspirations in order to transcend being a solid band in search of something more in these discrete pieces. I did appreciate that they named a song "New Bass in Hell." Numbered edition of 500 copies.
(www.dreadastaire.com)
---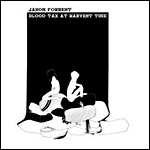 Jason Forrest/Ricky Rabbit - split 12"
(Hoss)

Been off of the Forrest/Donna Summer train for a while, so this reintroduction is taking me aback a bit: where'd the samples go? There's nothing familiar in here. No ELO, no Jefferson Starship, no Yes. Creative Commons might not be law enough for Forrest, but this means he gets to branch out into more original forms, and he does so here with fist-clenched fervor. These two tracks cut up a number of noise and mild pop sources with the expected junglist breaks and manic, Negativland-esque energy. You'll see that reference again in this column, but I thin it's apt, and watch as the whole school of tape cut-up, digestible collage comes back into vogue. You just watch. Anyway, it's been a while, J., hope your garden is growing well, wherever you're living. Ricky Rabbit is an Atlanta kid in the Food For Animals posse, here laying it down in noise/breakcore style, mastering in the red and without much in the way of subtlety, 200bpm cone-shredding dirty beats messing it up and shorting out some dub circuitry appearing later in the track. Edition of 500; a real roommate-maddener.
(www.hossrecords.com)
---
Get Killed - No Substitutes 7" EP
(Corleone)

hardcore here, informed by Blood Bros. screamo scram; their drummer knows three styles to play and cycles them in and out, and the band, though sounding good from a technical standpoint, seems to be the type that writes riffs separately from one another, takes them to practice, and jams them all together in a way that sometimes works, sometimes doesn't. Their seven songs here are scattered across a very small, simple map, but none are as memorable as their title track "Get Killed," a relentless riff pushed over the edge by gang vocals and a tremendous sample-based build at the start. Pink vinyl, 500 copies.
(www.corleonerecords.com)
---

Harvey Milk - "I've Got a Love" b/w "The Old Revolution" 7"
(Mega Blade)

Associated single from Special Wishes, easily one of 2006's most surprising comebacks and the timekeeper for heavy rock in this year, blasting away all takers. "I've Got a Love" appears here as an alternate version from the album, with a slightly different arrangement and more of a tolerance for soloing. I like the LP version better but what can you do. They retake Leonard Cohen again on "The Old Revolution" (having successfully mounted "One of Us Cannot Be Wrong" on their Courtesy and Good Will album), and it's a world-worn and fully believable one, Creston Spiers' voice cracking on "into this furnace" but his steady acoustic backing never failing to prop him up. Cohen had ways to make us feel completely alone, and in this version, Spiers never lets that notion escape. It's a transcendent reading, fitting in emotion but not delivery of the wholly successful power balladry of the new album. If you're thinking about picking that one up, pick this one up too. 1000 copies, 100 on white.
(www.troublemanunlimited.com)
---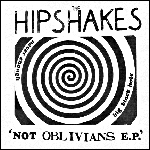 The Hipshakes - Not Oblivians EP 7"
(Goner)

I'd be into the Hipshakes solely if I knew that they were a British garage-punk band that had decided to mold themselves in a style completely separate from the whole Billy Childish aesthetic and from the careerist aspirations of shit like the Hives. But I heard them (on their Slovenly single) before I knew who they were or what their story was, and I was taken aback by their convincing hate/kill/fuck/panic vibe, and their desire to close out a song before the one-minute mark struck. Two songs on here, and they're both fast, crazed examples of why it's fun and exciting to listen to this stuff again – sometimes I need a band to excise the tradition completely out of the music and just blast the walls with its blood. The Hipshakes are totally, completely good at doing that. Some of us got this on clear vinyl; most won't.
(www.goner-records.com)
---

K.K. Rampage - Sides E & F 7" EP
(Rococo)

Coming across like Sightings missing a chromosome apiece, Chicago's K.K. Rampage lean heavy on the big sounds and the scrambled brains, with mindlessly brilliant screaming over big, lurching budget rock. Has all the gracelessness of early Pussy Galore with the editing sense of an autistic child with ADHD. That's a compliment. This band proudly tells the Chicago music press and others to fuck off. I hope it works, guys! Edition of 300 on some colors of vinyl, and hand-colored screened sleeves. Seriously, great job – will revisit very soon.
(www.myspace.com/kkrampage)
---
Love is All - "Busy Doing Nothing" + 2 12" EP
(What's Your Rupture?)

"Busy Doing Nothing" comes from their Nine Times That Same Song CD (Kev sez "there will never be an LP version"). "Motorboat" comes from the "Used Goods" single; I can't find my copy right now to tell if the same version. "Felt Tip" appears on the B-side in a gentle, droning remix done up by an unnamed artist. The bite's sort of taken out of it, but since it's the last record of the evening that I have to review, it's somewhat fitting, like an end credits stroll. Comes in a spraypaint-stenciled sleeve, and like all WYR? titles, you ought to own a copy.
(www.myspace.com/whatsyourrupture)
---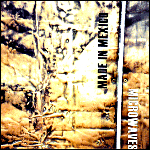 Microwaves/Made in Mexico - split 7"
(Rampage Recordings)

I haven't paid attention to Made in Mexico since I booked one of their first shows in NYC a couple of years back. This is what Jeff Schneider has been doing since Arab on Radar split up, and it's a good deal more interesting than the jock-strap-on-forehead hernt of Athletic Automaton or the jock-strap-in-mouth sleaze of the Chinese Stars. Their "Charleston" splits the difference between a slow, cabaret-esque intro and a ratchety, Jaks-ish scrape, amidst the brassy-cum-hair pull shrieks of singer Rebecca Mitchell. I was more into the atmosphere of the first half, but my interest is definitely piqued. I need to say for ethical reasons that I used to be involved with Microwaves on a professional level, and have known its members personally for years. Now that that's out of the way, what a bunch of dingleberries these guys are! Just kidding, this Pittsburgh trio knows a thing or two about tension in music, with robo-drummer John Roman laying down steady anxiety beats completely devoid of "feeling," as guitarist Dr. David Kuzy and bassist Adam MacGregor (last seen in Brown Angel, with Roman, and as one-half of Conelrad) exchange alien metal riffs, spring-loaded and laser-guided with effects beyond the ken of normal "punk" or "metal" "axehandlers." There is some future shit going down here, informed by the Residents and Chrome, pounded into Voivod's hypercube and kept in an Air Force hangar. "Song X" is what happens when it escapes, and "House of Regurgitation" is the alarm. Limited edition, pressed on gray vinyl. Buy two, and race them with your friends.
(www.myspace.com/rampagerecordings)
---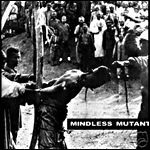 Mindless Mutant - s/t 7" EP
(Six Two Five/Dangerously Small)

Friends, powerviolence is back. Max Ward from Spazz plays in Mindless Mutant, a Bay Area outfit also sharing members with Look Back and Laugh. It took me a good long while to find a copy (no thanks to my "bro" who took my cash and sent no record) but I guess the search was pretty much worth it. Gone are the days of blindingly fast, concussive, sloppy PV, it seems; everything here is fairly precise and runs at a healthy clip, but evades mincecore by a mile. I guess that's a good thing, but somehow the songs being cleaner and, oh, packing less hooks or insanity into each song as Spazz could, is a bit disheartening, like doing this with any less intensity or compromise towards traditional metal or hardcore tropes way tampers with the overall aesthetic. I mean, it is a good record, but from company like this, I expected something great. Eight songs, including two Black Flag-style instrumentals (the late half of Flag). Edition of 1000 in silkscreened chipboard sleeves. I am on the fence about the inner sleeve artwork, a photo of Bin Laden framed by the words THUG LIFE. The shock is gone.
(www.625thrash.com)
---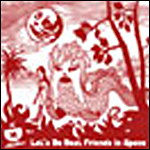 The Monolators - "Let's Be Best Friends in Space" b/w "Kid's on Fire" 7"
(self-released)

My girlfriend is standing here (hahah yeah people, "still single" no more) and she's the nicest person I know (not to mention someone who grew up on the twee-est of indie pop), and even she says "wow, this sounds like a song I wrote in sixth grade." The Monolators are a somewhat amateur husband-and-wife indie pop duo from L.A. (which may explain it), who let their percussive mistakes fly in the studio and onto their single. Being married and barely able to play might level the field out enough, but how do you tell your spouse "hey, that's sort of a bad idea, why don't we try it this way," and expect to be able to go home and get in bed without him (or her) rolling away from you? "Let's Be Best Friends in Space" is slow, and slowness generally exposes the weakness of the drummer; almost on cue, Mary Chartkoff all misses the beats you'd expect – every one. She wobbles on the breaks, and it's not cute after a while. It kind of wrecks the action completely on the trying-to-rock B-side "Kid's On Fire," and it throws off the ability for these songs to get by on politeness and charm. I'm a busy man and you put this in front of me? For shame. Edition of 350 on gray vinyl and will probably be in someone's closet for a long while.
(www.themonolators.com)
---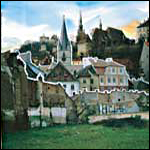 Natacha's Recordings Sound System - WHY NOT YOU Be Among These Happy Dancers? 10" EP
(Natacha's Recordings)

Seven recordings for avant-chamber ensemble, rarely percussive and largely winds-based, no dancing in sight. If Zs lost all of their rhythmic stricture, they'd probably end up with these droning, hesitant pieces. The myriad members of this mysterious French ensemble seem infatuated with Euro-free jazzist ideals mostly, and some indie strum and simple sampling to a lesser degree, but the real pros attack this sort of thing with the gusto redolent of a believable improv ensemble. This isn't one of them due to its fairly lazy playing and shoulder-shrug dynamic. I can't get down with this. 500 copies.
(www.neverprint.com/natacha)
---
Refrigerator Mothers - "Arab National Anthem" b/w "Black Moth Scrap Serum" 7"
(URCKarm Recordings)

"Arab National Anthem" does exactly what you'd hoped it wouldn't, even before listening – builds on an Eastern theme out of traditional sounding instruments, and doesn't go anywhere with it. The track even ends in a locked groove, for chrissake. Things fare far better on flipside "Black Moth SS" – whoever these guys are, they get the swarthy, martial desert peyote pound of Savage Republic from way back when, and channel it into their own sound, just to the point of imitation. Contains an acid-scrabbled screed about life, an old photograph, and a record on blue vinyl, in a numbered edition of 428.
(www.urckrecords.com)
---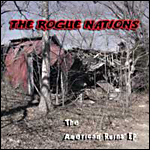 The Rogue Nations - The American Ruins 7" EP
(Suicide Watch)

This came in the mail with a nice note from the band, which makes me feel sort of bad. Though these guys might have a clue, you wouldn't know it from here – a really pro-dreaming punk-lite trio from North Carolina, in a full-color sleeve with a printed inner, thoroughly covered with the lyrics to these five songs. Most punk bands might have used as many words in one song. They're going for a late-era sound (think a step or two below post-Living in Darkness Agent Orange) crossed with constipated coffeehouse singer-songwriter type, and it comes off as hopelessly lost, and confusing of amateur/DIY ideals with pro gear/pro attitude musicianship. There are more direct ways of going at punk or hardcore than their "Alice Bag," verbose to a fault and lyrically reading like a Wikipedia entry more than something to sing. They're politically concerned (the coffeehouse comment rings true once more) but are putting a lot of cleanup work into their music, and dulling the edges in the process. They do that "flailing solo" crap that just ruins a song, too. The Rogue Nations seem to maybe feel a connection to good music, but they're several steps away from making it; their hilarious stage faces in the pictures on back and cheap Photoshop layout skills tell volumes. Please listen more and refocus, guys; you can do better, even if it means ripping off another band or genre in the process. 500 copies, all numbered by hand on light gray vinyl.
(www.suicidewatchrecords.com)
---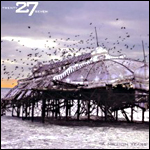 27 - "A Million Years" b/w "Bitter Blue" 7"
(Relapse)

27 shares the distinction, along with Zombi, of being the un-metal bands on Relapse, but in a way it's not difficult to see how they'd fit in with the label's current aesthetic. Both are throwbacks to a different period in underground music, but these guys come from a very specific point – namely that era in early '90s indie rock where a lusty lady would breathily sing over some brooding, dynamically weighted rock throwing out stylistic neon lassos over the cactuses nearby. This is basically what happens on "A Million Years," and it's not that it's unwelcome so much as a faithful reproduction of memories past. "Bitter Blue" loosens up the grip with some soaring, pretty violin and a lighter vibe all around. Apparently this record is dealing with some inter-band loss, and if this healps the healing, then all the better for it. Edition of 1000 copies, various colors of vinyl.
(www.relapse.com)
---
Where in the World is Carmen Sandiego? - "Happy Trails to You" 7"
(Greentape)

Three drunk guys bang out one song (you guessed it) in a practice space on four tracks. I expected the worst, given the amateur 8-year-old handwriting all over this thing and the fact that a B-side was never recorded, but you know what, this is a pleasant and spacey rendition of "Happy Trails," never kicking into anything past the first few bars, never hitting "until we meet again," and in this space these three anonymous guys work out a divisive, substantial drone/hometaper vibe. Doesn't go too far, but with one part of a song, what did you expect? Edition of 100.
(www.freewebs.com/greentape)
---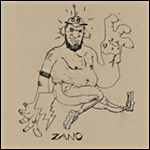 Zano - "Ass Birth" b/w "Apple Fuzz" 7"
(Rob's House)

Zano … sounds like a tag, and maybe it was, but here's an Atlanta MC who has a delivery somewhat like Del and with a gift for freestyling that doesn't sound contrived. "Ass Birth" takes some unnecessary jabs at the hipster uniform and the guys who wear it (and I say that because it doesn't seem like the verses leading up to it completely justify the spite) but for the most part, is really sweet, with Chris Devoe's loose, early El-P style loop dusting the corners minimally and with surprising impact. I got a little lost on "Apple Fuzz" (shortened for brevity) and its kitchen sink Negativland-style lopsided clatter (produced by Mexcellent) – dude's lyrics kind of dissolved under too much junk in the trunk. But the A-side is enough to bring me back, and I'm eager to hear some more.
(www.robshouserecords.com)


By Doug Mosurock