Dusted Features

In the latest installment of 'Still Single,' Doug Mosurak checks out singles of various sizes by Black Mountain, caUSE co-MOTION! Lullatone, Om/Six Organs of Admittance, Sonic Youth, and many more.



Still Single
Vol. 2 No. 2
SUBMISSION GUIDELINES
Yours must be a single pressed on any size of vinyl. CD-Rs of singles will not be reviewed; they will be destroyed. We need the artifact here with original artwork, not some duplicate/digital copy. Only records released within the past six months will qualify for a review.
Singles must be postmarked by the 20th of each month to qualify for the next installment of this column.
ANY genre of music will do – don't hesitate to send punk, hardcore, metal, goth, pop, rock, country, hip hop, electronic, experimental, dub and reggae … all genres accepted and welcome.
Information on your pressing (quantity pressed, color vinyl, etc.) should be included if at all possible.
Submissions can be sent to:
Doug Mosurak
PO Box 22183
Brooklyn, NY 11201
Records need to be shipped securely in sturdy mailing materials and marked FRAGILE because the post office will destroy them otherwise
This column runs the first week of every month on Dusted (give or take). Its success depends on you sending in singles for review.
Please continue to send awesome records to Still Single, regardless of the genre. If it's good, we can recognize it.
---
---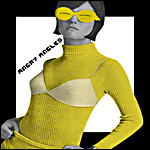 Angry Angles
Apparent-Transparent 7" EP
(Plastic Idol)

Third single from this hot commodity (first pressing of this one sold out in 2 days, according to the label) featuring Jay Reatard (Reatards, Lost Sounds, and now solo). Recorded as a duo with his girlfriend Alix, the single kicks off with the higher-energy blast of the title track, and some slow-burn minimalist ideal ideas with the second A-side, "You Fell In." A similar tack goes sour on the flip, a cover of Wire's "The 15th," that really shouldn't be here. Didn't anyone learn from Fischerspooner's folly? Anyone who covers Wire, especially something off the first three records, is more or less forced to reinvent the song entirely, and there's too much perceived similarity with the original here – which of course is (or "was") not there. As with Digital Leather, there's a disconnect between what these bands like and take influence by, and where their strengths lie. Fortunately, for Angry Angles the path is a bit more distinct – tighten up, cast off the call-and-response shouting, and work towards compacting their sound into something more reductive, rocking be damned, but no less intense. More angles, please. Second pressing of 600 on yellow vinyl, now apparently out of print as well.
(www.plasticidiolrecords.com)
---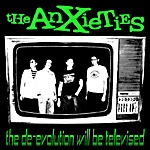 The Anxieties
De-Evolution 7" EP
(Plastic Idol)

Eugene, OR garage rockin' punk, mad scientist-core for the paranoid and suspicious. "The De-Evolution Will Be Televised" isn't quite the Weirdos send up the label might have you think, but it's definitely serviceable, manic late '70s style punk rock, fists in pockets and ready to blow. As I listen to the B-side, my TV is on and Jennifer Rubin is getting stung to death by bees in "The Crush" and it's a perfect visual, maybe adding more to the shouty, verbose punk-pop ricochet than there is, but I like it all the same. They finish up with a cover of Motorhead's "Going to Brazil," not really doing the original justice, but instead sapping its strength for the band's own sinister purpose. Above average, and looking to improve with future releases. Too much singin'. Edition of 500 on green vinyl.
(www.plasticidolrecords.com)
---

Black Mountain
"Stormy High" b/w "Voices" 7"
(Suicide Squeeze)

A couple exclusive songs to tide the rockers over until the next Black Mountain album drops. The problem I've had with this band is that, while their tracks have been very exciting individually, they don't have a sound that speaks to any sort of consistent notion. They can cause high drama, they can burn out, they can light a campfire and sing around it, they can get excessively dark, but everything turns out sounding like the product of a different project. Stephen McBean's last Pink Mountaintops releases more or less sorted that out, and now it's BM-Army's turn to get serious and focus, or forever be the object of ridicule and misgivings by those who can follow a script. These songs point in a positive direction, as they roll the strengths into something that sound very much like the output of the same band. "Stormy High" rides a slow gallop, swelling into a nice, loping stomper frizzed out with electronics and long on riff. "Voices" is the sweet, countrified ballad, which could easily be owned by Oakley Hall or the like; with a gorgeous chorus sung by McBean and Amber Webber (still the best female pipes in the indie rock biz) that devolves into sweet nothings and gorgeous guitar interplay. Hearing this band settle into a steady groove is such a great thing, strong-limbed and with a heart that just goes pound-pound-pound, reverent and alive. Edition of 2000, gray marble vinyl, and going fast.
(www.suicidesqueeze.net)
---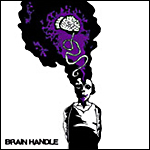 Brain Handle
"Scratching at My Skull" + 3 7" EP
(Fashionable Idiots)

Yet another crusher of an EP by this Pittsburgh hardcore five-piece, rolling up Flag (Black, never White), Germs, and Red C into raging, despondent, somewhat melodic noise. More consistent than their first single (which is now out of print), snottier and more aggressive where it counts, especially on the B-side's "Overdriven" and "Been Done." Dirty, smelly and mean, with more control over the dual guitar hammering than most bands in their position. It always helps if you can play but pull it off like it doesn't matter. Edition of 1000, black vinyl. Killer.
(www.fashionableidiots.com)
---
Brenmar Someday & Elissa P.
"Prize Pig" b/w "Oh, Gasoline Girl" 7"
(Candy Animals)

Chicago-based one-man electro-pop production champ lets loose with a new single, leaning heavily on goofy, bendy melodies and juxtaposition between shouting indie-pop strictures and ghost-inna-machine video game soundtrack stylee. "Prize Pig" (featuring Elissa P. on vocals) is a bit too cloying and malformed to take seriously, but :Oh, Gasoline Girl" gets itself worked up into a pretty furious digital sweat, with cut-n-paste percussion and bells storming behind a ropey synth lead. Fun, if not vital. 600 copies on purple swirly vinyl.
(www.brenmarsomeday.com)
---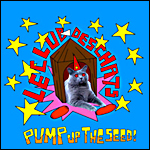 Le Club des Chats
Pump Up the Seed! 7" EP
(Le Vilain Chien)

Whoa, what the fuck? French outfit that popped up on the recent S-S comp Tete de Bebe lets fly with a five-song single, channeling the kind of stiff, precise mania that made bands like Delta 5, LiliPUT, and Essential Logic great, but with the frenetic drive and intensity of, say, Erase Errata or the Ex. Le Club is a trio with co-ed vocals and virtually no desire to rock in any way, shape or form; instead, they prance about in a fantasy world of cats, dogs, onomatopoeia and truly bent ideas. So weird it almost ends up in Residents territory, but punked out enough to rescue it from nominal interest (can't say the same for Les Georges Leningrad, which this walks all over). So great, such a strange little record, and I can't recommend it highly enough. Teenage outcast girls with short hair, in particular, should pay attention. I love France! Headbutt!
(www.leclubdeschats.com)
---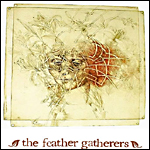 The Feather Gatherers
(Singing Knives)

Well, folk has become the new fall-on-the-floor-core in terms of how untalented folks go about making drops in the ocean. Here's a record you'll never hear by a pretty useless hippie duo whose limited abilities translate into quiet, plaintive boredom for all and sundry, except maybe their friends. Torturous out-of-tune flute action on "Tower at Bollingen" is just awful, and there's not a lot going for the A-side either. I'm not sure why or how these songs formed, or why someone would feel the need to release them, but I guarantee you that the people who made this record wouldn't have thought to do so five years ago. A copout on thick, brownish-purple vinyl.
(www.singingknivesrecords.co.uk)
---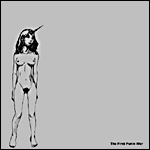 The First Punic War
"Unicorn" + 2 7" EP
(Carthage vs. Rome)

Somewhat unfocused, but heavy and epic pronouncements from an artist who fortunately has not sat on his laurels since getting the dismissal in this column last year. Gone are the sappy acoustic bedroom sentiments; in their stead are rough and angry electronic noise rock screeds, in diametric opposition to the previous single. But change is good, and so is this – loud, antagonistic chokehold music in line with LES style noise rock of yore (think Unsane) and even Chrome. "Unicorn" holds court with esteemed and heavy company. On the B-side, "Punk Rock" is a short, farty electronic pronouncement, and "Simon the Sailor" piles the sludge back on, with near-powerviolence vocalisms on top of fast and erratic rock. A marked improvement doesn't even do it justice; this is a whole new band. White vinyl.
(www.carthagevsrome.com)
---
Jowe Head and the No Men/caUSE co-MOTION!
split 7"
(Cape Shok)

Better now than never, here's the first release from Cape Shok, the record label run out of esteemed NYC concert venue/record store/café Cake Shop; incidentally, it's one of the last places Nikki Sudden performed. Fittingly, this is Swell Map Jowe Head's "blessing" to use the name, as he offers up a re-recording of his "Cake Shop (Girl)" (originally appearing on Jane from Occupied Europe). One starts to wonder how necessary such a cover is, especially with Head's voice having deepened several milky octaves, but then one quickly forgets about all that – it's a statement, it exists as such, nice go. On the flip, Brooklyn's one true hope for indie pop domination (or not), caUSE co-MOTION!, kick in their obvious hit, "Only Fades Away," an uptight, bashing, doleful lion of torrential noise melody, catchy like you wouldn't believe and too bashing to be twee. It's a wonderful song, elevates this one to far beyond souvenir status, and will stick with you long after the record stops spinning. Nice silkscreened sleeves on these; probably won't be around for very long, so hurry.
(www.cake-shop.com)
---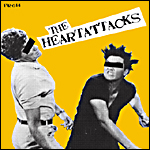 The Heartattacks
Your Lies 7" EP
(Plastic Idol)

They're sold as Sweden's answer to Japanese garage punk, a la Teengenerate or the Registrators, and that judgment fits – speed up a post-Loney Flamin' Groovies record and you got the template. Nothing wrong with that, though, as these are fun, furiously paced, and catchy lo-fi crunchers which will appeal to a lot of folks. They give us two very decent originals and a cover of the Features' KBD classic "Floozie of the Neighborhood" which is as good, if not better, than most of what turned up on P.Trash's Killed by Trash comp. 500 copies, gold vinyl, and sold out on the label's end. Happy hunting.
(www.plasticidolrecords.com)
---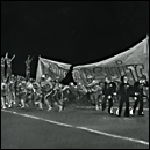 Jumpsuit
"No Statue" b/w "School" 7"
(Make or Break)

Lumpy, unimaginative indie rock cookie-cutters here, with some sort of forceful need to make grand statements that sound laughable upon execution, like some self-educated "revolutionary" might shout atop a building in East Williamsburg. "No Statue" tries to save "all the kids doing heroin" and marks some sort of shame against being remembered; funny as the song really isn't memorable in the first place. The flip, "School," beats the listener senseless for several minutes with the phrase, "all you know how to do is go to school," amidst some rather lost rhythm section plodding along behind an otherwise decent guitar track in tone and structure. Some good ideas here and there, but not enough to carry one side of a single, let alone two.
(www.makeorbreakrecords.com)
---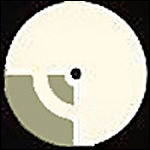 Lullatone
Floating Away 12" EP
(Run-Roc)

Soothing drones for baby from this Japanese/American electronica duo – "Floating Away" is a pleasant whisp of digital revolution befitting of the outfit's name. It's quiet, active, breathy, filmic, and subtle to a point; when the breathy, timid vocals push forward with the bravest li'l bleep, it's makes for an extremely jarring transition. Great counterpoint on the melodies and harmonies. Computers in l-u-v, babe. Is "Orange Juice," then, bathtime for baby computer? Sounds like it. Anyway, when the Run-Roc guys get hold of "Floating Away," they find within its shifting rhythms the right beats to play off of them, shaking it up in the remix with a crispness befitting of the original. Deep, polyrhythmic drum programming and hand percussion flesh out the nuances of the track with the confidence of steppin' out for the evening, chemicals in hand, money in the pocket, out to rule the town. And the dub mix goes even deeper, pushing the issue that the original mix doesn't, stripping out some of the drums in exchange for sizeable bass response and low-end bleep that works extremely well as a builder when pitched up. Look out for these guys; they're gonna change your perspective of the electron.
(www.run-roc.com)
---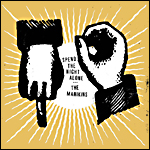 The Manikins
Spend the Night Alone 7" EP
(Plastic Idol)

Kind of surprising that these Swedish guys, really laying it on thick in burgers-n-shakes garage pop, could have cracked off three albums and a dozen singles appearances in the last five years, but stranger things have happened. They remind me of Gaunt circa Kryptonite more than the suggested Hives or Devil Dogs comparisons. Title track comes off of their P.Trash album Lie, Cheat and Steal, and the B-sides (which are both better) are exclusive to this single. 500 copies, white vinyl, sold out.
(www.plasticidolrecords.com)
---
Om/Six Organs of Admittance
split 7"
(Holy Mountain)

Heavy, even-keeled, monastically slow metal/drone is what Om does, and that's all that Om does. Lucky for me, I like how they do it, and as it seems, many of you do as well. So you'll want to own this limited split single for their cut, "Bedouin's Vigil" (or if you are the completist, I understand that it appears on the Japanese CD version of their latest album, Conference of the Birds). They stay in key, and just saw away at it. All hail. Six Organs coughs up a piece of studio toss-off called "Assyrian Blood;" a meandering drone and some chanting is interrupted by sinewy buzzing. There you go. Both sides are great listening, but if you know the bands, you have probably heard both sides without even owning the record.
(www.holymountain.com)
---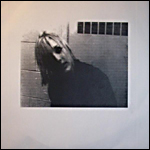 Pink Reason
"Throw it Away" +2 7" EP
(Savage Quality Recordings)

I picked this one up (along with the Le Club des Chats and Standard Tribesmen singles) from S-S, a label which happily reissues lost singles and cassette-only tracks from the diaspora of the '80s DIY underground. Pink Reason might be new, but totally reaches back to that period of musical isolation, with a truly frozen, loner vibe that is all but lost on those who are playing outside of sex/drugs/rock/roll motivations. No, demons are being let loose here, the kind that smell like mildew and haunt basements. It's one mysterious guy named Kevin and he's channeling the solitude in a way that hasn't felt this complete since Luxurious Bags hung it up. Claustrophobic mope done right; a 5 A.M. comedown vibe that shivers where it would otherwise warm, with ten-dollar organ floating in and around the premises, even-keeled and truly on its own amidst a sea of garage-punk types. "New Violence" gets close to Kate Bush territory regardless of the speed it's played at, and is my favorite here, though the other tunes are definitely no slouch, and "Throw It Away" comes as close to a conventional psychedelic figurine sound as anything I've heard recently. Challenging, inspired, and not easy to shake. Intense Myspace presence to boot. Edition of 300.
(www.myspace.com/secondculture)
---

Psychedelic Horseshit
Who Let the Dogs Out 7" EP
(Columbus Discount)

Great name for a band that doesn't dick around, but there is not psych nor manure to be found here; just some kids banging away on what could be Times New Viking's gear, recording on a blown out four-track and doing what the older Columbus rock royalty approves of – re-recording "Box Elder" twice and a Modern Lovers type song to finish things off. Not much original here, but it's pretty charmingly executed, Peter Gunn-ing it up on "Bring on the Curse" and thrashing about in the manners of their forefathers Malkmus, House, E. Smith and Shepard (R.I.P., brother). Ear-splitting and immediate; a fun time. 500 copies, 100 on white vinyl.
(www.columbusdiscountrecords.com)
---

SIDS
Kandy Kane 7" EP
(Stickfigure)

Hectic, stormy, gothic rampage from some Atlanta folks who may or may not be involved in Deerhunter, going for that whole strobe-lit VSS/Christian Death apostasy movement thing that was hung up when Three.One.G slowed down. Cabaret elements? Check. Ecstatic pronouncements? Check. Heavy leaning on an extremely specific synth sound? CHECK. Gotta give it up for the flipside "Space Ranger in a Manger," which is a little more shook up than the two on the A-side. A demarcation, and a statement of intent, this. A sound, exercised. Second pressing on white vinyl; comes in a clear overlay sleeve and includes a CD-R for the vinylly impaired.
(www.stickfiguredistro.com)
---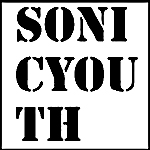 Sonic Youth
"Helen Lundeberg" b/w "Eyeliner" 7"
(Goofin')

If Rather Ripped is Sonic Youth's commitment to sportsfucking in the summer of 2006, then this two-songer is the jism/lube/sweat/smeared makeup/vibe toy behind it all. "Helen Lundeberg" races guitars like Hot Wheels as Thurston celebrates the life and times of the late artist in the sort of threatening pound the band copped so effortlessly 20 years ago. It's as refreshing as cutting into a vodka-filled watermelon at a rooftop picnic. "Eyeliner," though, that one – THAT ONE is the shit, a tarantula ascending the neck, an ode to the youth that's half their name, a celebration of sex, noise, image, cool, wrong-as-right. It's punk fuckin RAWK, a breathless rejoinder into all that makes us what we copy, and which makes that what we are, a verbose explosion, a justification of what we see and how we become lost in our new selves. Totally beautiful works from a band that continues to work us over and surprise us all. Self-released, too. How about that.
(www.sonicyouth.com)
---
Standard Tribesmen
s/t 7" EP
(Borox)

Loose but driven no-fi rock/roll from three lost men in Sacramento, CA, somewhere in between the Fall ca. Grotesque, the Oblivians, and the Gun Club, with no regard for production value or common sense. Croaking, static, saturated transistor-punk, squeezing out blackheads along with whiskey-soaked sentiments Crampsian in nature and hissing in quality. Only 200 copies pressed, and folded up into a spraypainted chipboard sleeve. No song titles, but the first and last ones struck the most resonant chord with me. A very strange thing, this – bad sound nearly drowns out all but the will to keep performing. Does for rock what that old 20 Watt/Imp records band Firefly Wreck did for pop: renders it useless, then revives it artificially with confused and astounding vigor. Features members of the Sores, who I feel I need to hear now.
(www.thesores.com/records.htm)
---

Jonathan Vance
Sylvia the Eagle 2x12" EP
(Run-Roc)

The calling card production for the fledgling Run-Roc production team (Lifetime and Zero Zero's Dave Palaitis and DFA protégé DJ McNany) lit up Ibiza last summer and is really just starting to open up over in the States now. Vance was, of course, the vocalist for Moss Icon, who you should be exploring if you don't know, and if you know, you know you love. In many ways, "Sylvia" is the team's "Beat Connection," fitting in the junction between rock jams and club trax, but where the growth of the DFA track has a lot to do with staying put and working towards a build, the Run-Roc formula feels more kitchen sink, spontaneous, and alive. There's a closeness here that shares a soul with the original Liquid Liquid recordings, and a spirit borne of Vance's poetic ramble that suggests paths never taken. Optimo's JD Twitch gets hold of this one, and immediately exposes both the motorik pulse of Gerhard Fuchs' (The Juan Maclean) live drumming, and the impossibly bent nature of busted-spoke British no-wave art punk, a la Blurt, before mutating into inverted bass hover and a flurry of hand percussion and cybertronic waveform pistoning. It's a fantastic mix from an already fantastic DJ and remixer, and rebuilds the original into something new and growing. "Lycanthrope" and "Umbrella" focus on more of a mutated disco vibe, a bit less reaching in scope but no less effective. Run-Roc's mix of the latter, in particular, goes off on a warm, Balearic tangent that works a downtempo bass groove against synth/delay zings and Vance's insistent screeds. Comes in a nice silkscreened sleeve, and worth owning no matter which side of the rock vs. disco debate you sit on. Again, Run-Roc = one to watch. Do not sleep on them.
(www.run-roc.com)
---
Various Artists
Beatmonstas Presents the 3rd Wave 12" EP
(Beatmonstas Entertainment)

Rapper/producer Noble Dru is joined by Diamond Back and Nipples the Pimp on "Four Four" and the three meet up with Phashara on "Class Division"; both lean on mood to carry the tune, a bunch of guys on the come up; looking to the future, industry dreams, harder beats, the insight of Kanye brought back down to street level. It's up on some conscious, positive, dissatisfied shit that independent hip hop has been riding since the mid-'90s, but it ain't broke. "Class Division" in particular lays out much insight on the state of the world, and how it's tearing up the community of rappers . Rahfiki's "Telephone Call Away" hearkens back to Chicago's roots as a doo-wop and soul powerhouse, roping in that same vibe that turned up on all the best Chi-Lites and Dells records, rolling in the R&B direction but strongly, with great male lead vocals and a really satisfying bass line punch. Without venturing into Lenny Kravitz territory, this one opens up so nicely, exploits a classic soul arrangement to astounding ends. I never get records like this, and even if we did, they'd probably pale in comparison. A real keeper to help pass the dog end of this summer that's approaching, and one which talent needs to be keeping an eye out for. The name is Rahfiki, the producer Noble Dru. Make this jam yours.
(www.beatmonstas.com)
---
Esther Venrooy
Shift Coordinate Points 12"
(Entr'acte)

Sound artist Venrooy was commissioned by Belgian radio's 75th broadcast anniversary to re-jigger portions of the Conet Project's cryptic shortwave numbers transmissions to come up with something deep, Burroughsian in nature, and coursing with animal blood. The two minimal pieces that make up Shift Coordinate Points outline a specific, isolated space that draws the listener into a deeply frozen realm of static, recitation, channel manipulation, low-end pulse, and wide open contained space. Once "Arthur" is completed, the words of the radio transmissions take on an almost desperate quality, as if they couldn't come out quickly enough; where "delta, four" sounds like a love letter never sent. "Brussel" starts out with a gorgeously decaying tone poem that crumbles into more recitation, manipulated to confuse and then followed with drones enough to lull tankers to sleep in the dead middle of the sea. Edition of 300 with a connect-the-dots sleeve.
(www.entracte.co.uk)




By Doug Mosurock