Dusted Features

In the latest installment of 'Still Single,' Doug Mosurak checks out singles of various sizes by The Juan Maclean, Delia and Gavin, Kid606, Khonnor, Black Dice, and many more.



Still Single Vol. 1, No. 12
As of this publication, we're moving Still Single to the first Tuesday of every month. Now records should really get to me by the 20th of each month. That makes things a bit easier.
One year down. Many more to go. Thanks for reading this column, Dusted. You have no idea how much fun this is to write and research.
Look down below for a review by guest writer Michael Crumsho.
SUBMISSION GUIDELINES
Yours must be a single pressed on any size of vinyl. CD-Rs of singles will not be reviewed; they will be destroyed. We need the artifact here with original artwork, not some duplicate/digital copy. Only records released within the past six months will qualify for a review.
Singles must be postmarked by the 20th of each month to qualify for the next installment of this column.
ANY genre of music will do – don't hesitate to send punk, hardcore, metal, goth, pop, rock, country, hip hop, electronic, experimental, dub and reggae … all genres accepted and welcome.
Information on your pressing (quantity pressed, color vinyl, etc.) should be included if at all possible.
Submissions can be sent to:
Doug Mosurak
PO Box 22183
Brooklyn, NY 11201
Records need to be shipped securely in sturdy mailing materials and marked FRAGILE because the post office will destroy them otherwise
This column runs the first week of every month on Dusted (give or take). Its success depends on you sending in singles for review.
Please continue to send awesome records to Still Single, regardless of the genre. If it's good, we can recognize it.
---
---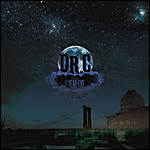 Alias & Tarsier
"Dr. C' b/w "Five Years" 12"
(anticon.)

Moments in the delivery of Tarsier's singing voice sounds like a female Michael Quercio, and all I wanna do right now is listen to her sing "John Riley" instead of him on the Rainy Day album. But, as they say, you wish in one hand, and shit in the other, and that shit is largely what I think of the pointless glitch-stop production on both songs here – and it filled up first. Alias' beats force the acoustic elements (Tarsier's efforts on vocals excluded) into a level of mechanical simplicity for which his infernal trip-hop hot bother inflates these songs with half-formed emotions and a completely unreasonable sense of quadruple-overtime urgency, when they should be allowed to flow uninterrupted. I've been duly impressed by a handful of anticon.-and-related artists as of late, but this one doesn't even come close to cutting it.
(www.anticon.com)
---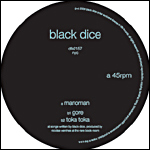 Black Dice
"Manoman" + 2 12" EP
(DFA)

Three new tracks here, all in simple, tribal rhythmic structures that are welcome after the relative ambient takeover and scatter of more recent efforts and side projects. "Manoman" is a slower Afro-kraut electro jawn with a democratic, two-steps-forward-one-step-back shuffle in the rhythm, steadily advancing and receding while a manipulated speech synthesis channel makes the music with its mouth. There's enough glitch and stutter in it to keep things from heading into the trance it so well deserves, but it also provides a certain surprise element to how it breaks down, as nobody would ever count that many beats. On the B-side, "Gore" (which has been making the rounds online) chugs along through a munitions dump of thin, staccato machine gun drum program under fire of buzzing synths, and the superior "Toka Toka" fuses talking drum and heavy bass on some wild mutato crash course through both dub and Get Up With It-era electric Miles. A collection of solid, intriguing, and understated tracks from a group that might be coming to terms with settling down into a groove by now.
(www.dfarecords.com)
---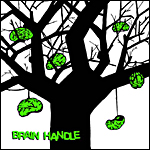 Brain Handle
s/t 7" EP
(self-released)

New-ish five piece punk rock gang from Pittsburgh, with Jeff Gentle and Mike Ovens … oops, I meant "$100 Toilet" and "Eggs" from the powerviolent Warzone Womyn. The Handle keep things at a respectably stormy KBD level of aggression, towing the line between drunk and high ... or maybe that's flannel-bedecked teenage singer "The Family Circus," who maintains a hoarse, Anglicized delivery of paranoid and desperate lyrics, the kind of high school poetry that's actually a little poetic than you'd imagine but pretty realistic all the same. Jeremy spoke in somebody else's class today; these guys rage on Flipper and five-piece Flag (black), spitting out stray notes on "Shit Pizza" and clawing at four walls on the slow dirge of "Cold Pavement." Recorded by Dan McKinney of the Original Sins with an ear towards the early '80s, Brain Handle ride high atop the worthless wave, and when it crashes at your party you might as well just grab your shit and move out. Great punk rock that is in line with a lot of recent throwbacks and reminding us all that the Reagan era never went away; it just got worse. Edition of 1000.
(xsuck_an_eggx(at)hotmail.com)
---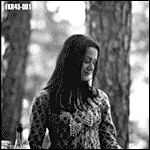 Susan Christie
"Paint a Lady" b/w "Ghost Riders in the Sky" 7"
(Finders Keepers)

Philly's Susan Christie recorded an album's worth of breaks-laden studio psych-folk in 1969 that sounds great now, but didn't pass muster for one reason or another in its day. Her voice sounds plain to the point of hauntedness, and the music is forced to either hide behind the forlornness it projects, or bust into some sort of lockstep, 'Luuded up Wrecking Crew swing. Fortunately, the years – and the times as they are, in particular – have been extremely kind to this woman and her music, now on shelves thanks to Andy Votel and his tireless obsession with crate digs and master tape sourcing. "Paint a Lady" is the creepier of the two, on some dusty levels of oog that would have sent a chill up V.C. Andrews' pantaloons. It shuffles along that road to nowhere, glassy-eyed and unblinking, to its bitter end. "Ghost Riders in the Sky" is a cover of the old C&W standard, set to the martial rhythm of "When Johnny Comes Marching Home." Christie sounds as if she can't shake the sadness long enough to maintain, but she does get there, her spirit barely rising above the steady levels of the session men backing her. Both songs are unique enough to shake up any modern witches' coven, which is somewhat ironic, as Walpurgisnacht is coming to a close as I write this, and something just fell off the top of the refrigerator. What the fuck…? Edition of 500, probably gone by now, so snap it up quickly.
(www.b-music.co.uk)
---


Conversions/Witches with Dicks
split 7"
(It's Not a Phase, Dad!)

Conversions are a fairly new hardcore band from Boston (ex-Sleeper Cell, Refuseniks, and Crucial Unit). They are really memorable and pretty exciting because they know about the economy of songwriting and subscribe to the less is more attitude, keeping arrangements spartan and gone before you know it. Vocalist Terry is a woman with some seriously harsh vocals that put certain riffs or parts of songs up over the lip, while Chris punishes his drumkit to within a inch of its life. Three songs here, including the best, "Stay Home," a call to arms and away from boredom, reminding us lyrically about the great divide in gender roles and involvement in the world around us. Witches with Dicks present two songs with funny titles (like "Your Job Does Not Rock Balls") and lyrics with content and delivery that would put them in a class with Dillinger Four, or maybe Leatherface. Not entirely new, but definitely fun. Get it for both sides. Edition of 300.
(christopherstrunk(at)yahoo.com)
---
DJ Mehdi featuring Chromeo
"I Am Somebody" 12"
(Ed Banger Records)

Mehdi produces while Chromeo sing, as they struggle to dig out of the pit of joke music and into a worthwhile embodiment of the early '80s atomic dog dick vocoder they hold so close to their faces (see Zapp, Ray Parker Jr. and Raydio, etc.) The track is about as confident as any Andrew W.K. tune, which is good; a start. How's about this: skip the A-side "Paris" and "Montreal" mixes entirely, and flip it over to a solid, no punches pulled Kenny Dope remix and dub version, where the groovies kill the bloops. That way you at least know what you're getting – solid jack moves from a master.
(www.edbangerrecords.com)
---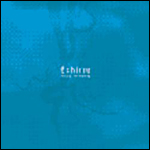 Eskimo
Benzoyl Peroxide 12" EP
(Lost & Found)

Experimental to its core, the Benzoyl Peroxide EP by Britain's Eskimo sinks in this quagmire of electronic mood mud early on, pulls you down in, then pushes your head under. A quiet, oddly-derived moaning synth, occasional standard touches of pop and musique concrete, and a focus that can only be perceived as "occasional" are the standout moments from these four lengthy soundtracks to imaginary films. It's tough judging this sort of thing sometimes, because it is difficult to get in the right frame of mind for it, but do you remember that episode of Brass Eye where they play the music that cake addicts listen to at "boom-raves." Not so chocolaty though.
(www.lostandfoundrecords.co.uk)
---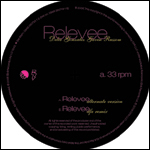 Delia Gonzales & Gavin Russom
Relevee Remixes 2x12"
(DFA)

The DFA brings it back with synth masters Delia & Gavin on a double-pack 12", a great format that is sadly underused in America. Remember when you tried to dance to The Days of Mars and couldn't? I hope not. That record was for chill times; this is the one for the dance floor. The four tracks consist of a shortened, redone version of the track "Relevee," time-condensed and beat-controlled with a bit of arpeggiation in there to keep it stern. There's also a dark, minimal, bottom-heavy Baby Ford remix, and a sterling, classy DFA version, ready for the prime days of the Gomma label and a determined sashay across the disco floor. But it's the Carl Craig mix that everyone is crowing about, and the hype is fully justified. He brings out the ARP string ensemble, the 303 kick, and a steady hand, creating a Balearic beehive of buzzing synth climes and restless energy. By the time this one breaks and the congas and piano riffs kick in (which would kick with "Sympathy for the Devil" in the tackiest world that you and I know), you'll be lost in the groove. This one is the one. It's gonna carry us through till Labor Day. Have a great summer.
(www.dfarecords.com)
---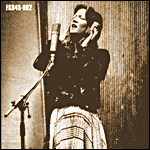 Chris Harwood
"Wooden Ships" b/w "Hear What I Have to Say" 7"
(Finders Keepers)

Harwood recorded a funky folky album with a number of studio heavies (Peter Banks of Yes, Tommy Eyre from Joe Cocker's group, MacDonald of MacDonald & Giles, and others) got together to help make Chris Harwood's solo album a reality in 1971. Fittingly, the record – like most British indies of the era with no large media backing or much radio play – sank without a trace, eventually racking up $500 price tags on eBay as the most sought-after record of its kind. Two songs from those sessions appear on this import 45 on Andy Votel's Finders Keepers imprint. Her take of Crosby, Stills & Nash's "Wooden Ships" is so breezy, so groove-oriented, that I didn't even recognize the tune on the first listen until the chorus kicked in. Sweet digs. "Hear What I Have to Say" is a similarly groovin' stroll, with Harwood's breathy, jazz-inflected vocals transporting this song to a different era (and with the trippy-dippy effects in the end, to another dimension). Very sweet digs. Edition of 500.
(www.b-music.co.uk)
---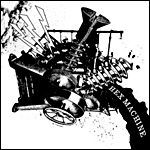 Hex Machine
"Blueprint to Madness" b/w "On Tender Ice" 7"
(Relapse)

'90s Richmond math-rockers Human Thurma were one of the most intense bands of that era and place I can think of. Two of its members comprise Hex Machine, along with Discordance Axis/Melt-Banana drummer Dave Witte, a beast on the drums. His speed and agility sound like they're not even needed here, as the band rolls things back to about 1992 or so, when this would have been on AmRep. It's loose, Jesus Lizard-esque dude rock, with yowlin' cat vocals and a seasick pace and sense of part changes. "Blueprint to Madness" finds Trevor Thomas playing around, singing in various hostile rock styles and coming closest to Al Johnson of Shorty and U.S. Maple. The song doesn't hold on long enough to really work, though, with an arrangement that can't stay the same song for more than four bars. As for "On Tender Ice," which borrows liberally from a recent Clockcleaner song, one thing these guys could learn from that group is how to keep an eye on the clock. It's curious to hear Thomas trying to find a voice of his own, to which he ends up scaring himself. It's a curious listen for a few times. Edition of 1000.
(www.relapse.com)
---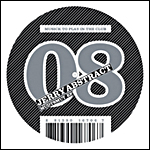 Jerry Abstract
Mudtsmut 12" EP
(Shitkatapult)

Abstract is messing up the Shitkatapult something fierce here. Easy choices, low bits, nothing much inspiring. The title track gets by through sheer grip on will, with a funny synth whomp that keeps hitting. But the rest is forgettable: "Boxiqu" runs the beat of the traps over each other to irritating effect; "Krahnk" is like Jamie Starr warm-up jams (soiled), and "Recoyl" comes off as the soundtrack to that lost level of Donkey Kong where Mario has to wait for his drivers' license at the DMV – the level you were too bored to finish.
(www.shitkatapult.com)
---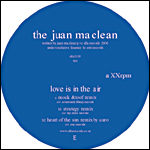 The Juan Maclean
Love is in the Air RMXS 12"
(DFA)

The new single off of Less Than Human (which I'm probably going to have to get my own copy of now) flutters by in a breeze, but the three remixes here pin down the electronic undercurrent in distinct and timely retro fashion. Both the Mock & Toof and the Strategy mixes take things back to the early '90s, with the former meting out the graduations of the track in a sumptuous runway style, and the latter providing a smarmy acidic jack beat straight outta '92. Caro's "Heart of the Sun" mix robotizes things and dials it back to the late '70s with Kraftwerkian precision, eventually opening up into a sweeter, warmer vibe but retaining its analog clunk. In a matter of years, DFA the label, and the talent behind it, has shaken a section of formerly bristling rock opinion into unbuttoning the collar and learning to dance; now they're ostensibly a techno label with vision that stretches far beyond the dance floor, and a fucking great one at that – a transition that only a few saw coming but which all have embraced. Good times, good times.
(www.dfarecords.com)
---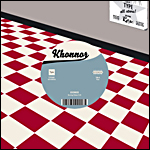 Khonnor
"Burning Palace" b/w "Heat Convex Dreaming" 7"
(Type Recordings)

Oh, Khonnor. Both sides of this chilly l'il belb speak out to the inner Azrael, in a way that won't be unfamiliar to fans of Stephen Merritt or Jens Lekman. Khonnor's dirty noisescape/Sega Genesis shoegaze fuzz electro production make this one mope away from the selections in at least a more winning direction than could be hoped. Forlorn.
(www.typerecords.com)
---


Kid606/Kid Commando
split 7"
(Ache)

Ache's Divorce series of split 7" returns with one by and for the "kids". But the kids of today, they lack that ambition that making music used to entail. For some of them the grey areas between genres is merely a place to hide and half-ass it. Kid606 sort of fits that bill on the phoned-in "Good Times," taking a reggae skank and rides it for a bit too long before filling in the spaces with polyphonic synth shapes. It comes and goes and you don't even know it. Sweden's Kid Commando, now disbanded, represent on the flip with their last recording, "Black Death." Ugly, out of tune, uneven guitar chops intriguingly in triplets over the half-time of the rhythm section, until the second part steps in and we realize that we've been had … by some disco-punk, one of the worst ways to be had. Why the track needs to settle into this monotony is anyone's guess, and then the vocals come in, reminiscent of the Archers of Loaf guy gargling sea water. I think I'll pass; until the artists in this series – ones that have actually been interesting on their own – start handing Ache their A-game, maybe you should, too.
(www.acherecords.com)
---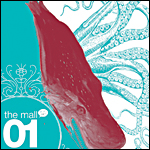 The Mall
First, Before, and Never Again 12" EP
(Mt. St. Mtn.)

New SF trio flirts with amazingcore and Casio pokes, albeit with a solid, deft rhythmic background that balances out any megaphone crooning or '90s screamo moves you can throw at it. The mannerisms are what saves this music, which runs oblivious and loudly through a minefield of cliché, stomping in every puddle, every mud pie stuck in the waffle of its boots, from the Faint to Drive Like Jehu, and tracks it all over the place. Something to prove here, definitely, and it gets proved in a clean and reductive manner. Songs are over before you know it, and at about 5 minutes of music on a 12", it is rendered loud and punishing on any stereo. Pressed in a back-breakingly labor-intensive edition of 300 in a three-color, three-panel silkscreened sleeve. Release number one from the new Mt. St. Mtn. label, formed from the ashes of Omnibus Records. Get one while they are still get-able.
(mtstmtn.com)
---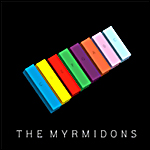 The Myrmidons
"Clap (See the Stars)" b/w "Dirty Little Secret" 7"
(self-released)

I didn't really expect to be reviewing any bands with ex-members of Book of Love, particularly two decades after "Boy." But here we are: Lauren Johnson and Ted Ottaviano return with this new studio outfit, The Myrmidons, and a new collaborator in vocalist Lori Lindsay. She's got a really winning low-register Ronnie Spector delivery, and the music, particularly on "Clap (See the Stars)," is to electro-pop what your workaday Phil Spector arrangement and production was to its '60s equivalent, as the drums thunder along, xylophone patches twinkle, and the melody twists and turns and bounces throughout. Guilty pleasure? Tell me why I should be guilty for enjoying something so charming and fun. "Dirty Secret" sadly takes a bit of a back seat to the A-side's near-perfection, but it's just as driving and immediate. A huge surprise, a big win.
(www.themyrmidons.com)
---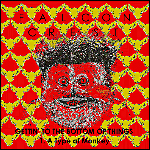 Nils & Noodles/Falcon Crest
split 7"
(Big Action)

Nils is a faux Neil Hamburger. Noodles is the enrapt fan. I guess it's novel to put bad jokes on a record, but Hamburger never rightly follows them with laughter of any sort. This one isn't going to change any rules. On the flip-side, Falcon Crest tear throw post-Jehu land with little to no sense of self. Haulin' ass in a rock band is one thing, but please make it mean something, because lots of guys can do just this. Give it a heart past the most tired of rock clichés and make us all feel better for having listened. Don't make your record seem like some sort of inside joke, then send it to the world and expect them to understand.
(www.bigactionrecords.com)
---
No Hope for the Kids
"Angels of Destruction" b/w "Cold Touch of Death" 7"
(Backwards Masking)

American death-rock and West Coast punk-influenced outfit from Denmark, No Hope for the Kids paints a bleak picture set to strident rockage. "Angels of Destruction" sounds like Tragedy meets, believe it or not, Agent Orange, which is a combo that I'd never had the chance to see play together (and neither will you). They get a lot of mileage out of that one chord, let me tell ya. "Cold Touch of Death" is on the flip, shifting gears into a straight chug and clearly sung, paranoid lyrics. Clean them up a bit more and they'd be a pop punk band, but who wants that to happen, anyway. Most likely out of print to the point where you'll never see it. No pressing edition information available.
(no info)
---


Oxford Collapse
"Decking the Classics" b/w "Packed Churches" 7"
(Version City)

Brooklyn's Oxford Collapse has always seemed like a band out of time, and not because of the press' incessant likening of their sound to that of vintage REM. Not content to simply ape post-punk like a lot of their local peers, these three have been mining a jingle-jangle pop mess-thetic that successfully pinpoints the intersection of great bands like the Feelies, the dBs, or even more ramshackle New Zealand pop acts like the Clean. It's been a pleasure to hear and watch them come into their own over the course of a couple of great full-lengths and more than a few jubilant live sets. Their latest single is all punch and no pull, two sides of trebly buzz and thumping percussion that pretty much demands to be flipped and repeated before the run-out groove on the B-side even hits. But what comes clear most on "Decking the Classics" and "Packed Churches" is that these guys aren't simply trying to tap a long-gone era – rather, with hooks that dig deep and propulsive backbeats, Oxford Collapse update a classic pop sound for a generation of folks who were probably too young to make it to Maxwell's during the Crazy Rhythms era. Now signed to Sub Pop, this seven-inch is a tantalizing taster of what's yet to come and a summation of what you've already missed. Get with it, folks. Edition of 500. (Michael Crumsho)
(www.versioncityrecords.com)
---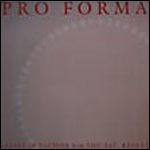 Pro Forma
"Lapses in Diction" b/w "You Say, Repeat" 7"
(NEW!)

I'd heard many a Pro Forma MP3 over the years as they moved through sounds, phases, equipment and lineup changes. This review comes to you, sadly, posthumously, as the Scottish dance funk electro outfit called it quits a few months after this single (which was released by Paul Thomson of Franz Ferdinand) hit shelves. "Lapses in Diction" gets funktional in a hurry, and it'll sound familiar, but that shouldn't detract from the quality, with uptight drumming reminiscent of A Certain Ratio's Donald Johnson, agile all the way. The two songs here speed through their changes in a refreshingly familiar manner that darts across much of the recent post-punk landscape, hummingbirdlike, without stopping on one place for too long. The nascent Duran Duran-isms of "You Say, Repeat" make it my favorite of the two tonight, but maybe not forever. Look, there's so much of this kind of music that is just PISH. Drop that Hot Hot Heat record and get with the winner. They died for this music's sins by desperately trying to get it perfect, and on this one, they did.
(www.pro-forma.co.uk)
---
Quasimodo Jones
Love Commando RMXS 12"
(Shitkatapult)

I am safely assuming that Quasimodo Jones is an alias for producer Hakan Lidbo, because I really don't wanna believe that some mesh cap-wearing mulleteer who worships Kid Rock could come from anywhere but a. middle America, and out of Lidbo's reach, or b. some European knob who thinks hicks are funny because he can't understand them. Well alright, Udo. You wanna cross the line between irony and truth? Do it on the dance floor. Oh, I see you are trying to do that. Tomas Andersson does a decent job here, as usual – Bpitch's fair-haired boy makes a driving, hookless, throbbing Germanic meat pie out of this, using about 4 seconds of original vocals and hammering away at the rhythm unil the hammer breaks. Lidbo's own bleepy techno mix is a bigger winner, as grinding analog lead synth crosscuts atop a 4/4 imperative. OK, fine, you got me, it'll work in the club. Just don't bring him home. Please.
(www.shitkatapult.com)
---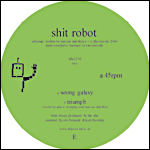 Shit Robot
"Wrong Galaxy" b/w "Triumph" 12"
(DFA)

Marcus Lambkin, former resident at Centro-Fly's Plant party, and one-time owner of Plant Bar, provided NYC with years of good times through music and an environment in which to properly enjoy it. That he'd move his own alias, Shit Robot, over to the DFA, might not have been inevitable, but it is more than welcome. "Wrong Galaxy" bops along through housey synth-horn stabs in a familiar construction, gets asses out of chairs and up against each other, creating sparks that may burn the club down. But it's the B-side, "Triumph," that is the winner here, a trippy reel through the Great Space Coaster, with synth glissando-ing, guitar-like, over a rock-solid disco beat, flanging in and out of the boundaries between space rock psychedelia and dance music. James Murphy joins the Hawkwind mobile disco machine for treated vocals all over the back-end. Summer jam #2, if you will, and listen to how nicely it fades into an old school syncopated drum machine. Crucial, crucial track.
(www.dfarecords.com)
---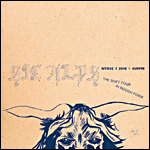 Sic Alps
The Short Tour in Rough Form 12" EP
(Mt. St. Mtn.)

Bay area psych-folk duo Sic Alps cough up four songs of Jonathan Richman-meets-The Dead C. brand of late-night altered acoustic stumble, as the croon of a righteous man is sunstabbed with thick gouts of overmodulated crust. The doped-up sounding "Making Plans" is the only track of the four that could stand to reside elsewhere; all others resonate with lonesome, drug-addled truthfulness. Lots of groups trying this sound out, or more likely their own variant, but this one is brash enough to stand out. Edition of 500 in a three-panel letterpress sleeve.
(mtstmtn.com)
---
Terrible Twos
"Plunder Ball" b/w "Spitting Image" 7"
(X! Records)

Not-bad nth-string AmRep rockin' from some Ann Arbor guys, with a singer who sounds a little bit like Gibby Haynes and songs that race and roar and occasionally bite. They're about a notch or two up from Falcon Crest (see above). "Plunder Ball" moves out of Damned-style punk guitar telegraphy into chuggin '90s indie/math-rock strides, where one members' idea can clearly be heard hitting the wall in favor of another one's. Guess which ideas I enjoy more. Yeah, the garagey, punkish ones – they're much harder to write memorably. We get more of those on "Spitting Image." Would love to check back on this band in about a year, see how they've changed.
(www.x-recordings.com)
---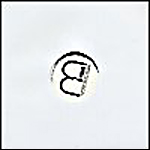 Uusitalo
Tulenkantaja Vol. 1 12" EP
(Huume Recordings)

The man also known as Vladislav Delay and Luomo returns in this guise with four new and balanced pieces of funky, slightly progressive electrohouse music. The final track, also the titular one, is my favorite here, as it gets dirtiest. Rhythm and melody are balanced out in equal phases, line the peaks and troughs in a tight sine curve. One hits, the other recedes, and vice versa, thousands of times per track. Uusitalo has this weird habit of inserting sound effects into each track, perhaps telling the pieces of a story I can't possibly comprehend, but this is pleasant enough.
(www.huumerecordings.com)
---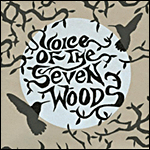 Voice of the Seven Woods
s/t 7" EP
(Twisted Nerve)

The solo frontispiece for folk guitarist Rick Tomlinson, Voice of the Seven Woods brings a level of sophistication to the contest that nobody since Jack Rose has managed to do. Adept, avid fingerpicking on an acoustic (backed with occasional drums and electric guitar) keep the listener focused on the thematic concerns of the tracks, allowing his virtuoso skills to tell a story rather than let the story be those skills. Sublime modern British folk, culminating in side B's "Sky of Grey," which, after a long intro, bursts forth in a bright display of psychedelic landscape search. Accomplished where others are not, this is a genuine and exciting record from a movement that has spawned more miss than hit as of late, especially in underground or same-derived circles. Comes in a beautiful nine-panel silkscreened poster sleeve, and made by someone who loves records. I can tell. All 1000 copies have sold out, so check stores and distributors. Seriously. This one you need.
(www.twistednerve.co.uk)
---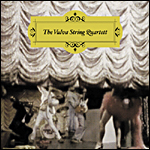 Vulva String Quartett
Out of Sight 12" EP
(Combination Records)

"Out of Sight" knows what it is, knows its place in the strata of modern dance music – it's a builder, an early evening jam. Its calliope synths ride a bouncy bassline from point A to B. The two tracks on side B don't fare much better. There are people who really dig this kind of laissez-faire house music, but I'm not one of them. Vulvas are cool, though.
(www.combination-rec.de)
---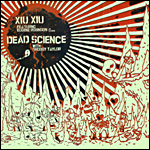 Xiu Xiu/The Dead Science
split 7"
(Deathbomb Arc)

the initial band split up, so I can't – and won't – compare this track even to the last one I heard, Knife Play, but … yeah, this is pretty dire. It's not without merit but if Mark Hollis were in a grave, he'd be rotating in it, as Stewart capitalizes on late-era Talk Talk sound, without the epiphanies and with the knowledge that most of his audience won't know what I'm talking about. The Dead Science is joined by Shooby Taylor, "The Human Horn," on this track which is either named for Shooby or merely untitled. It's another trudge up a steep hill over to nothing. Shooby wallows in it, and so does the song. I guess you will, too.
(www.deathbombarc.com)




By Doug Mosurock