Dusted Features

Dusted's Jake O'Connell reports back from this year's Austin puke 'n roll conference, South by Southwest.



Undersigned and Overexposed - A report from this year's South by Southwest
Wednesday
We got to the Matador showcase at Stubb's halfway through Jennifer O'Connor's set. After watching a few songs I walked down the street to Emo's to check out Voxtrot, catching the last few songs. I wasn't overly impressed by either. Headed back to Stubb's for the end of Matador's latest signees Brightblack Morning Light (nee Brightblack) who played an atmospheric set on a dark stage. The New Pornographers followed (with Neko Case/without Dan Bejar). It wasn't hard to tell Neko doesn't sing with them much live and some of the harmonies really weren't that tight but overall it was enjoyable like power-pop should be. I've only heard the albums a few times and I recognized almost every song. "Use It" and "The Laws Have Changed" both stood out as particularly anthemic. Recent tourmates Belle & Sebastian followed and were in a really good mood. Stevie Jackson was dressed in a suit and Stuart Murdoch was dancing around like George Michael in the "Wake Me Up Before You Go Go" video for most of the night. They sounded great, playing a lot of songs from The Life Pursuit, "Another Sunny Day" was memorable early in the set as was an extremely theatrical version of "Your Cover's Blown." It was almost like a short play and actually got some people moving. They played a couple of older more obscure songs ("Ease Your Feet Off In the Sea", "Judy & The Dream of Horses") that were a nice surprise and crowd favorites. A third of the crowd headed out before Mogwai filled the night air with swirling white noise like I thought they would. I've seen them many times before but never outside, and I really don't think it made much of a difference. Opening with "Autorock" (Mr. Beast's first song) they once again proved how much better they are live than on record. And I like their records. Finale "We're No Here" (Mr. Beast's closer) made the long night worth it as Mogwai sought and destroyed expectations once again. Letting the colossal assault fade into feedback and drift into the Texas night.
---
Thursday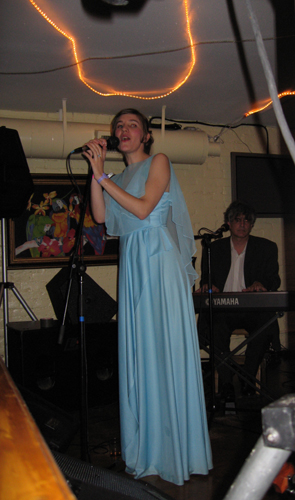 (Lavender Diamond)
On Thursday as I was going up the escalator at the Hilton, I saw the Beastie Boys getting all up in the grill of a photographer on the smoking platform. They had no idea anyone but the photographer was looking at them and it was a strange perspective to view them from. The sighting confirmed the rumors that they would be playing at Stubb's later. We headed down there around 6:30 and people were spilling onto Red River Street, security and bouncers were shouting and trying to direct traffic. I asked someone what the deal was and they said they were only letting in people with badges or who were on the guest list. I had only managed to score an artist wristband so I gave up and went back to the hotel to drink a little before Lavender Diamond. Who were fantastic. Lead singer Becky Stark was dressed in what looked like a turquoise prom dress from the 1960s. She pointed at different people in the crowd during a glorious version of "You Broke My Heart", her voice sounding even better live than on record. Every song was executed meticulously but "Please" and closer "In the Springtime" both had a dreamy feel that made realize why I'd come down here. The downside was that the show was around the back of the Habana Calle 6 and some nu-metal band was playing just outside, so every time the door opened a waft of unbearably clean riffage filtered in.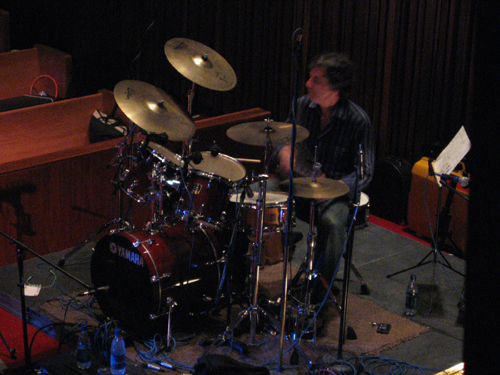 (Jonathan Kane)
From there we headed to Central Presbyterian Church to see to Jonathan Kane's February and were treated to the tail end of Arnold Dreyblatt's ensemble (Berlin). Kane's group followed and were an obvious festival highlight. With Kane punishing the drums, five guitarists and Ernie Brooks on bass played the blues like I'd never seen before. Transforming minimalist, repetitive riffs into a full-on attack, every song scorched. Maybe the best thing I saw while in Texas. After debating whether to stay for Rhys Chatham or to see Bigg Jus (had to check some hip hop), we made the wrong decision. Jus was outside of Zero Degrees when we arrived talking to people and shaking hands. Leave it to the hip hop shows to stick the least to the schedule.
After meeting up with a few friends we headed out into the sticks to a house party organized by a friend of a friend. At this point I didn't really care where I was or who I seeing but was pleasantly surprised by the two garage bands that played: The Omen out of Denver and Teenage Harlots out of San Fran. The latter were playing "drive-by shows" all week, jumping out of a van to play for unassuming spectators. They claimed to play 18 shows throughout the festival. Both tried to seriously tear down a small living room.
---
Friday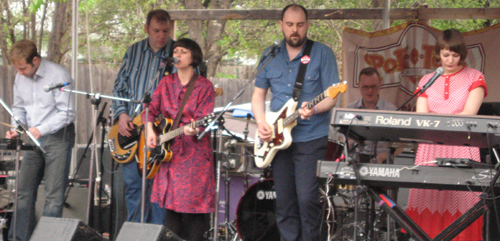 (Camera Obscura)
Late Friday afternoon we headed to Poke-Jo's, a BBQ shack that was way out on 5th and realized too late it was too far to walk. Camera Obscura was sound-checking when we arrived and played a bunch of songs from their upcoming album, most memorably "Let's Get Out of the Country", a shiny tune that will probably become a concert singalong once the record of the same name is released. Traceyanne Campell's guitar was almost as big as her and she sounded as bookish in person as she does on record.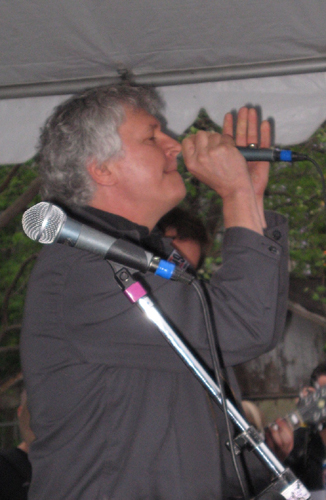 (Robert Pollard)
Robert Pollard chased. His new band featured Tommy Keene on guitar and keyboards, Dave Phillips on other guitar, Jason Narducy on bass and Jon Wurster on drums. In signature Pollard mode, he took the stage with a bottle of Miller Light, a bottle of tequila and quickly lit a cigarette. The band ran through a handful of songs from Through a Compound Eye. At one point Pollard joked that people think he looks like Tom Berenger. "Love is Stronger than Witchcraft" drew the biggest response, but by this time the tequila bottle had made it into the crowd.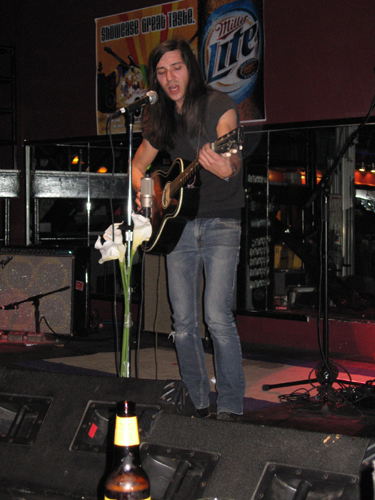 (Death Vessel)
After a short rest we headed for Caribbean Lights to see Death Vessel who played a solo set similar to that which he played on his semi-recent tours with Iron & Wine and Calexico and The Books.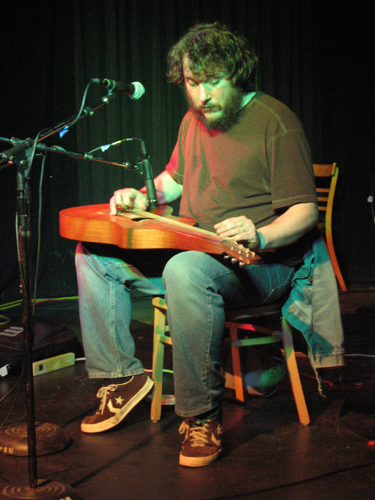 (Jack Rose)
After Death Vessel, Jack Rose provided another highlight as well as a much needed place to unwind. Playing at The Hideout on Congress, the seats were auditorium style, holding maybe 40 people. It was my first experience at one of his shows but it will not be the last. With his guitar set upon his lap his mesmerizing picking captivated an attentive audience.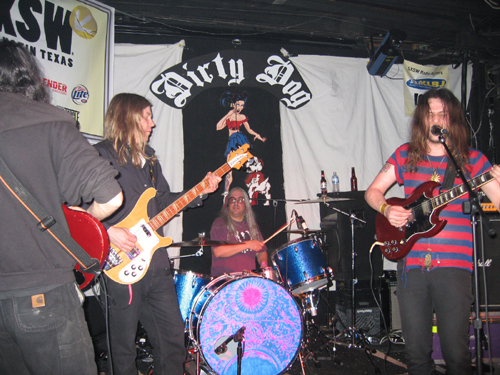 (Witch)
The final band of the night was Witch at Dirty Dog Bar. With J Mascis pummeling the drums, the dudes from Feathers conjured some intense black magic. The clear star was guitarist Kyle Thomas. My only question was why does he sing? This band really has no need for vocals. We tried to hit Spank Rock at Oslo thinking they might be playing later than advertised and they'd close with "Put That Pussy On Me", but hiphop's offbeat schedule banged us again.
---
Saturday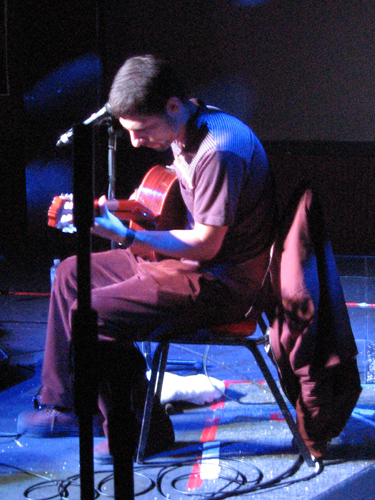 (Jose Gonzalez)
On Saturday, I somehow woke up early to do a story on Flatstock 8, a rock poster exhibition showcasing original graphic art by more than 80 artists. I chatted with Travis Bone (Furturtle Show Prints), the guys from Aesthetic Apparatus and Jay Ryan who runs the print shop The Bird Machine in Chicago. Ryan's been making posters for 10 years and still hand-draws all his stuff. The atmosphere was relaxed and a nice contrast to the chaos on 6th. At around nine, we went to see Jose Gonzalez at Eternal and the place was packed. He played a sparkling clean set that included nice takes on "Crosses" and "Hand on Your Heart", the latter an obvious crowd pleaser. We thought about checking out Hot Chip who were playing a few doors down at The Parish but a line of UT students was down the street. We decided to go explore the non-music Austin night scene.

By Jake O'Connell