Dusted Features

In the latest installment of 'Still Single,' Doug Mosurak checks out singles of various sizes by Fucked Up, Lavender Diamond, Monolake, Serena Maneesh, Blood on the Wall, and more.



Still Single, Vol. 9
SUBMISSION GUIDELINES
Yours must be a single pressed on any size of vinyl. CD-Rs of singles will not be reviewed; they will be destroyed. We need the artifact here with original artwork, not some duplicate/digital copy. Only records released within the past six months will qualify for a review.
Singles must be postmarked by the 15th of each month to qualify for the next installment of this column.
ANY genre of music will do – don't hesitate to send punk, hardcore, metal, goth, pop, rock, country, hip hop, electronic, experimental, dub and reggae … all genres accepted and welcome.
Information on your pressing (quantity pressed, color vinyl, etc.) should be included if at all possible.
Submissions can be sent to:
Doug Mosurak
PO Box 22183
Brooklyn, NY 11201
Records need to be shipped securely in sturdy mailing materials and marked FRAGILE because the post office will destroy them otherwise
This column runs the last week of every month on Dusted (give or take). Its success depends on you sending in singles for review.
---


Los Dragos/Hi-Fi Killers (The)
split 7"
(Nicotine Records)
Eurocuz split 7" '60s garage action here. Los Dragos are from Italy and play noisy yet overaccomplished Nuggets-style psych garage rock, in equal parts hepped up on early rock/rockabilly sounds as they are on turtleneck-wearing white R&B like Them or Cuby and the Blizzards. The band is no doubt charged up from the energy of punk rock, but seems to play in spite of the genre's charms of simplicity. It exists and there's not a ton here to love; for people who have tattoos of dice on them somewhere. Hi-Fi Killers (The) (their spelling, not mine) hail from France and are a somewhat slowed down, more refined (e.g., more notes) take on that country's penchant for raw rock 'n' roll bands of recent, from Blutt to Anteenagers MC. It's hard-working, go-go danceable barroom '60s garage with classic chord progressions and a familiar sound – familiar to anyone who rode through the garage rock boom of the '80s. Would probably sound great next to the Fleshtones. Two songs apiece from each band, with a pretty lousy recording on the Los Dragos side – say no to digital, guys.
(www.nicotinerecords.com)
---


Ferdinand Fehlers
"Hearth" b/w "Hearth (Pole remix)" 12"
(Meteosound)
Ekkehard Ehlers grants himself a new name and a different direction (the label cites it as "soul dub city music") with "Hearth," a huge, warm mid-tempo repository for thick bass and a sweetly dubbed-out guitar/synth line repeated to infinity. The breaks in this are so sweet; fans of marijuana will especially enjoy. Pole's remix randomizes the suitable linear elements of this track, making it slightly less interesting to check out on its own, but possibly would work in a cold warehousey club environment (the kind like we don't have in America).
(www.meteosound.com)
---


Figurines
"Silver Ponds" b/w "The Wonder" 7"
(The Control Group)
Hyped as "one of the most hard working Danish indie bands of the moment," Figurines come off as a Shins knockoff on the surface, but without James Mercer's songwriting talents. I'm confused as to why somebody would take a band like this over the real thing, or for that matter Grandaddy or Spoon (two other bands who they heavily cop ideas from). Faceless wimp ballad in "Silver Ponds" and aimless fast chuggin' on "The Wonder"; both songs are far too precious for their own good. Then again, people still buy and sell fake Rolexes. The world continues to baffle and amaze me. This is one of those 7"s used to promote a forthcoming album, from the label that brought you Alien Crime Syndicate and vinyl issues of the Killers and Kings of Leon albums. Wow.
(www.controlgroupco.com)
---


Fucked Up
Generation 12" EP
(Slasher Records)
Yet another in a line of quality hardcore singles from Fucked Up that you had better be in the right place at the right time to obtain. They're so good at what they do – wedding memorable melodies to machine-tooled hardcore to such an intense degree that they come off like a band of Robocops in precision and energy – that each of their records is well worth tracking down and playing the shit out of. "Generation" is to them what "Statues" was to a young Husker Du, a primal and repetitive blast of rage with few lyrics and a message that carries through to the songs on the flip – that we are fucking ourselves over with this war and its obscuring of the issues governments fear and are ill-equipped to handle without removing their hands from big business's pockets. With each release, Fucked Up proves themselves time and again to be one of the most vital bands in the aging beast known as hardcore, every hole patched up and rolled out to battle one more time. Inspiring and powerful. Also, after only two months of release, it's out of print, at least from the label's side, so hit up stores and distros to get your copy.
(www.slasherrecords.com)
---


Peter Grummich
Rave d'Amour 12" EP
(Shitkatapult)
On "Jack d'Amour," Peter Grummich entangles two or three persistent melodic lines – one piano, one string, one sawtoothy synth – on top of talking-drum bass and a pulsing beat, making more out of minimalism than one would expect for a track this funky and driving. He reworks similar ideas into the two tracks on the flip; "Weiter" coming from the Pole school of minimalism, where glitch-type sounds are repeated as a beat, and in the lively "Breathe," loading down a deep plonky, buzzy groove with glissandos of synth strings. Grummich is very good at the slow burn, the dancefloor builders, and this EP finds him in peak condition.
(www.shitkatapult.com)
---


The Intelligence
"Boys Annoy" + 3 12" EP
(In the Red)
In the Red kicks off a mailorder-only 12" EP series with this four-song release by this fantastic give-a-fuck post-punk noise outfit out of Seattle, fronted by A Frames drummer Lars Finberg. I've sung their praises here before, and so far they haven't made a record that doesn't rank any less than totally vital. Every song is a car crash of Cronenbergian horror, post-germ apocalypse howls from an incubator where somebody left the first Dead Boys album and copies of the first five Fall singles. Drums boom right out of the mix while the instruments and Finberg's snotty wail scratch and claw each other, at first for superiority, then just for the hell of it. Songs are mastered at the limits of analog technology, thanks to Weasel Walter – this is the most "in the red" In the Red release I've heard in some time. Edition of 600 and very nearly gone – go to their website to get yours.
(www.intheredrecords.com)
---
Bryan Joseph
Drop the Needle 7" EP
(Green Lazer Records)
As anonymous and inconsequential a release as I've ever encountered, this is the reason MP3s exist. 100 sleeveless copies of a single on green vinyl, with no song titles and the provided URL leading to a drawing of a robot. These are 4-track recordings of nominal substance or worth, from a goofy and excitable non-talent who's probably heard the Frogs before with shocking non-shockers bearing lyrics like "I'm scared of retards" and "Drop the needle/on my face." Thanks for putting more garbage that no one wanted into the world, Bryan.
(www.bryanjoseph.com)
---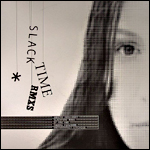 Judith Juillerat
Slack Time RMXS 12" EP
(Shitkatapult)
With a career in techno that started only last year as the winner of a Bjork remix contest, Judith Julierrat's new single "Slack Time" gets radical makeovers here, transforming her hazy night rhythms into burbling sideways French funk (by Perlon artist Ark) and two mixes by Thomas Fehlmann – one made for end-of-night dancefloor comedowns, the other as abstract as you'd want. Yup.
(www.shitkatapult.com)
---


Lavender Diamond/The Queens of Sheeba
split 7"
(Cold Sweat)
A few years ago on a show I booked for Young People, the band sprung an additional performer on the bill, one waify looking woman named Becky Stark. In about ten minutes she brought the room to complete silence with some of the most simplistic, evocative lullaby music I've ever heard. She certainly didn't conduct herself like a musician, but rather a person who was using single notes on an acoustic guitar and her mousy yet brave soprano voice to tell stories that simply had to come out of her. All the same, it's for the best that she now has Lavender Diamond to take the burden of playing music out of her hands and flesh her songs out to something just as unique and devastating. In their ranks are Jeff Rosenberg (ex-Young People) and popular illustrator Ron Rege, Jr.; the band plays a stunning and gorgeously spacious song in their "Song of Impossible Occurrences," sounding blend of chamber music, baroque pop and Stark's X-factor, which occupies the same earspace as Karen Carpenter, Vashti Bunyan, Danielle Dax, and a children's choir. They have proven on their EP that they can move in several directions within the same sound, and their side of this split single strengthens that notion. Fantastic, unlikely and essential. The Queens of Sheeba feature Devendra Barnhart and Andy Cabic (Tussle, Vetiver), playing a loose, early R&B ballad called "Christmas Time Celebration," not really a dealbreaker for anyone's career, but pleasant enough. Recorded in Madrid, it successfully captures the feeling of spending one's holidays away from family and warming to the friends you have around you. Good enough.
(www.coldsweat.org)
---


Monolake
Plumbicon Versions II 12"
(Imbalance Computer Music)
Two mixes of the latest Monolake single out intriguing corners of the track that would have gone unnoticed. The placidity of the Rebreather mix of "Plumbicon" is gently but steadily buoyed by a slow build of additional instrumentation, taking the track from minimal drone into soundtrack territory before bursting forth with the same sort of unbridled soul passion TV on the Radio are known for. On the Deadbeat mix, the beat takes over, with thumping bass and IDM stutter decorating the edges of what becomes an almost reggaeton riddim. This record gets nicer every time I hear it. Highly recommended. Pressed on marbly white vinyl.
(www.monolake.de)
---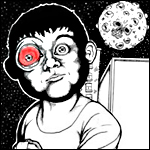 Pink Eye
s/t 7" EP
(Slasher Records)
A project featuring Damian and Jonah from Fucked Up, the debut 7" by Pink Eye is a pretty killer hardcore hate sesh, far more pointed in its lyrical content than any of their other bands, pushed to such an over-the-topness that it can't come off as anything beyond satire. "How to Rob an Indie Rock Star" advocates beating the shit out of fellow Canadian artists of recent renown (and really, who didn't want to punch out the DFA79 dude when he was in Black Cat #13?), and "In Praise of School Shooters" more or less speaks for itself. It's fast, angry, and typically awesome hardcore with a serious nihilism bent, that falls just short of most Fucked Up or Career Suicide recordings because they're that much tougher to take seriously. I think a lot of us are pretty far beyond the point where making Columbine jokes or advocating teen homicide over a game of Dungeons & Dragons is shocking or provocative, and I know that's not really the point, but it never hurts to have a point to make. That this band jokingly advocates robbing a friend of mine is something I'm having trouble with, especially as that person really isn't a part of the problem. Comes on pink vinyl; pressing unknown.
(www.slasherrecords.com)
---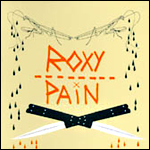 Roxy Pain
Littleman 7" EP
(self-released)
This Brooklyn band consists of Kayrock and Wolfy, the guys behind the artistically solid and productive Kayrock Manual Screenprinting operation, a guy named OJ from the punk band Mob Stereo, and a man solely identified as "MP". Using repetition as somewhat of an unflattering crutch, they plow through four basic, unrefined grooves, including an in-name-only interpretation of Duran Duran's "The Chauffeur," dramatically rendered by Wolfy's Anglo-inflected vocals. Only the hypnotic, slightly spacey "Middle East" really hints at any sort of a direction beyond the band having fun playing together and for their friends. Edition of 500 copies in very handsome silkscreened, die-cut tri-fold sleeves.
(www.roxypain.com)
---
Serena Maneesh/Blood on the Wall
split 7"
(Insound)
The hype wave on Serena Maneesh is starting to mount, but I have to oppose it – one halfway decent (in sonic terms only) album devoid of originality and focus, and their inability to be engaging live performers smacks of the kind of band trying to get over purely on style. That earlier imports of theirs that nobody wanted in the first place have vacated a warehouse in Norway and are now taking up inches on record store shelves all over the place is somewhat telling, but this is probably going to be the band who ruins the notion of a shoegaze revival the same way the genre died in the first place: with a glut of unoriginal ideas and messy, unfocused songs. Take this remix of "Sapphire Eyes" (from their self-titled album), which sounds like if you strung together a bunch of those 30-second RealAudio samples of an album that e-tailers put up. It never coalesces into anything and reflects poorly on the band, who it's assumed crapped this out themselves. Sludgy walls of guitar melt and collapse amidst scattershot noise effects, and a stolen melody from Isn't Anything seeps out from in between. The looseness of the two Blood on the Wall tracks aren't likely due to them being recorded live – that's just the way that they are, and they're all the more endearing for it. The Brooklyn trio plays with the reckless, noisy abandon of early '90s indie rock in ways that are familiar without being redundant. Anyway, not much to pick through here – a 30-second blast called "Hey Hey" and a cover of Minor Threat's "Stumped." Comes in a chipboard silkscreened sleeve, which screams "limited edition." Who knows how you'd find a copy? Maybe you need to enter a contest or something.
(www.insound.com)
---


Touane
Der Zimmermanlieder 12" EP
(Persona)
You can't spell "Bassic" without "bass" and also "ass"; Marco Touane's track of the same name uses the former to move the latter. It's a prime slice of Berlin techno: slightly cold, dense, pulsing, complex, layered. The tracks on the flip are even better, with the schaffel-y "Biz Taylor" getting all rubbery tech-house on you, and "Es Tut Mir Leid" blowing out the speakers with a massive rush of airy effects, volume, and outright maximalism. Very good for the club, very good for you, and yet another knockout release for Persona, proving themselves to have the biggest cojones of any German techno labels right now.
(www.personarecords.com)
---
Wooden Shjips
"Shrinking Moon For You" + 2 10" EP
(Wooden Shjips Free Records)
Here's an idea: press up a record, then give it away. That's what Wooden Shjips is doing. A package came from San Francisco with this record and the instructions to provide their email address in case anybody wanted a copy. It's worth a good bit more than free in terms of what's on here though – blissful lo-fi space rock meditations in line with Hawkwind, F/i, and a less amphetamized Comets on Fire. The noise gets dumped on in huge buckets on the sidelong "Shrinking Moon for You" and dwarfs just about everything except the persistent bass anchor. The group (group? person?) apes Tony Conrad and New Zealand artists like the Clean on "Death's Not Your Friend" and get mired down in drone and tape murk on "Space Clothes," but whatever – this is a sounding board for musical ideas that are immensely satisfying, and best of all, the record costs you nothing. Better than lots of records other people expect you to pay for. Comes in a white sleeve with minimal info, so paint your own cover.
(email woodenshjips(at)hotmail.com for your free record)
---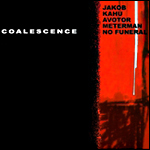 Various Artists
Coalescences 12" EP
(Midium)
New Zealand post-rock/testosterrific label steps out with this five-song, vinyl-only 12" EP, featuring Chicago's No Funeral and four bands from the label's homeland. No Funeral go for the epic, grandiose Explosions in the Sky type sound, with registered trademark single-note-through-delay riffage and distinct parts as if the music was some sort of operatic suite. Meterman leans on Fugazi/Quicksand style octave riffage, thick groove, and Guy Picciotto-esque vocals (though their singer doesn't need to enforce an accent to make them work). Avotor is probably the best represented band on here, offering a massive slice of thick, dissonant drone metal, taking a different tack on the Godflesh/Jesu axis. Jakob drops off some three-year-old short hair wide eyed instrumental epicness that's not as good as No Funeral's example. The EP closes with Kahu (a side project of High Dependency Unit, a/k/a that NZ band that toured Wisconsin with Shellac), trafficking in suitably deep solo guitarscape and moany vocal activity. It's a pretty good comp altogether, and it's always nice to know that decent music is still being made in New Zealand, but outside of the innovations that Kahu and Avotor bring to the table, you've heard a lot of this stuff before, and done better; if you've drawn lines in your head between June of 44 and Pelican, you understand where these folks are coming from. Limited edition, so sayeth the label's website.
(www.midiumrecords.com)

By Doug Mosurock