Dusted Features

In the fifth installment of 'Still Single,' Doug Mosurak checks out singles of various sizes by Oneida, Ellen Allien, Neung Phak, the MFA, Sascha Funke, and more.



Still Single, Vol. 5
Five editions of this column so far, and I gotta say, this is one of the most rewarding experiences I've ever had writing about music. Even reporting on the bad records makes us all more aware of what's going on in which scene, how quickly trends seem to be adapted, and what impact it has on other musics around it.
Only the intrepid seem to press up vinyl singles anymore, and we here at Dusted applaud those who do, if only for the effort of keeping traditions in independent music alive. Your contributions help to keep this column going, and we hope that you send us more records to review. At present, only one submission was rejected, due to it being damaged and rendered unplayable in the mail (so Dardadrome, if you're out there, send another 7").
On with the show…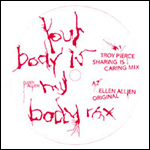 Ellen Allien
Your Body Is My Body Remixes 12" EP
(Bpitch Control)
You can hear Ellen's original mix on Thrills, yo, and the Troy Pierce version doesn't really hold a lot of water. Reason to grab this is yet another dynamite remix by Kiki, who in other Bpitch classics has proved that there's little he can do wrong. Big clickity-clack compressed drums and a steady hand on the transform knob work Allien's furtive original into a candy-spun, frothing club monster. This is what you want, this is what you get.
(www.bpitchcontrol.de)
---


Battleship
Presents Princess 12" EP
(The Raw Deluxe)
Some people (like me, for one) wait endlessly for bands like Oakland, CA quartet Battleship to come along and wield the past like a hammer on present rockaroll staleness. They lift the snot outta 90s punk pricks like Le Shok and Skull Kontrol and shake the coffin jitters outta JAKS and Gravity-style spazzcore like Antioch Arrow, making caustic, rickety, huge noise that threatens to derail at any moment. Excitement for those of us unafraid to live in the moment. Really fucking tremendous panic rock. Battleship will be touring the US through October, so do your best to go check them out. Edition of 500 (100 on white vinyl); cool bonus track at the end of side B (endless grooves of silence precede it, so scratch it up and make your own Pole remix or something).
(www.theerawdeluxe.com)
---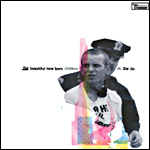 the Beautiful New Born Children
"Do the Do" b/w "Paper Mill" 7"
(Domino)
Signed to Domino from an unsolicited demo, this (presumably) German power-pop group blasts off the pad in a big way with "Do the Do," a short and raging high-energy smackdown of abrasive noise, breakneck rhythms and spirited jangle – like the Wedding Present drank coffee all day and bedroom moshed to Teengenerate. It's over in under two minutes, adding to its immediate charms and bountiful payoff. "Paper Mill" slows it down, stretches it out, with memorable hooky contrast. Lyrically and structurally they approach the Strokes with the jaunty bounce of Supergrass. Pretty much everything you'd want out of this kind of band is represented here. Full-length coming soon and I can't wait.
(www.dominorecordco.com/usa)
---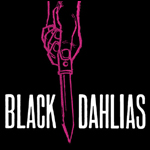 the Black Dahlias
"Wednesday Night" + 2 7" EP
(Plastic Idol Records)
Three guys, three chords. Remember the Riverdales? Older Lookout pop-punk bands with the attitude and the velocity and the ideas borrowed from the past? That's what's going on here. And it's fine; energetic nuggets of melody, simple and beating the point to death, but here you go. More pop punk. If that is your bag, please dig in. Edition of 500 on clear vinyl.
(www.plasticidolrecords.com)
---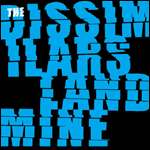 Dissimilars
"Landmine" + 2 7" EP
(Plastic Idol Records)
More out of control and fierce than the other releases sent out to me by Plastic Idol, this one is a fuckin' corker. "Landmine" is about the wicked woman; it's short, punishing, ugly gee-rage karate chop rock. The songs on the flip are even angrier, with "Turn Me Loose" on a weird syncopated start that will throw you for a loop, and "(Crushin' Up) Pills" dedicating itself to a life of abandon. Sometimes bands playing this sort of thing just need to take it a little bit further over the edge than they do. The Dissimilars know this, and that's why I'll put this record on again. Blue vinyl, 500 copies, will kick a hole in your front door.
(www.plasticidolrecords.com)
---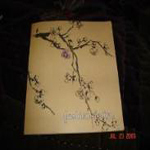 Fashion Design
"As Is" b/w "Mothballs" 7"
(307 Knox)
"As Is" tamps down the strident, martial disco-rock of Bloc Party with unfortunate moany nasal femme singer-songwriterisms, soupy and unconfident even when the beat locks down in the back. Lyrics seem to be all about giving into another person's will; this sort of blowjob-core appeals to weak minds and limited tastes. On "Mothballs," a guy sings, infatuated with Mark Kozelek but with a reach towards Interpol and other popular urbane sounds. It's slower and even less interesting. Just a huge mishmash of ideas that are not their own, glommed together in the Carolinian ruse, and the kind of indie rock anonymity that used to clog the bins and distribution channels. Really not good. Comes with a CDR of the songs in case you don't have a record player.
(www.307knoxrecords.com)
---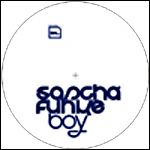 Sascha Funke
Boy 12" EP
(Bpitch Control)
Three tracks, presumably of a suite (titled, in order, "Attempt," "To Be," and "A Boy"). "Attempt" starts out as spare, minimal, engaging techno with brightness and bounce, and stays that way, but has this trick of putting most of its synth pops and rhythms on the off beat, almost building the entire track around the beat instead of on it, creating a fun yet maddeningly disorienting ride. I'm sure lots of amateur DJs will have a field day figuring out how to drop this one into a mix. "To Be" doesn't really get going anywhere interesting until its midsection, when the somewhat anonymous housey bleep track drops out for some free-associative transformations in and around the beat. That it comes back the same but rejuvenated with newly introduced bells and whistles is somewhat exciting. Finally, "A Boy" skits in on nervous, uncertain, dubular terms, adding some much-needed tension to the proceedings. A curious and somewhat slight offering from an esteemed producer and artist who's done amazing things (see his lovely flowing album Bravo for such sounds).
(www.bpitchcontrol.de)
---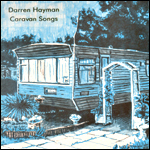 Darren Hayman
Caravan Songs 7" EP
(Static Caravan)
First recordings from Hayman, the former frontman of UK indie-folk-pop band Hefner. Recorded solo in a trailer, these four sparsely arranged yet lush songs reveal a depth and maturity that puts him ahead of many of his peers; songs about nostalgia, longing, and finding love when (and while) you can are framed between ukulele and MicroKorg. On the instrumental "Welcome to Cresswell Towers," Hayman approaches Jon Brion-esque heights of sublime afternoon pop lilt. As a lyricist, he's like a tortoise-shell Elvis Costello, his polite anger tucked away behind clever wordsmithery. Very worthwhile little record, this. Edition of 500.
(www.staticcaravan.org)
---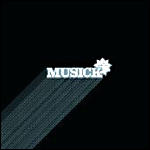 Holz
Mein Block 12" EP
(Shitkatapult/Musick)
Fuckin' swell offering here from relative newcomer Holz, miner of the aggressive sawtooth synth pattern and tensely derived four-on-the-floor club violence. When the machine gun bursts drop in on "Axt," you better duck down; though the tempos keep their cool, Holz tries pretty hard to drive everything else into the red, with buzzing leads and a heavy vibe. Noted exception is "Glut," a moody mid-tempo strut that closes out this EP with a promise of more, which I can only hope comes soon. Exciting, dirty techno for scumbags like you.
(www.shitkatapult.com)
---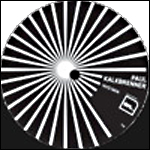 Paul Kalkbrenner
Tatü-Ta Ta 12"
(Bpitch Control)
With "Gebrünn Gebrünn," Kalkbrenner delivers one of his finest tracks, and a far cry from the blandness of his Self album from a little while back. His stock in trade is stern, serious techno, which he delivers on here in spades with a relentlessly driving stomp track, fiercely combining Deutsch mann-maschine techno with future b-boy vocals and relentless digital disco ride, guitar, and Teflon-tuff moxie. Imminently listenable and guaranteed to get bodies in motion. The title track, sadly, does not match up to the A-side in terms of innovation or excitement. Still one big one for two is good enough; "Gebrünn Gebrünn" is one of the best club tracks of the year. Highly recommended.
(www.bpitchcontrol.de)
---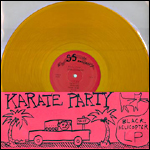 Karate Party
Black Helicopter 12" LP
(S-S Records)
We get more records from Sacramento … Karate Party was a logshredder of a punk band that existed long enough in 1997 to release a six-song EP and fade away. The fantastic S-S label (which originally released said EP in a different incarnation) saw fit to remaster and reissue that record, and tack on eight demos, compilation and live tracks on the flip. The music? Reckless, catchy, gear-grinding kegger rock, concerned with stun guitar and lumbering bass grooves, not too far off from early A Frames, the Monorchid, or even early Nirvana B-sides; noisy and loud and rude and just that good. Includes an excellently disjointed cover of Devo's "Can U Take It". Must be pretty limited, don't miss the boat. Gold vinyl, clear plastic sleeve.
(www.s-srecords.com)
---


Kevin & Chad
Summer: Smile! 7" EP
(Weird Forest)
Relentless, epileptic free-jazz powerslam duo try to out-kill each other in the studio. Nine short shocked sharpened pongee sticks which sound like Chris Woodhouse the mighty engineer just hit stop on them whenever he felt like it. The result is pure sweaty dirty energy, no names, no patience for premeditated ideas past instrumentation (sax and drums), the kind of ish you'd expect from Weasel Walter and might get. Exciting in the moment as Kevin and Chad play as if they're trying to exorcise demons. 300 copies, gold vinyl, translucent sleeve. Worth a listen.
(/www.weirdforest.com)
---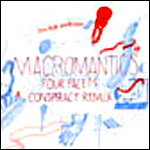 Macromantics
"Four Facets" b/w "Conspiracy Remix" 7"
(Quake Trap)
Pretty decent indie hiphop from a female MC from Australia. Smart, well-read textbook flows celebrating the four elements of b-boy/b-girl culture – heard it before, but this is solid, if a bit cold and stern on the beats. Some cuttin' towards the end starts to loosen the formula up a bit. And just when you start thinking "where's the remix," flip it to find Yoko Solo's techno colossus of a mix, breaking out of bhangra boog to Megatron studda steppin', old school dirty drums and heavy synth and tape manipulation. This mix barely stays still, throwing a good dozen or so styles into the arena and giving Macro's robotically perfect flow more depth and something to work with. Hott shit, sistas doin' it for themselves. 1000 copies, white vinyl.
(www.quaketrap.com)
---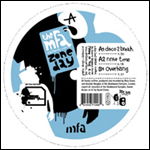 the MFA
Zone Day 12" EP
(Bpitch Control)
Britain's The MFA released one of last year's finest techno-pop moments, "The Difference It Makes," on kompakt with a superfine Superpitcher remix on the flip. Now signed to Bpitch, the duo continues to ascend, creating Allien-approved expansive electro with many more ideas than your average club-geared artist, and filtering it through their own all-enclusive communal rave goodtime machine. The icyness of "Disco 2 Break" gives way to quite the enjoyable little acid-y number "Rinse Time". On the flip, "Overhang" continues the party, dripping with arpeggiated, strobing synth textures and infectious melody. So sweet, so joyous, this should be yours.
(www.bpitchcontrol.de)
---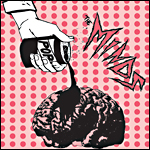 the Minds
"We Got the Pop" + 2 7" EP
(Plastic Idol Records)
"We Got the Pop" is a catchy and eye-opening blast of snot straight from the garage. Crust-fi recording and chord organ temper barked vocals and tinny guitar/bass/drums interaction. It's fun, it's charming, and the Modern Lovers-isms present do a lot to separate them from the pack of similar garage denizens. La Peste cover on here fuckin' smokes, man. 500 copies pressed, opaque dark pink vinyl.
(www.plasticidolrecords.com)
---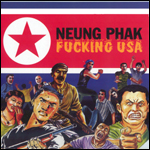 Neung Phak
Fucking USA 7" EP
(Abduction)
The North Korean agitator trope of SF notables Mono Pause, Neung Phak do a rendition of that Kim Jong-Il approved anti-American ad you've probably seen online (which you'll find at www.robpongi.com/pages/comboFUCKINGUSAHI.html). To play such a literal version of this song is little more than a novelty, but here it is anyway, both as a studio version and as an improvised, noise-crash turned lounge ballad for college radio (titled, unsurprisingly, "Far King USA"). Which leaves one other song, "Tui Tui Tui," a sprightly ethno-curry pop that bounces around synth presets and sampled sounds, and ends in an incredibly tight CD-skipping mantra that had me running over the turntable to check if it was a locked groove. Edition of 300, nice heavy vinyl and full-color sleeve. Typical of the Asian jokester attitude of the Sun City Girls, who released it. I'd like to hear more along the lines of "Tui Tui Tui." This hits stores September 27th if you are interested.
(www.suncitygirls.com/abduction)
---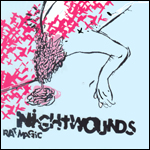 Nightwounds
Rat Magic 7" EP
(Gilgongo Records)
Plundered from the depths of no-wave cassette malaise, Nightwounds moved from Maine to Los Angeles, presumably to find great success at the Smell or whatever. "Rat Magic" and "Tight Sleep" are plagued with that whole amateur, style-over substance, everything-sucks-except-this vibe that makes bans like Glass Candy and the Peppermints so difficult to take; atonal broken guitar crud, a reliance on synths they don't really know how to program or play, and an insistence on dumping their vocals through an effects rack to add more than what is actually there, sonically. And yet they redeem themselves with B-side "Dead Language," a slow, sinister creeper inflamed by electronic infection, strangled vocals, sax skronk and unencumbered guitar fuckery; insomniac night heat pulse that works so well the other tracks are forgiven. The fidelity quotient, surprisingly, goes up here too; the final product sounds like Mark Stewart's ghost in the 4-track got hold of things. Recommended for the brave, and from the sound of things these kids could get a lot better. Edition of 600 on various colors of vinyl.
(www.gilgongorecords.com)
---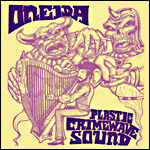 Oneida/Plastic Crimewave Sound
Split 12"
(Brah)
Oneida's been making such high-quality music for so long now, and made so many brothers and sisters in sound on their journeys, it only makes sense for them to have their own label. Here's the first release on that label. Reminiscent of their Nice./Splittin' Peaches EP in that it doesn't sound like anything they've done before or since, their contribution to this single, "Prehistoric Maze," is a 10-minute stroll through fields so expansive that one can see the Smoky Mountains and Southeast Asia depending on which way one's facing. With acoustic plunkery, sotto voce vocals, tambourine, some space organ delay at the end, and an overall shamanistic vibe, this wouldn't sound out of place on a Sun City Girls record. For ceremonial use, or for when you just wanna expand your mind a piece (like now, right?) Plastic Crimewave Sound (the mouthpiece of psych booster Steve Krakow, the man behind the fantabulous Galactic Zoo Dossier) steps up bravely to the plate and fills the entire side of the 12" with "End of Cloud," 19 minutes of Kraut-noise-trip dissonance jam in the key of life. Starts out with Neu!-esque machinery autobahn pulse before it morphs into a seriously sick, encrusted icy-cold fuzz purr. I always thought PCWS reminded me more than a little of a more chaotic, drug-fueled version of a trippy New Zealand band like Bailter Space meeting the mechanized freakshow of Chrome, and I'm gladly not proven wrong here. Limited pressing of 500 copies, won't last long … see you on the astral plane, chief.
(www.jagjaguwar.com/brahrecords.htm)
---


Pants Yell!
"'83 in '05" + 2 7" EP
(The Paper Cities)
Boston's Pants Yell! are template indie-pop cuddlecore that could have come out in the early 90s, a skippier time for us all when this music was supported by zines and tape trading instead of blogs and MP3s. "Stop Making Music" carries a gentle, peaceful Marine Girls vibe, while the others bop along like the Smiths on Lexapro, longing and inner turmoil replaced by mellow feelings of joy and reverence. You already know if you like this stuff or not, so hurry up if you need to get hold of this one, in a numbered edition of 500 (clear or white vinyl available) and a silkscreened, hand-numbered sleeve.
(http://papercities.org)
---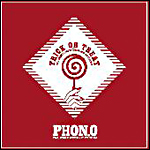 Phon.o
Trick or Treat EP
(Shitkatapult)
"Trick or Treat" is that sort of naughty electro-pop that made the rounds a few summers back. In lieu of Peaches pottymouthin' we get Kevin Blechdom, who's just as innocuous, making lewd references to Halloween candy, Roman showers, and "dickin' it down". It's just boring, babe, and Funkstorung's remix doesn't do much for me either; just gallops along and rearranges the already staid sounds into something just below average. Fortunately, the flip "Busted in da D" redeems things, with big booty sounds straight out of Detroit, backwards horn stabs, and time-stretchin' rap twurks about takin' it in the ass, with a satisfyingly disjointed Kit Clayton remix to add to the chaos. But I expect more from Shitkatapult artists than just a good time. Hopefully Phon.o can deliver on that in the futute.
(www.shitkatapult.com)
---


Reindeer Tiger Team
"Boy and Chief" + 3 7" EP
(Gilgongo Records)
Pleasant, bordering on annoying, atypical indie rock singer songwriter stuff. Fans of Karate and "Music from The O.C." might get down with something like this, as well as people who view sensitive music as a way to make a living. When you're pressing 300 copies of a 7", maybe that's not so apparent, but tiny DIY records are often the stepping stone to bigger, uglier things, artists overextending themselves with heartrending musicvomit, etc. These sounds are false. Anyone with functioning sexual organs should ignore this. Pressed on yellow opaque vinyl, the color of earwax.
(www.gilgongorecords.com)
---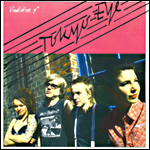 Tokyo Eye
Vindictive 7" EP
(Vapen & Godis)
Moratorium time. You start a band based on your anti-normative political and gender politics, and that's fine. Really, it is. But what can you offer the world? Another Huggy Bear? Another Bikini Kill? Another Sleater-Kinney? If that's what you got, then why? Support of your causes and your ethics and your determination to be one of many is probably out there, friends and lovers coming out to your shows and buying records, but can you rely on these people alone to be your fanbase? What about everybody who wishes you could just be different and add a new voice to your screed, or at the very least change it up enough to give it your own voice? Tokyo Eye is marginally better than this. They can play fast and together, but aside from a few concessions to surprising noise in "Rejection and Vindication" they don't rate much better than a weaker version of their agitator inspirations. They even have a song called "Heard It All Before," in some grand continental approximation of painful irony (the group hails from Gothenburg, Sweden, making them maybe the only game in town for this sort of collegiate riot grrrl aesthetic). I applaud their efforts, but this is tired music, and they really need to find their own sound to go with such a strong voice. Includes a weird, rocked-out cover of Yoko Ono's "Kiss Kiss Kiss."
(www.vapengodis.com)
---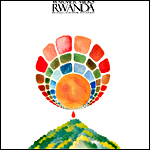 Warmer Milks
"Rwanda" b/w "Walken Agoraphobic Penn (version)"
(Paper Records)
My good friend John told me that Warmer Milks were the best band he had no affiliation with to come out of Lexington, KY since he's lived there. I haven't heard the competition but he might be right. "Rwanda" is simply gorgeous, outwardly reminiscent of the heyday of New Zealand singer-songwriterisms (a la Peter Jefferies, whose plaintive, circular style of acoustic arrangement is referenced here), interspersed with almost Jandekian levels of abstract stumble. On the flip, a short ambient piece creates high-pitched, scraping, extended tension. This thing is over far too quickly and that's the only drawback. More music needed, now!
(www.paper-records.com)
---
SUBMISSION GUIDELINES
Yours must be a single pressed on any size of vinyl. CD-Rs of singles will not be reviewed; they will be destroyed. We need the artifact here with original artwork, not some duplicate/digital copy. Only records released within the past six months will qualify for a review.
Singles must be postmarked by the 15th of each month to qualify for the next installment of this column.
ANY genre of music will do – don't hesitate to send punk, hardcore, metal, goth, pop, rock, country, hip hop, electronic, experimental, dub and reggae … all genres accepted and welcome.
Information on your pressing (quantity pressed, color vinyl, etc.) should be included if at all possible.
Submissions can be sent to:
Doug Mosurak
PO Box 22183
Brooklyn, NY 11201
This column runs the last week of every month on Dusted. Its success depends on you sending in singles for review.

By Doug Mosurock