Dusted Features

In the fourth installment of 'Still Single,' Doug Mosurak runs through singles by Analord, Major Stars, Matmos, Sightings, Four Tet, Hella, and more.



Still Single, Vol. 4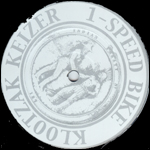 1 Speed Bike
Klootzak Keiser 12"
(Broklyn Beats)

Fearing the worst, I normally dodge any Godspeed You Black Emperor products and sideline affairs, but I'm gonna have to eat my shoe – 1-Speed Bike is nothing like them at all. GYBE drummer Aidan Girt is responsible for these cacophonous rumblings of Broklyn-certified busted beats, bass, and riddim rides. One would assume that it takes an active sense of humor to make and consume this music, but it's not a novelty, and actually bumps pretty hard/consistently. Precursor to a new full-length, on which the dub aspects of tracks like "8 Months Stuck in a Metal Shipping Container with 12 Jehovah's Witnesses" promise to bear more fruit. Another quality Broklyn beat.
(Broklyn Beats)
---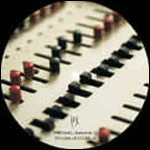 Aphex Twin
Analord 08 12" EP
Analord 09 12" EP
Analord 10 12" picture disk
Analord 11 12" EP
(all, Rephlex)
… and then there were none. Now it's starting to look like these weren't such a great idea after all; we hear RDJ spinning his wheels on all of them, save number 9, which is more furious breaks/every-beat-on-the-beat drum machine mentalism. The rest are quite mellow, repetitive, no movement, no nothing really. Along with the retro tedium and guignol jerkings of Cunningham's "Rubber Johnny" (where's the full-length, bro? oh yeah … you can't make one!) and those in-name-only Grime comps, Rephlex is offering solace to those without hair and the people who love them. Seriously … eleven EPs and this is all there is to show for it? Is this really the best music James can make, and Rephlex can release? Are we dealing with a label content to party like it's 1995? It'll be funny to see a full, leather-bound Analord binder in a used bin someday. It'll happen, too. Sooner than later.
(www.rephlex.com)
---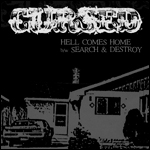 Cursed
"Hell Comes Home" b/w "Search and Destroy" 7"
(Hanging Like a Hex) 7"
They might not be the most original sounding or the most inventive, but Ontario's Cursed scratches an itch that few active bands can manage, playing furious, unapologetic metalcore, most of the time at around 200mph. Singer Chris Colohan is a scene icon, having fronted The Swarm, Left for Dead and Ruination, and takes to task the ills of the world and the scene alike; he's the kind of guy who can quickly and breathlessly rant on all his talking points, make a cogent argument, then bust every ball in the room. "Hell Comes Home" appears here in a rawer version than on their latest album Two, a relentless, pained anthem that falls musically between Converge and His Hero is Gone, decrying the state of the world in a war for oil and religious supremacy, and how it's manipulated to fuck you and yours out of your freedom and your lives. Their cover of "Search and Destroy" doesn't add much to the original, obviously, but given the subject matter of the A-side, it both looses tension and winks at the destructive methods of the Western world and the spirit of punk rock incarnate. Check out both of their albums and see them live, and bring some screws to pin your jaw back into place afterwards. White vinyl.
(www.hanginghex.com)
---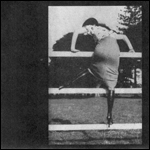 Aaron Dilloway/The Cherry Point
Fencing split 7"
(Troniks/PACREC)
Wolf Guy Dilloway dicks around with a couple contact mics and made-2-B-broke electronics, creating a dragging, rumbling, sedimental sound that rolls around in the box for a while, flipping switches, before the whole track divers down into a low-freq humming buzz (how original), then resurfaces no worse for the wear. If he could just get the noise it makes to stop, the combination rock tumbler and vibrating jelly dong that no doubt made these sounds might find a buyer for its patent, and he can retire rich and proud as women everywhere orgasm their way to polished stones. The Cherry Point doesn't waste time with backstory. They/he/it offers nothing but speedy delivery of harsh, powerful black rainbow electronix, crescendoing to an xxxtreme high level of annoyance/greatness a little bit after the middle. What, you didn't hear? Limited to 313 copies and already sold out. BUMMER DUDE – C U ON EBAY! Lolz.
(www.iheartnoise.com)
---


DJ/Rupture
Redux 12"
(Broklyn Beats)
An all-across-the-board release for American ex-pat DJ/Rupture, combining some of his earliest releases as an artist and for the Broklyn Beats label on a five-year anniversary edition 12". Remastered versions of tracks from his first 7" and the Boriquen-flavored "Si a Plomo Vives" from an earlier compilation are here, as are a vicious Rotator remix of "Descarriada" and a new track, "Sickle Cell." That's where things start here, slow, menacing, and indicative of the feeling of unease in global politics today. The party whips into shape over the next four tracks, reminding us why Rupture always got the tag of "worldbeat breakcore," as lazy as it sounded – he was among the first to take warmer climated ethnic sounds and run them through the laptop/broken beat selector. Exciting stuff … Rupture, what else have you been up to lately?
(www.broklynbeats.net)
---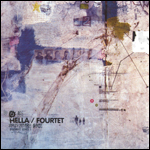 Hella / Four Tet
Divorce Series Vol. 1 split 7"
(Ache)
And what a series this is: teamings of avant noise/prog/scum rock coupled with their cleaner electronic counterparts. The lineups are fairly stellar, with lots of both name acts and chances taken. Hella fiddles with a complex loop here, doesn't take it far but if you want drum school antics, meet the new Cozy Powell in Zach Hill. Four Tet does what he's best at; making the electronics and samplers and gear weep with melody. There are more engaging offerings in the series, but it's a decent start. 3000 copies pressed; 1000 on black, 2000 on clear.
(www.acherecords.com)
---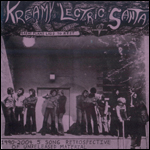 Kreamy Lectric Santa
Great Plans Laid to Rest 7" EP
(Shut Up Records)
Playin' catch up: Kreamy 'Lectric Santa were a staple in underground music in Miami throughout the 1990s The cover boasts "unreleased material from 1990-2004" but the bulk of this single is two songs recorded in 1998 in a real studio, augmented by some short acoustic numbers and sound collage pieces. I'd seen the name on tapes and stuck on tape compilations and at the bottom of flyers, and was expecting something wholly experimental and noisy based on who they used to play with (Harry Pussy, Cavity, Frosty) but to my surprise, out comes buoyant kitchen-sink indie pop, full of hope and sunshine and hearkening back to a pop underground that's all but forgotten today (remember Sleepyhead's first two singles? Nothing Painted Blue? Shrimper Records? It's along those lines, as is established college rock like early Dinosaur and the triumphant sound of Mission of Burma). Sparkling and wonderful. Cluttered insert details the band's long and sketchy history, chronicling wild times, deceased band members and accidents that put the group on ice. They're back in commission now, though, with principals Robert Price and Priya Ray operating out of Berkeley, CA. Get in touch and get yourself a record. White vinyl; mine came with a CDR filled to the edge with more material. I'll check it out once I finish this column.
(kreamyetc@yahoo.com)
---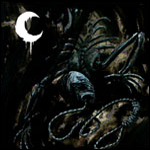 Leviathan
A Silhouette in Splinters 12" EP
(Profound Lore Records)
For one reason or another, black/doom metal has become the new stoner rock, and one of the most collectible genres being released today, with international attention starting to be paid to its breakout artists, like Xasthur … who shared a split 12" with Leviathan late last year. Leviathan won that battle, proving himself to be the Kevin Shields of the genre, with cold, mournful, yet melodic, dense and memorable soundwash of guitars and stern drum patterns. The guy was clearly working with a fuller deck than many of his compatriots, and that's all the more evident here on A Silhouette in Splinters – not really a metal record at all, but rather a collection of six mostly instrumental songs that skirt post-rock cloud hang, ominous Goblin-style soundtrack prog, Gothic folk a la Current 93, and ambient/experimental noise. Surprisingly, every track succeeds, and there is strong variation between songs and styles. Great care has been taken to make the arrangements memorable and unpredictable, and unlike most of the competition, Leviathan's doing strong work to expand past the limiting black acid pummel that most associate with the genre, while retaining immense heaviness and dread. It's a shame more people won't get to hear this, as it's limited to 500 copies (all on blood red vinyl), went out of print almost instantly, and should be cracking the $100 mark in collector's circles within the year. I'm calling for a repress. Stunningly gorgeous sleeve art too, even though the alien creature adorning the front is kind of preposterous. I eagerly await Leviathan's next move, and can only hope that he gets bored, attacks a new sound, and encompasses it in his mournful grasp.
(www.profoundlorerecords.com)
---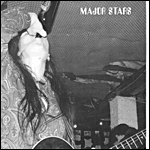 Major Stars
"Black Road" b/w "Pocket" 7"
(Twisted Village)
Forget what's been said about the Major Stars (and I said a lot in a review of their last album somewhere in these pages) … they have mutated into a six-headed beast, seeing Luxurious Bags' Tom Leonard move over to THIRD guitar and three veritable children taking over on vocals (Sandra Barrett, ex-LA Drugs) and rhythm duties (Life Partner Dave Dougan on bass, Carlisle Sound's Casey Keenan on drums). Not only is it awe-inspiring to see how founding members Wayne Rogers and Kate Biggar (of the Twisted Village store in Boston, and too many crazy-insane psych bands to list again here) have reinvented their already great band, right as its future sound would come into question, but to connect with a younger generation of musicians already anointed with the same dank spiritual moisture has resulted in their rawest, most uglified blats of roaring hot jet-black noise under this name, ever. "Black Road" storms and screams across the landscape spewing tabs and Mezcal into every open mouth, while "Pocket" slows it down to a thick blues waltz and repeatedly stabs subcutaneous squalls of guitar, stripping you down to the gristle. Bring a bucket. Holy fuck, three fucking guitars.
(www.twistedvillage.com)
---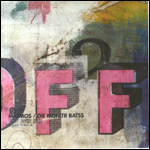 Matmos/Die Monitr Batss
Divorce Series Vol. 2 7"
(Ache)
Matmos take a jam that Curtis Mayfield wrote for Gladys Knight and the Pips called "On and On," get jazz friends Mark Lightcap and Steve Goodfriend to lay down the grooves, which they then speed up, slow down, dilate out of focus, mix around, confuse, distort, and tangle, finally letting them air out for several measures of glory before drowning the whole thing in dubby digital flux. It's a goofy ride worth taking. On the flip, Die Monitr Batss be stiff, apply makeup, and dick around for two minutes before dragging this one home with shuffling This Heat-by-way-of-Can rhythmics that perhaps should have been the basis of the entire track. Not no wave, just no – and a spoiled opportunity. 2000 copies, black vinyl.
(www.acherecords.com)
---


Nine Black Alps
"Cosmopolitan" b/w "Over the Ocean" 7"
(Melodic)
Punky indie British rock wanting desperately to be from America, and a real boy. Sands off the rough edges made by bands like the Pattern, Rocket from the Crypt, Hot Snakes and Panthers into a saleable, poppy other. Polished to shine, both tracks have the legs to carry them and a decent singer that can ably hit the high notes. Hey nonny nonny that's ready for a major label deal, pronto (in fact, they just might have one already). There's no doubt that this was processed and manufactured to move units, and a whole album of their rehearsed rock moves might hurt, but for two songs? Accept the substitute. On marbled pearl-colored vinyl (nice).
(www.melodic.co.uk)
---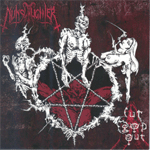 Nunslaughter/Haemmorhage
Split 7"
(Hell's Headbangers)
"Can't have God inside/I would rather die," eructs Nunslaughter's Don of the Dead on their cut "Saw Me" off this dumb but immensely satisfying split. Some of the more entertaining gore metal suburban Cleveland has to offer, this disgusting trio (love that name) bangs out two tracks of quality early 90s style death grind. Haemmorhage, from Spain, fares even more successfully with three shorter, even gorier tracks. C'mon, roll up on "Disgorging Innards," with the chorus "Gorged on gore/Infested with sores/Yearn to excrete." They've got two singers, one a trebly screecher, the other in the classic death gravel register. Both bands thrash hard, play competently and have effective, non-showy drummers who are right in the pocket. All copies come with outer sleeve and LP-style inner sleeve with tons of gore and lyrics. First 110 copies come on sawblade splatter vinyl.
(www.hellsheadbangers.com)
---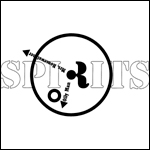 O Spirits
"Mrs. Housewatcher" b/w "Oily Man" 7"
(Uunited Acoustic Recording Company)
Too rock to be folk, too electric to be acoustic, O Spirits is a mysterious entity cranking out solid guitar fuzz-spuzz over a confident and loud beat and hollowed-out vocals that charm in a lost, affected Midwestern new-wave kinda way. Gets by on good graces. The flip "Oily Man" is far denser and more ambitious, coupling ambient, reverbed howls with layered downpicking, wind instruments and an insistent, haunting tone. Shame this is such a mystery; many of us would like to know more. Produced by Rusty Santos (see below).
(no contact listed)
---


Rusty Santos
"A Up High" b/w "Beloved Below" 7"
(Uunited Acoustic Recording Company)
Pitch-shifted vocals about being high, overmodulated bass, plodding instrumentation – the stuff novelty records are made of, to be sure. Santos produced Animal Collective's Sung Tongs album, and that same clarity of confusion plagues these two tracks. Doesn't sound like much else out there, which you and I can probably be thankful for; this was born in the dank, dark alley of tossed-off experimentalism, out by the grease dumpster and milk crates awaiting pickup by the local dairy. Pass!
(no contact listed)
---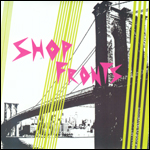 Shop Fronts
"Don't Quit" + 2 7" EP
(Rapid Pulse Records)
If you've attended a garage rock show in NYC over the last few years, chances are it was the handiwork of one Tom Hyland, promoter of the superfine DotDash concert series. Hyland's behind the drums in this rough and tumble Brooklyn punk band, who bash out simple, energetic noise that straddles the line between street punk ("Don't Quit") and snotty garage ("Just Don't Know," their cover of the Outcasts' "Frustration"). Recorded cheap and dirty; gets the job done. Rapid Pulse is the label arm of the Underground Medicine mailorder and distro; check out their site as they're one of the finer purveyors of DIY punk and garage records in the States.
(www.undergroundmedicine.com)
---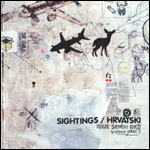 Sightings / Hrvatski
Divorce Series Vol. 3 split 7"
(Ache)
Nice to see Sightings handing off tracks to other labels … "Back to Back" is their simplest in a while, a pretty straightforward noiserock headbutt with wonky bass subsonics and a fairly straight rhythm and recording. Not as engaging as their recent 7" on Fusetron, but hey, if you started buying their records already, it's too late to stop now. Over there, Hrvatski, who's rumored to be winding down his career under this name, mashes together recordings made over the span of a decade in Massachusetts, Melbourne, and Scotland to create "Un Drôle de Journée," more cut-up, can't-sit-still recklessness, wavering into some groove ambience before whiplashing right back into 5 A.M. junglist massacre, found sound clips and enough glue to gum it all together. 2000 copies, and a very satisfying split.
(www.acherecords.com)
---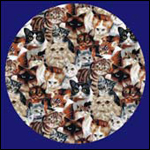 So So Many White White Tigers
So So Many White White Tigers 12" EP
(Weird Forest)
Harsh, squealing, and fresh out of give-a-fucks, Sacto's SSMWWT are an extremely confrontational trio of guitar, drums and 6'3" of blonde ambition screaming like a half-mutilated rabbit. Actually, singer Liza Thorn reminds me of Katrina Ford circa JAKS and the beginnings of Love Life, one of the only certified banshees of the 90s, and if that means anything at all to you, then get this record now. If you are intrigued by the prospects of a Coachwhips fueled more on metallic shreddage and Texan punk rock, then you definitely need this, as that's a pretty accurate assessment of what's happening here. Eleven tracks of torn-raw punk conniptions, and there's even a slow one. My favorite's gotta be "Macaulay Culkin," which my roommate begged me to turn down so he could get some sleep … endless-ish riff and snare slammage with the girl screaming "ARE YOU MACAULAY CULKIN?" over and over. When the cymbals hit, it nearly blows out the rest of the recording. So so friggin' sweet. Only 660 copies, all picture disks with cats on both sides. You'll get dizzy watching it spin.
(www.weirdforest.com)
---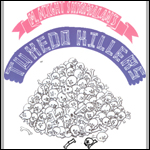 Tuxedo Killers
M. Night Shymalan's Tuxedo Killers 7" EP
(Furniture Records)
Six songs from Austin, TX kids riding the L train with Ex Models, the Seconds, and Pterodactyl … that is to say wiry and weirded-out punk/no-wave aggro jazz tuneage, stopping on random dimes and leaping away unscathed. There's a bit more straight up punk rock and less nimbleness here than in those other bands, but the sentiment is felt and appreciated. If you can't get enough, here's some more. Only 500 copies, though, so act fast.
(www.tuxedokillers.com)
---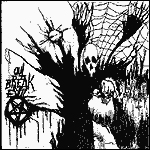 V/A
Outbreak of Evil Vol. 2 7" EP
(Nuclear War Now! Productions)
This fun comp spans the somewhat narrow margins between metal, punk and thrash. Abigail are two guys from Japan with a Mercyful Fate fetish (obviously) and a burning need to cover shitty GG Allin songs. Skip them and reach for the epic crossover metal of Villains, redeeming themselves here from the prurient nature of their 7" with the slightly less offensive "Dog Burner," raging from shredding, well-arranged thrash to excellent slow grind, topped off with back-of-throat black metal belching. Midnight, the masked annihilator of northern Ohio, drops in with "Turn Up the Hell," a throaty growl akin to a faster, sloppier Motorhead, and Force of Darkness give us one short track that's nothing but blast beats and screaming. They dress kvlt and are no doubt feeling the power of the ancients. Limited to 1000 copies.
(http://nwnprod.fateback.com)
---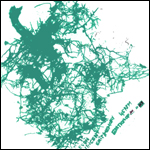 Levon Vincent
"Emit" b/w "Memory" 12"
(no label)
Super-limited ambient technoid release from the esteemed Mr. Vincent. "Emit" pulses incessantly with white noise, hovering synths and a persistent six-measure bass pattern, abruptly switching into high pitched freq sublimation in the home stretch. More engaging is "Memory," polyrhythmic drumless bell programming shifting and shuffling in crystalline bliss. No beats, at least no drums, anywhere on the record. You'll find this one in the chill out room or where people need to think. Edition of 100, all numbered, with silkscreens by Nyack notable Artur Arbit (of the Twisted Ones and Mighty Robot fame).
---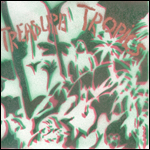 V/A
Treasure Tropics 7" EP
(Not Not Fun)
Four hometaper types gathered up for humid fun. All the participants – Mika Miko, with their insistent, andular grrrlpunk; Weirdo/Begeirdo, bringing Kicking Giant-style B-side pop aggression; Abe Vigoda's thick and lumpy reverb noise-pop grot; Hello Astronaut, Goodye Television's grinning repetitious tunefulness – call to mind Olympian DIY cassette thrills from the early 90s, half-page foldover zines, penpals, first loves, and summertime. Not a crapshoot, and improves with repeated listens. Pressed on sea-foam green vinyl, in a hand-sprayed sleeve with a plastic fern affixed to it and some toy gold doubloons. There's a locked groove at the end too – how nice.
(www.notnotfun.com)
---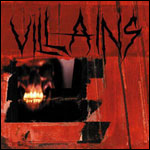 Villains
"Getting Cheap" b/w "Rampage and Ruin" 7"
(The Ajna Offensive)
New metal quintet tearing up NYC with a sound like the singer from Gauze meets the singer from Siege fronting a rougher, tougher Die Kreuzen circa October File at ear-bleed levels, with Pen Rollings and the dude from Cryptic Slaughter shredding on top. They're reinventing crossover to their own sick and torturous ideals, which is good, and great live, yet suffers from shadiness in the lyrics, particularly in the blatantly misogynistic "Getting Cheap." There's no room for irony here, and for that matter no place anymore for guys who get off on referring to a woman as a "backdoor bitch" or advocating sexual abuse and violence. Man. I just don't know. "Rampage and Ruin" is slower and meaner sounding, and no more harmful than the tamest of Cannibal Corpse. Limited to 500 copies.
(www.theajnaoffensive.com)
---
SUBMISSION GUIDELINES
Yours must be a single pressed on any size of vinyl. CD-Rs of singles will not be reviewed; they will be destroyed. We need the artifact here with original artwork, not some duplicate/digital copy. Only records released within the past six months will qualify for a review.
Singles must be postmarked by the 15th of each month to qualify for the next installment of this column.
ANY genre of music will do – don't hesitate to send punk, hardcore, metal, goth, pop, rock, country, hip hop, electronic, experimental, dub and reggae … all genres accepted and welcome.
Information on your pressing (quantity pressed, color vinyl, etc.) should be included if at all possible.
Submissions can be sent to:
Doug Mosurak
PO Box 22183
Brooklyn, NY 11201
This column runs the last week of every month on Dusted. Its success depends on you sending in singles for review.

By Doug Mosurock