Dusted Features

Dusted correspondents Michael Crumsho, Kevan Harris, Adam Strohm, Doug Mosurak, Jeff Seelbach and Otis Hart report back from this year's No Fun Fest in New York City.



No Fun Fest 2005
Twenty-four hours. Three nights. 60 acts. No Fun Fest 2005 tested limits of many things: Music. Taste. Endurance. Eardrums. Fun was definitely not one of them.
Artists from all over American and Europe gathered at the Hook in Brooklyn, New York, from March 18-20 to make what looks to have become their annual statement on the state of noise. Earplugs were futile.
It was the second installment of No Fun, after last year's sold-out festival at North Six. Carlos Giffoni was one of the organizers for the first one, too.
"We've had this whole thing going on for years, and it's finally rollercoasting into something good," Giffoni said. "Just from being in my band Monotract, which I started in 1997, and touring, slowly meeting all these people who were doing all this awesome stuff. It always felt like it was some sort of community. When I was here in New York, I was able to set up a couple big shows, and I thought if I can do one show that sells out and pay everyone well, why the hell can't I do it three days? There was nothing in the world like that. There were other festivals like Sonar, for DJ crappy music, and tons of rock festival and crappy things. There wasn't anything in the world like this, though."
Giffoni and his partner in grime Mike Bernstein decided to tone down the rock for 2005 and add even more droned-out amorphous terror. Whitehouse was to be the crown jewel, but William Bennett had to cancel at the last second due to a death in the family. Instead, Giffoni managed to pry Macronympha out of a 10-year hiatus and bring in personal heroes Borbetomagus.
More important than the relative legends, though, was the sum of all the little freakshows from corners around the country. Long dependent on their own isolated momentum, these bands fed off each other to create an undeniable movement. The fest won't be remembered for mind-blowing sets by Magik Markers or Peter Rehberg, but for the horde of merch tables in the basement, each one representing a voice behind the din, the humanity behind an inhumane scene.
"It's given it a lot of energy," said Ben McOsker of Load Records, noise music's archetypal label for the last 12 years. "I know for the last couple weeks people have been slaving away, making their tapes, CD-Rs, T-Shirts…yeah it's a little weird and nerdy, but it's good."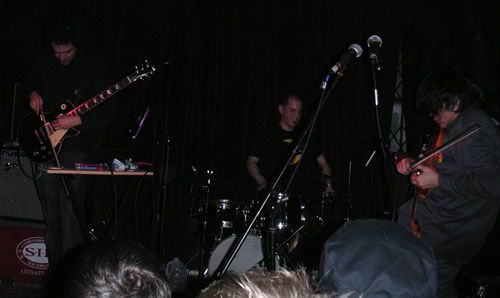 Peter Kolovos, Chris Corsano and Spencer Yeh perform with Mike Shiflet (not pictured) Friday night
"It's good to meet a lot of people who you've heard, or heard about, but you never get to see," said Thin Wrist labelhead Peter Kolovos, who played with Chris Corsano, Mike Shiflet and Spencer Yeh on Friday night. "It doesn't make you feel as isolated anymore. You feel like you're playing for people, whereas you can play 50 gigs and feel like the impact is next to zero, even though you're playing great shows. Over here, it feels like something's going on, feels like there's an impact."
Giffoni also wanted to incorporate more Europeans in this year's fest. He brought over Hecker (Mego Records), who delivered the most heavyweight set on Friday night. Jazzkammer, Rehberg and Fe-mail made it, too.
"Those are the people that I play with in Europe, they're the only ones who are hard enough," Giffoni said. "But it's harder for them to do it here because Americans are not quite used to the laptop thing, just like Europeans don't get all the rock stuff that we do. The festival is trying to combine all these things that are extreme, interesting and new, and try to get them all in the same place. Everyone is on the same page, to destroy things as they stand and get something new going."
On to the music….
---
Mouthus
Mouthus were one of the early highlights of the festival, supplying the crowd with their take on twisted, heavy-as-fuck free rock that precious few groups seemed willing to approach. Brian Sullivan's guitar cut thick sheets that layered the audience, while Nate Nellson's work behind the drums filled in the gaps and created precarious, intricate rhythms at some times, or forged ahead into the fray at others. The two locked into their own seemingly innate groove for the majority of their set, with Sullivan occasionally peering out from hair-covered eyes to mutter into the microphone, all the while leaving Nellson transfixed and concentrating on his kit. Equally adept at bellowing out sky high jams or vaguely Kraut-rock inspired pieces, Mouthus had many in the crowd nodding in approval as they shuddered back and forth on stage, heaving, weaving, and barely stopping. (MC)
---
Monotract
Monotract are a band that's nearly impossible to pin down. They shift directions so rapidly that one can never be sure what to expect, and the band that played at last year's No Fun as an electronic trio took to the stage this year as with guitar, bass, and drums in tow, and though Carlos Giffoni's laptop was an important facet of their performance, some of Monotract's compositions had a surprisingly rock-based backbone. Though the trio now all reside in Brooklyn, their Miami roots are still evident in their music, not only because some of Nancy Garcia's vocals were sung in Spanish, but also in an particular sense of underlying rhythm that seems exist in even some of the group's most abstract constructions. During a festival in which the sanctity of rock music was used and abused by the likes of Mouthus, Magik Markers, Sightings and Hair Police, Monotract proved distinctive in the way they were able to embrace rock influences, among others, to create one of No Fun's most idiosyncratic sets. (AS)
---
Dead Machines
With John Olsen clad in vintage Easy Rider garb and both he and wife Tovah O'Rourke sporting dark sunglasses, the duo of Dead Machines invoked images of Suicide and Factory-era Velvet underground as they took the stage for their set. Both were visibly amped up, imbuing their deep, dark drones with a fist pumping rock mentality. The two cycled through numerous instruments, with Olsen favoring what looked to be a home-made guitar constructed from a two-by-four and O'Rourke working a gong, some electronics, and the spare wind instrument. The two created a head trip for the masses, and their image (whether it was intentional or just a by product of my own addled mind) complemented the heavily psychedelic underpinnings of their music, a black clad rumbling drone that was as affecting as a couple of hits of LSD. But it wasn't all menace, however, as the husband and wife duo shared a loving and tender embrace before departing from the stage. (MC)
---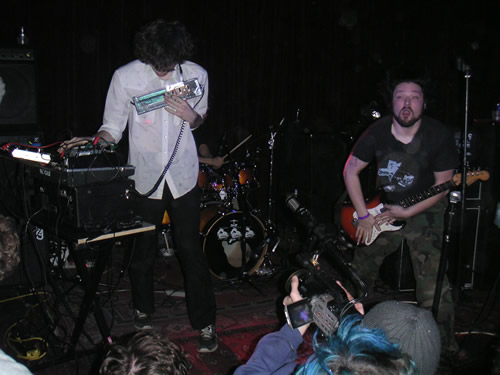 Hair Police
"It's not necessarily about technique, but it's about attaining this kind of emotional high and sustaining it, sustaining it, sustaining it. Once you sustain it for a certain period, it becomes something else entirely. Hair Police just build and build and build and build, and it's undeniable at some point. It's not a put-on, it's not bullshit. … They put themselves out there."
--Peter Kolovos (Open City, currently battling Nels Cline for L.A. guitar supremacy)

Getting the gonzo out of the way: I was hit so many times in the balls during Hair Police's performance that I got extremely nauseous. Also, someone stepped on my leg so thoroughly that I could easily take the footprint and track him down. However, what may have seemed as chaotic in all the testicle crushing was actually an extremely tight set by this "power" trio. There is a difference between bands that interact with the audience, and bands that control the audience. Hair Police have been in the latter category for quite some time now. Senior sources close to the band informed me that drummer Trevor Tremaine was suffering from a malady so severe that bets on a possible "vomit solo" were being taken in the basement.




Still, HP was true to form, a mix of muscles, machines, and noise mastery. Mike Connelly seemed to be screeching at his most intense ever, and Robert Beatty supplied wave after wave of electronic doom, somehow oppressive yet buoyant. Do people plan to destroy their bodies in advance of hearing Hair Police? I think the question is moot: for some their music is irresistible, for others reprehensible. For the naysayers, there was plenty of room at the back of the Hook. (KH)
---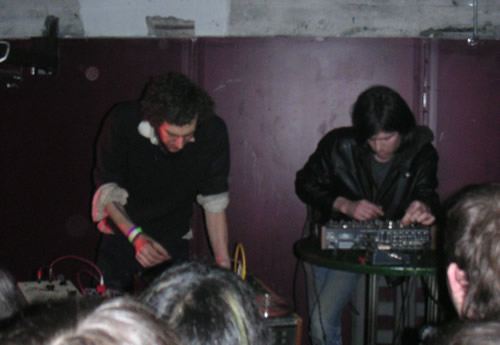 The Basement
The basement of No Fun Fest truly brought out the "festive" portions. Noise brownies, noise potato salad, noise beaded seat cushions … really made for a different vibe. Sure, you knew about the bands upstairs, but some of the downstairs bands had just been invented five minutes ago, and they were already forming labels and releasing CD-Rs. Also one could see such acts as the pairing of Twig and Nate, as Wolf Eyes country club red jacket members, performing in a duet that was downright sweet at times. Nate has what industry moguls like to deem a "signature sound," a definite follower of the disco whistle and the hip-hop siren. Both Twig and Nate exhibit such deference to recorded media that it is always elegant when they proceed to annihilate it. However, remember kids, noise is not always about what you destroy, it's also about what you don't destroy. (KH)
---
Dave Phillips
Dave Phillips' set was one of the more troubling ones to play out over the course of the weekend. Performing solo, he stalked the left hand side of the stage, bellowing forth a heavy and punishing din. He was accompanied by a visual projection that featured a series of penetrating questions geared at the arbitrary organization of mankind's rules and laws inter-cut with footage from several different types of slaughterhouses and animal testing laboratories. I highly doubt those images were news to anyone, but the seemed a bit heavy-handed and over done, invoking the type of tired sloganeering and elementary punk/hardcore social riffing ("Humans are like animals to the slaughter" et al.) that seems to have done countless times over. Make no mistake, the sounds Phillips supplied were thoroughly engaging and excellent, but his use of imagery seemed a bit too over the top at times. Although, granted, that was most likely the point, as any display of chickens being beheaded and monkeys being tortured isn't exactly shooting for the sublime. (MC)
---
Hototogisu
Hototogisu, a duo featuring Sunroof!/Skullflower/Total mainstay Matthew Bower and Double Leopards' Marcia Bassett were one of the most hotly anticipated performances of the whole festival (what with a series of CD-Rs and a ridiculous De Stijl triple LP set already turning heads) , but sadly it was not meant to be - seems some sort of ticket confusion prevented Bower from making the trip across the pond. Not to be undone by her partner's absence, Bassett stepped up and performed solo, handing in one of the fest's most unexpected highlights. She crouched on the stage, making it all but impossible to see her from even four rows back, but still managed to make her presence known throughout the room with a short burst of blistering, heavily psyche-tinged pyrotechnics. It was all but impossible for anyone aside from the few pressed against the stage to see what she was up, but that didn't matter much as she turned in a set that stretched the limits of time, conveying a brief glimpse at a timeless, all encompassing, larger than life drone that took more than a few people by surprise. (MC)
---
Heathen Shame
I hope I never hear anyone older than me call me a "baby" ever again. At 28, I feel like a goddamn Methuselah. I've outlived Keats and Peter Laughner, Dorothy Stratten and Sid Vicious. And I'm gaining on Jesus Christ!
I've also seen a lot of bands, and been to my fair share of music festivals, which as the years advance, continue to test my patience and ability to withstand the efforts of an ever-increasing lineup of acts in a set timeframe. Alas, the caustic, cliquish assault that was No Fun Fest II wore me down midway through the second night, not to return the following day. When the show's within walking distance to your apartment, you set your own schedule.
That said, it warmed my shriveled cockles to look upon the stage during a significantly listless downtime between acts to see 40somethings Wayne Rogers and Kate Biggar setting up, as if a rainbow was bursting through the clouds. I've been a rabid devotee of their psychedelic projects – Crystalized Movements, Magic Hour, Vermonster, B.O.R.B, and Major Stars – throughout the years, and sensed that their performance with trumpeter Greg Kelley, looking showroom fresh, as Heathen Shame, would be a peak of quality this festival would not soon top.
Building from a sustained drone, the trio managed to become the Bizarro Sunn 0))) right off the bat, churning out yellow, acid-twinged sheets of overloaded hum and meditative horn playing. Then as if someone had flipped a switch, they were off, tearing out rolls of blistering feedback with all the subtlety of an earthmover. Kelley countered with distorted and delayed brass blasts, equaling other performers' mixers and tone generators and implements of power electronics.
Then it peaked yet again when Kelley started baiting the kids up front, already entranced in the apocalypse rushing from the stage, and within seconds, a moshpit erupted. Minutes later, Rogers was being crowdsurfed, and Kelley joined soon after. Never before had I seen these performers receive such a reception, and I probably never will again. And it struck me that through their wisdom of the years experience lived and influences (and drugs) absorbed, Heathen Shame used No Fun Fest to bridge the generation gap to a large group some 20 year their junior.
This gave me hope. I still left soon after 16 Bitch Pile-Up, but with a renewed spring in my step. My back hurts but I'm not going to think too much about it. I got the rest of my life to live. (DM)
---
Giffoni's Death Unit
Taking his second turn on the stage, festival organizer Carlos Giffoni supplied the crowd with his Death Unit. For this performance, his power electronics were augmented by the dual drum attack of Hair Police's Trevor Tremaine and the always enjoyable Chris Corsano as well as Mouthus' Brian Sullivan on guitar. The two drummers formed the backbone for this set, beginning things with a furious bout of manic and propulsive percussive outbursts before Sullivan joined in with his thick and deranged guitar lines and Giffoni tied everything together with his table top full of tricks. Their set bristled with a furious energy, touching on bits and pieces ranging from hyper kinetic free jazz to the most stoned of doom metals with the four players hardly ever pausing to catch their breath. More than anything, the Death Unit showed that chance encounters such as these were reason enough to attend the No Fun Festival. (MC)
---
Jazzkammer
Norwegian duo Jazzkammer (comprised of Lasse Marhaug and John Hegre) took the stage next, and while their physical nature of their performance was somewhat subdued, the occasionally brutal nature of some of their sounds more than made up for the restraint. Marhaug and Hegre have explored a wide variety of textures throughout their entire back catalogue, but on this given night they gave themselves over to the type of high pitched squeals and industrial/metal rumblings that made them seem like a perfect fit for the festival. It was a nuanced brutality, however, and one that displayed the sort of careful interplay that can often be found lacking in most electronic duos. And above all else, they may have provided the festival with its first and last actual "riff" - an entrancing and steadily repeating percussive figure that return over and over again to decimate the crowds ear drums and usher in another wave of dense sonic manipulations. (MC)
---
Macronympha
After a last-minute cancellation by Whitehouse, and, consequently, Consumer Electronics, Giffoni acted quickly to fill their slots. Macronympha was slated to act as one of the substitutes in what was the first live performance by the Pittsburgh-area artist in nearly a decade. Joe Roemer was joined onstage by Dom Fernow in the second of his three performances over the course of the festival. The performance's (and Roemer's) focal point was a young lady in leather fetish gear posed at the front of the stage. Initially accompanied by only a simple, industrial drum loop, she stared into the crowd, seemingly unconcerned with the clamor that was rising behind her. The music was suitably harsh, and Roemer's brand of electric sexual violence went over well with the crowd. His sneering face and fierce sexual pantomime were fuel for the hellish clamor, though, in his fervor, Roemer pulled his rig from the mic that was amplifying it, rendering his sound rather lost, especially under the oppressive drum beat, which dominated the mix. Macronympha's return to the public stage wasn't without its hiccups, but Roemer's aggressive stance had the converted in the crowd whipped into a frenzy. The absence of Consumer Electronics seemed of little concern in the face of Macronympha's animalistic thunder. (AS)
---
Borbetomagus
Though it was after two when Borbetomagus walked onstage early Sunday morning, the legendary trio had more than enough energy to make up for the late hour, closing day two of No Fun with one of the festival's most electrifying performances. Continuing in their twenty-five year campaign to annihilate jazz in a storm of thunderous, take-no-prisoners cacophony, Borbetomagus' Jim Sauter, Don Dieterich, and Donald Miller may have been outcasts on the night's bill with respect to age, but their noisy assault on the audience's ears proved that sonic ferocity isn't only a tool of the young. Sauter and Dietrich's effected saxophones cut swathes of thick, heavy sound, and even when Donald Miller's table-top guitar was also buzzing at full blast, none of the trio fell complacent, a fact that wasn't lost on the attentive audience, who called for an encore that brought out the bells-together technique that's been s staple of the saxophonists' arsenal since they were teens. It seems almost sacrilege to say it, but, at least while Borbetomagus were on stage, Whitehouse weren't missed, at least not as greatly as one might have thought. Borbetomagus may have only traveled across town and not across an ocean to be at the Hook that night, but their appearance was no less a monumental occasion that Bennett & co.'s would have been had they been able to perform. The late-notice addition of the group to the bill resulted in what was, at least to this writer, the best set of No Fun's three-day run. (AS)
---
Pengo
One consistent theme of No Fun Fest was the cameo appearance, and Pengo was no slouch. With John Olson on drums and Spencer Yeh on hooded vocals, it seemed that Pengo were reaching supergroup capacity. Starting off with some vocal hysterics, Pengo shifted into serious Teutonic territory, with Jason Finkbeiner laying down severe riff blasts via guitar that kept everything just attached. On top of that various reeds, including what I determined to be a homemade bagpipe (some PVC with a balloon attached) and a pennywhistle were applied discriminately. Olson's tribalist musings turned the whole set into a long-form brain thud, with expected physical reactions from the audience: I saw some amazing uncontrolled twitching from an otherwise nondescript female New Yorker. If Amon Düül and Amon Düül II ever kissed and made up, perhaps they might have played like Pengo that night. (KH)
---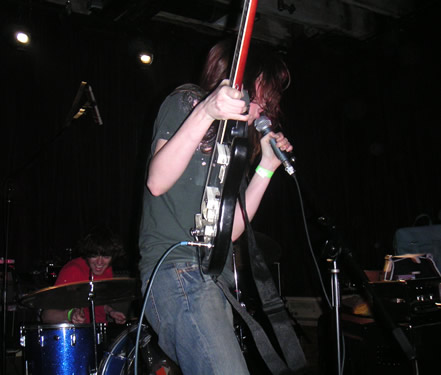 The Magik Markers
The Magik Markers, a trio featuring drummer Pete Nolan and guitarists/vocalists Elisa Ambrogio and Leah Quimby all but stole the show early on Sunday night. Beginning simply and quietly, Nolan sat behind his drum kit strumming an acoustic guitar while Quimby added spare harmonica lines and Ambrogio added breathless vocals and guitar drones from the floor. But before anyone could be lulled into a false sense of security, the band shifted quickly. Quimby formed the rock hard rhythm with her simple guitar playing, while Nolan spent his time behind the drums conjuring up images of Robo (circa Damaged and Earth A.D.), albeit a Robo doing his damnedest to channel the energy and rhythm-defying capabilities of Milford Graves.




But it was Ambrogio who commanded the most attention throughout their set. Although she started with barely a whisper, by the halfway point in the Magik Markers' set she was fully possessed, a kicking and screaming demon who kicked, scraped, dragged, and pummeled her guitar into emitting the types of thick, viscous noise that fit perfectly with her band mates. She perched at the edge of the crowd, grabbing heads and daring the audience to try and grab her six strings before she could settle on someone's head. She roared into the microphone, a sight of convulsing, barely containable energy that seemed to come only from the truest desire to spill everything on the stage for all to see. While it seemed at times that a lot of other bands that appeared at the fest were aiming for shock, high brow aesthetics, or the furthest reaches of tripped out drones, the Magik Markers came across as one of the best and most dangerous rock bands working right now. More than anything else, their sound was punk as fuck, not a lame parody of a once valid genre, but a full on kick to the throat of rock and noise in general - daring the formalists to open things up a bit and the noiseniks to make the crowd want to move it. (MC)
---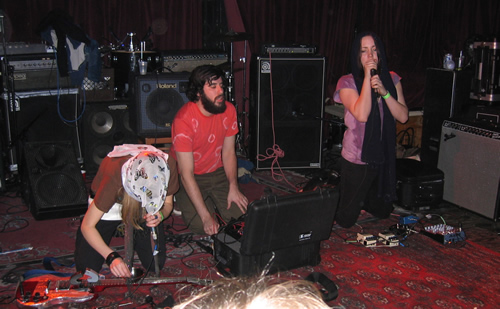 Double Leopards
Local favorites Double Leopards whipped up densely layered drones out of junked distortion and ignited vocals. Squatting over suitcases of pedals, guitars, mics, and a turned over tuba, they quickly built up a heavily effecting trance that assumed a life of its own. While trawling around the room, their sound even brought a pint-wielding Rat Bastard (of To Live and Shave in LA) up to the front of the stage to yell encouragement and keep the crowd swaying. Glassy cymbals and their seemingly continuous moan kept things thick and contributed to a mystic, psychedelic heaviness that seemed less abrasive than many of the others on Sunday's bill, despite the mountains of distortion.
---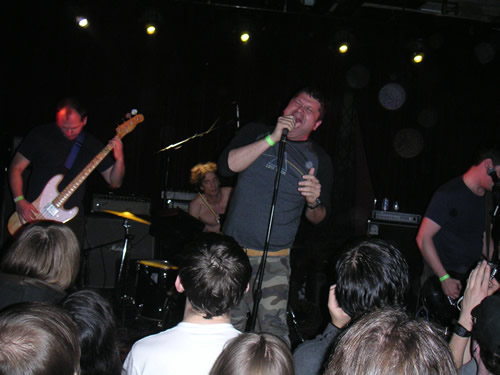 Sightings w/ Tom Smith
You know it's going to be a good show when, five minutes before Sightings is supposed to go on, the band is still looking for Mark Morgan. However, Sightings with Tom Smith should probably be called Tom Smith with Sightings – Tom's presence is always so huge on stage I think he bought his own spotlight. Still, Mark's stints in TLASILA have definitely brought the two bands closer together in sound and style. Unfortunately, the Hook's sound system was just not adequate for the punch in the face I usually get from Sightings.




Sound was an issue for a lot of the festival's acts, but Sightings needs to be taken in extreme doses for maximum relief. Not being from New York, I find it amazing that some people who live in this city and supposedly pay tribute to the deities of rock have still not seen this band, though. (KH)
---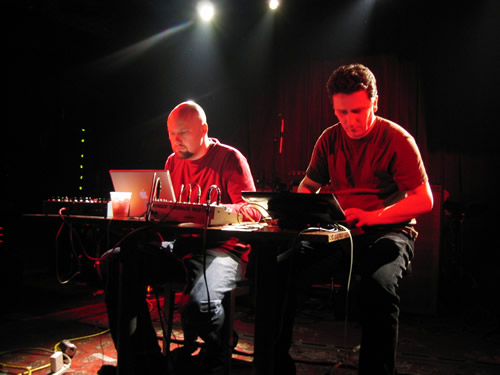 Peter Rehberg / Lasse Marhaug
Viennese laptop master and Mego Records leader, Pita (Peter Rehberg), joined with Norwegian noise maker and composer Lasse Marhaug for a massive set of sound that stopped time in its tracks. They set down huge blocks of digital noise and peeling static that ebbed and flowed and forced many audience members into rocking trances of submission. At their most consuming, Rehberg and Marhaug drove punishing low frequencies into the room that sent arm hair vibrating and heart beats stuttering, while their other brittle surfaces left little room to breathe. Distinct threads and textures emerged that pushed their set from one block to another, shifting frequencies and consistencies, alternating layers of static with pulsing waves. About two-thirds of the way through, a distinct high tone broke through the mass and just about tore the whole room apart. They pushed No Fun further toward dawn with a visceral and peeling set that sucked the air out of the room. (JS)
---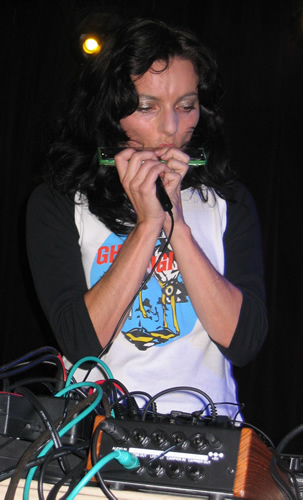 Fe-mail
Unfortunately for Fe-mail, playing last on a Sunday suffers the most when schedules go south earlier in the evening. And so it was, with Maja S.K. Ratkje and Hild Sofie Tafjord approaching the stage around 2:45 a.m. after Peter Rehberg and Lasse Marhaug's impressive set of laptop noise. No matter how impressive their set, however, the audience was still cramping and ready for bed after a full night. The awesome Norwegian duo kept things short but sweet, teasing the audience with twenty minutes of their startling noise collages.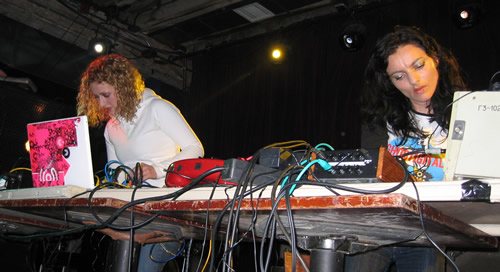 Fe-mail tied together many of the disparate threads in No Fun Fest's lineup: digital scrapes and slices, live sampling, mixing board tweaking, and vocal improv. Ratkje employed contact mics, samples of her elastic vocals, and a mini-tape recorder zipping in fast-forward or reverse, while Tafjord sampled her French horn and tweaked noises from her computer. Lilting harmonica tones turned on a dime into stuttering shards and wailing cut ups. Just as Fe-mail picked up steam, they declared a mercy rule and departed the stage. The end. Let the fun begin. (JS)

By Dusted Magazine