Dusted Features

Tad Abney finds a home for his lost notes of great records left uncovered during 2004.



Dusted Notes by Tad Abney
Some folks, titles, items, and ephemera that fell through the cracks, or were just plain ungraspable in 2004, culled mostly from lost notes that never quite congealed or convinced editors otherwise: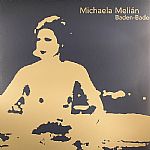 Michaela Melián - Baden Baden (Monika)
With the passing of John Peel, German artist/musician Michaela Melián may have lost one of her biggest supporters. Her old band, F.S.K. did six sessions for his show through the years, and he no doubt would have loved her solo debut. In a year in which frauleins like Ada and Ellen Alien continued to make noise (and much stronger full-lengths than peers like Superpitcher or Michael Mayer), Baden-Baden might very well be the strongest of the bunch. Melián is assured in her tracks, building them up steadily as she layers violoncello, accordion, Spanish guitar, bass, melodica, and organ while Carl Oesterhelt helps with the programming. She's steadfast on every song, never rushing things, knowing just when to stir in new textures. Each of the six originals (plus a lovely coda of Roxy Music's "A Song for Europe," sung in her finest Nico drip) gathers steam and slowly fills up the space until its at a chug. Think of the pastoral heaven of Popol Vuh, or ambient Eno, with the shimmer of Komapkt's Pop Ambient series thrown in for aural beatitude.
---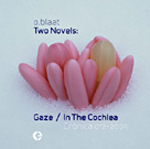 o.blaat - Two Novels: Gaze / In the Cochlea (Cronica)
o.blaat is New York-based sound artist Keiko Uenishi. She is a founder of the weekly Share series at Open Air, where laptoppers and visual artists get together to "jam" the frequencies and create instant collaborations and networks. She also tap-danced on a Christian Marclay record for those concerned with such trivia. For her debut, she brings a bunch of her friends aboard, downtowners like Ikue Mori, dj Olive, Toshio Kajiwara, Aki Onda, Kaffe Matthews, and violinist Eyvind Kang. All players get puréed in her Powerbook, along with subway screeches, ringtones, and other urban clamor. The second-half of the album is meant for headphones, and microscopic tones and sinewaves are threaded through your head. Despite so many ingredients, Uenishi's attention to detail and flow makes for a solid abstract listen.
---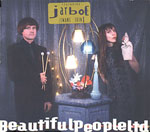 Jarboe and Lary Seven - Beautiful People Ltd. (Atavistic)
One in the series of ongoing Jarboe reissues, and even among those, this is an odd one. Here she teams with man-on-the-town, knower-of-all-things-mono, photographer, and Rube Goldsberg-esque instrument-builder Lary Seven. Cut back in '92, these 'live' performances are like tableau vivant of old exotica album covers. Wanton and drunk on lust, those scantily-clad vixens come alive in Jarboe's throat as Lary brings the off-kilter tiki hut and musty voodoo drums, along with a pinch of Throbbing Gristle's rendition of Arthur Lyman thrown in for greater destabilization. There's even a cover of Stephen Sondheim's "I Feel Pretty" to further disorient you, as well as six other strange mixes for extended play.
---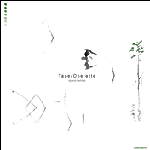 Tape Operette - Opera Remixes (Cubicfabric)
The Tape trio (Andreas Berthling, Johan Berthling, Tomas Hallonsten) get remixed from some friends in high places. Despite a kneejerk aversion to David Grubbs, his remix with heaving strings works quite well. A heavy-hitter like Pita is subdued, barely there, a fine showing of his remix abilities. Australian guitarist Oren Ambarchi combines kaleidoscopic rain patter with what sounds like a 50 foot harmonica buzz. Stephan Matthieu and Brendan Anderegg's closing remixes purify the drone of Tape until the sound is pure, glimmering flakes of gold. It's a remix album that hangs together remarkably well.
---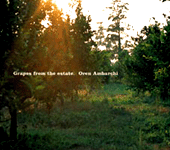 Oren Ambarchi - Grapes from the Estate (Touch)
His buddy Fennesz gets all the ink as the next generation of guitar, but Ambarchi is the more nuanced and tactile player, still physically invoking that instrument, but making it sound like an abstract noisemaker without the help of a Powerbook. His 'tone' is somewhere between gamelan gong and an ungrounded wire, with subterranean throbs bristling with static and shorted-out crackle. You can feel every touch of his finger, every gesture of his body coming through the strings. The four pieces here created a timeless space much like Morton Feldman or Alvin Lucier. While Fennesz basically treaded water for Venice, Ambarchi further expounded on his ideas and actually went in a more accessible direction for his third album for Touch. The key is in how Oren alchemically altered his telltale sound, so that his guitar could slyly be pulled out of the mix and replaced with piano, bells, ride cymbals, Hammond, or nylon-string, cycling, sustaining, and mutating even as it retained its hypnotic effect on listeners. A favorite DJ tool for SUNN O)))) for its potent rumble, it could've also been sold to indie kids who like their post-rock crisp and melodic, all the while retaining its poetic, effervescent quality.
---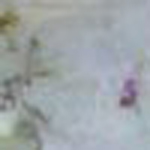 Brendan Walls/Andrew Chalk - This Growing Clearing (Three Poplars)
Another Australian alchemical meddler, tinkering with devices on the blink, Walls was dissed in The Wire on his wicked Cassia Fistula debut (Idea) a few years back, but the monstrous yet exacting heaving monoliths crafted within caught the ear of heavies like New Blockaders, Mirror, David Jackman, Daisuke Suzuki, and other industrial-strength masters, and he's now in the middle of collaborations with or remixes of all of the above. The first one to be emitted is this one with England's bucolic dronescape artist, Andrew Chalk. Clearing is hard to pin down, as it seems to evaporate upon coming out of the speakers, so subtle are its sounds. Walls' machines buzz like insects over the backdrop of Chalk's luminous hums, distilling the very air of the room. Like its title suggests, it creates a clearing in space much like you would find out in the rolling hills of England, or perhaps somewhere in the Outback. Chalk's LP (also on Three Poplars), Fall in the Wake of A Flawless Landscape was also breathtaking.
---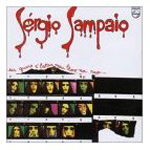 Sergio Sampaio - Eu Quero e Botar Meu Bloco na Rua (Universal Brazil)
Once you get past the first wave of flashy Tropicalia to the underlying MPB of Brazil, there's an infinite wellspring of aural pleasures to be had. In a year in which reissues of Lo Borges and Joao Bosco spent lots of time in my player, this particular album stood out (and probably would have had I heard it at the same time as Os Mutantes, Milton Nascimento, or Tom Ze in the past). The garish painted cover makes him look like some sort of Alice Cooper/Tiny Tim character, but Sergio Sampaio is a quicksilver singer/ songwriter, wailing out acid rock for one number, and then changing it up with a more nimble ballad the next, tricky production and tape speeds making everything flow together. Sampaio cut this slice of weird, woozy pop-rock in 1973, following up the title track single, which was a huge success the year before. The album was a complete failure though, getting him dropped from the label.
---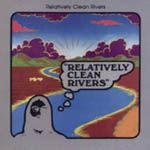 Relatively Clean Rivers (Radioactive Records)
For no real apparent reason, 2004 was the year in which previously unknown (to me) Renaissance man Phil Pearlman had three of his joints bootlegged. In between Beat of the Earth and The Electronic Hole is this silvery one from the early seventies. Apparently a disciple of clean living and natural highs, he made some groovy, messed up music. This could almost sneak into a classic rock format, tucked in-between "Slow Ride" and "Black Water." And yet, with its backward drums and weird sense of fried funk, I swear you could convince indie kids that these are some outtakes from Mellow Gold. This worm of Pearlman's still wiggles off any such hook though, and is a singular headscratcher some thirty years on.
---
VA - Eccentric Soul: The Bandit Label (Numero Group)
Rappers like to portray themselves as thug entrepreneurs, music being but once aspect of their hustle. With yet another nuanced, well-researched archeological dig into the vinyl strata, Numero Group find a little Chicago imprint that had early claims on the game. Founded by Arrow Brown, and named "Bandit" as fact and not fiction, he ran the label out of his house, which functioned not just as an HQ, but a harem/commune. Not quite a pimp, or a Manson figure, he did exist on the fringe, just outside of musician's union dues, the industry, not to mention uptight mores and monogamy. Daughters and concubines sang lead for The Majestic Arrows, and his seven year old son, Altyrone Deno Brown, does two killer young Michael Jackson cuts. Dig especially the sparse thump (someone hitting a cardboard box?) of the Majestic Arrows rehearsal tapes, which could auspiciously kick off a lovely DJ set today. I prefer this one to Numero's earlier retrospective on Capsoul, but they're both crucial soul reissues.
---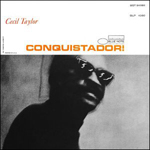 Cecil Taylor - Conquistador (Blue Note)
Digitally out of print for a good decade while its older sister Unit Structures stayed in stores, it was but one of many crucial "New Thing" titles from Blue Note to get back into print this year (see Derek Taylor's excellent BN overview for some others). This is Cecil cementing his group with two of his most important players/sympathizers, Andrew Cyrillic and Jimmy Lyons, both of whom would actualize his music during his most fervent, fertile time period. "I try to imitate on the piano the leaps in space a dancer makes," Taylor says, and elsewhere, he shapes the music "to make it more of a living organism." Two enormous, geometrical life forms in taps coming up.
---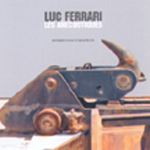 Luc Ferrari - Les Anecdotes (Sub Rosa)
"The secret lies in the immeasurable power of sounds, in the dramaturgy, which rocks the sounds on their rhythm…I love the sound that betrays small uncertainties." After a lame album on Blue Chopsticks, the French maestro ever so slyly returns to his classic ways, taking small audio moments and looping them into something distinctly his own.
---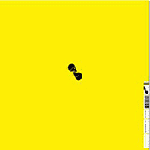 Robag Wruhme - Wuzzlebud K.K. (Musik Krause)
Forget the Warp roster, Wruhme is the closest producer I've heard who embodies the playfulness and rhythmic trickery of Richard D. James. He even opens the album with a computer voice announcing "Aphex style" before going rubber room on the track, stretching out glitches and revealing little fissures between the beats, evoking "Windowlicker" in some weird way. Style shifts and seismic amounts of echo abound throughout, and Wruhme jumps from reverberating jack beats to Shakespearean schaffel to chopped up ragga barking to slinky trip-hop to a lovely ambient coda in a little under fifty minutes. It's one of those albums where every five minutes you'll ask yourself what the hell you're listening to.
---
Matt Valentine & Erika Elder - Lunar Blues (Child of Microtones)
In the proclaimed year of "Freak Folk," did Matt Valentine miss the boat? While he did have a scant minute in the sun of Devendra Banhart's Golden Apples of the Sun comp, his two newest slabs (Ragas & Blues and Creek to Creation) came out at the end of the year. Of course that doesn't count the microscopic editions of albums he burned with partner Erika Elder, as well as folks like Dredd Foole, throughout. If you blinked or hesitated on the Paypal trigger, you probably missed 'em though. Not to mention his Heroine series, wherein he takes tracks from releases such as Lunar Blues and extends them beyond the horizon, sliding the blues beyond the ten-minute barrier. MV & EE did a whopper of an Elizabeth Cotton cover ("Freight Train") which they then rode out past the plains into the sparkling stratosphere. Consider them dusty old blues 78 dubplates, if cut by François Bayle and John Fahey while sharing moonshine.
---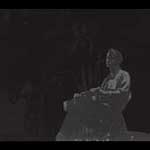 John Fahey - The Great Santa Barbara Oil Slick (Revenant/Water)
A beautiful live set of prime late sixties steel-string from the maestro himself, wrapped in a thick, lush cardstock sleeve of silver and black. Playing at the Matrix in San Francisco in 1968, with additional material from the next year, the tapes sound exquisite, as if you're sitting cross-legged watching John do extended takes on "When Springtime Comes Again" and "Dance of the Inhabitants of the Palace of King Philip XIV of Spain." As Glenn Jones notes attest, Fahey is incredibly at ease here, not hurrying his songs, but allowing new motifs and ideas to blossom within as he goes. It prepares you for the further explorations he would endeavor on America and Fare Forward Voyagers. A crisper (if not as fiery) companion to his Live in Tasmania, which also saw reissue this year. Now if only they would get around to doing something with the Sandy Bull set that was also performed that night.
---
Betty Wright - Hard to Stop (Atlantic/Water)
The San Franciscan heads at Water/4 Men with Beards/Runt continued to stream out sweet soul jazz grooves from deep in the Atlantic vaults, also re-releasing tough Floridian funk (not to mention John Fahey (see above), Jack Palance, and Don Ho records). Furthering the light that Soul Jazz shone on the TK scene with last year's Miami Sound comp, they digitized a Clarence Reid record (a.k.a. Blowfly, a.k.a. Miami's Allen Toussaint in terms of pen and piano prolificness), and followed it up with Betty Wright's third album. By this point in 1973, she already had a chart-topper in "Clean Up Woman" and had just turned 18. There are no hits here, but it's such a straight-ahead slab of warm, sunny funk that even without much of a distinguishing single (though "The Babysitter" and title cut could've qualified) it's still a solid listen. With her also appearing on albums by Nina Sky, Trick Daddy, and Joss Stone, maybe 2004 could also be considered Wright's year.

By Tad Abney