Dusted Features

Nathan Hogan reflects on 10 records from 2004.





End of the Year: 2004 by Nathan Hogan
While disappointing in some ways, 2004 was a great year to love music. If I could do it all over again I would still knock on the same number of doors in Wisconsin, but instead of spending hours endlessly checking state polls and approval ratings, I would have been listening to the records that other Dusted writers (and readers and Listed contributors) recommended so passionately – ones that slipped through the cracks. Who knows how this list might have otherwise shaped up? But it's starting to get cold and I imagine I'll find some time to catch up in the next few months. Here are 10 records that became a big part of my 2004.
---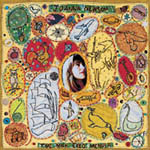 1. Joanna Newsom - The Milk-Eyed Mender (Drag City)
In my review of The Milk-Eyed Mender I wrote that if there was a better debut in store for 2004 I was ridiculously excited to hear it. Well, it never came. Is there a less acquirable "acquired taste" than Joanna Newsom's voice? The effect of hearing her for the first time is immediately polarizing, and I'm happy to count myself among the enthralled. Many months later this record is still getting pretty heavy spin in my apartment, but nothing can top the first time hearing it – partly because of extraneous circumstances (it was the first warm day in many months) and partly because the logic in Newsom's lyrics and delivery is so wonderfully spontaneous. There are so many playful little webs of alliteration and interior rhyme built into "Bridges and Balloons," "Sadie," "Inflammatory Writ," and all the rest, that it's fun pulling them apart and seeing how they work. But nothing can beat the feeling of being blindly rushed around their corners, anxiously anticipating each joyful, clever turn.
---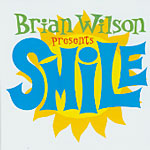 2. Brian Wilson - SMiLE (Nonesuch)
I'm not one of those people who lost any sleep wondering what SMiLE might have sounded like. After all, consolation prizes get a lot worse than Smiley Smile / Wild Honey. But just like almost everyone else who heard it, Brian Wilson's reissue/recreation of his lost masterpiece completely blew me away this fall. In a year in which many of our nation's deepest convictions were embraced with uncommon zeal and a frightening lack of reflection, this record was a quintessentially American work that affirmed many of those very same beliefs: the possibility of second chances, the magnetism of myth, the beauty of big-picture personal visions. Amazing.
---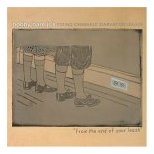 3. Bobby Bare Jr. - From the End of Your Leash (Bloodshot)

A good half-dozen of these songs should have been spilling out of car radios and backyard barbeques all summer long. On his second full-length, the son of legendary country singer Bobby Bare cross-pollinates popular genres as he travels from his straight-laced Nashville birthplace ("Roy Acuff cut off my umbilical / and tied me off with his yo-yo string") to sloppy Middle American basement shows ("I drink free beer and sing / Until I fall down"). Bare Jr.'s 2002 debut was a keeper, but From the End of Your Leash finds the perfect hooks to keep his petulant, beer-soaked yelp standing upright.
---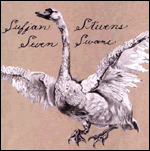 4. Sufjan Stevens - Seven Swans (Sounds Familyre)
There's little doubt that Michigan would have made my 2003 list had I heard it in time, and while Seven Swans is that record's inferior, it's still a provocatively beautiful cycle of songs. Like my very favorite book of 2004, Marilynne Robinson's Gilead, Seven Swans is a deeply devotional work that presents religion – to latte sippin' liberals, frothing fundamentalists, and all of us non-caricatures in-between – as a stirring force we'd be wise to keep grappling with for as long as we're kicking around.
---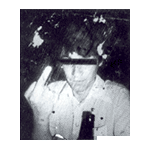 5. The Hold Steady - Almost Killed Me (French Kiss)

Last year's uncommonly good rock 'n' roll record was The Howling Hex and this year the trophy goes to The Hold Steady. I thought I hated Lifter Puller until I realized that I loved them, and little if anything has been lost in their transition to a sweaty Brooklyn four-piece. If you can walk away from this maze of dinosaur-rock guitar noodling, Replacements hooks, and Mark E. Smith-meet-my-whiny-kid-brother vocals, then there probably isn't hope for you.
---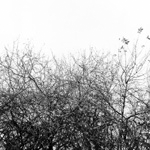 6. Simon Joyner - Lost With the Lights On (Jagjaguwar)

I dropped the ball on this one. I was supposed to review it and for whatever reason never got around to it. Only later did I realize how terrific it is, and how I hadn't heard a peep about it anywhere else. Which is a shame. I won't try talking anyone into checking out a mid-career Simon Joyner record who isn't already predisposed to this sort of thing because it's what you'd expect – sad, woozy music with a cutting sense of humor and lovely, understated arrangements. Only for some reason it's even better this time out. "Dreams of Saint Theresa," "Evening Song to Sally," "Flying Dreams" – one of these is the song that mixtape's been dying for.
---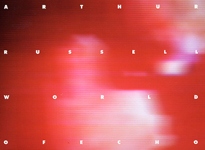 7. Arthur Russell - World of Echo (Audika)
I'm glad I stuck it out with Arthur Russell. Amid all the buzz I had conflicting opinions: the Soul Jazz compilation made a sizable impression on me, then Calling Out of Context left me almost entirely cold. But this record made connecting the sounds to the critical accolades eerily easy. So much has been written about this man this year, and I feel – after dozens of listens – that I've only begun wading into the murky beauty of this record, so I won't try saying more. I'd recommend Michael Crumsho's very fine review if you haven't yet read it.
---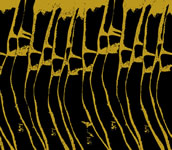 8. Charalambides - Joy Shapes (Kranky)
I lump this together with World of Echo in my mind because its effects feel entirely beyond description. This record was the subject of one of the most difficult and frustrating reviews I had to write this year, and I labored to a strained, inadequate end. Every time I listen to Joy Shapes it's like a brand new beast, which is perhaps the most you can say about any record. In a way it amazes me how people can horde CD-Rs, one-offs, and ancillary releases from bands like Charalambides because I feel like I could listen to a record like this every day for a year and never touch bottom.
---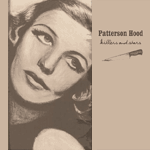 9. Patterson Hood - Killers and Stars (New West)

Drive-By Truckers frontman Patterson Hood recorded this batch of dark, skeletal songs in his kitchen a few years ago, and only got around to releasing them after fame came knocking. The reviews for Killers and Stars have been lukewarm, and Hood himself seemed skeptical of the record's merits when I saw him play a sit-down show last month. But I find many of these songs hard to shake. There are little fragments buried within them – a line about thunderclouds over Disney World, a tale of a hitman hanging up his shoes – that are both grotesquely funny and oddly affecting.
---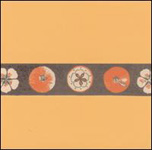 10. Born Heller - Born Heller (Locust)
You might think – sort of like the inverse of that hypothetical experiment involving monkeys punching typewriters – that after a billion tries at combining strings and the human voice, all of the possible combinations would run dry. But what else sounds like this? Josephine Foster (voice, harp, and mandolin) and Jason Ajeman (bass) craft austere, elegant music with clean, straight lines that blur mysteriously at their edges.
Thanks for reading and have a lovely 2005.

By Nathan Hogan