Dusted Features

Tom Zimpleman has an opinion about the best music of 2004



Let's Everybody Just Calm Down: The Year in Music 2004 by Tom Zimpleman
Maybe we were all just anxious about the election, or maybe marketing wizards are right about everybody striving to be an early adopter. Whatever the reason, we seem to have really worked ourselves into a frenzy this year. Where we once might have been happy to have one or two needlessly over-hyped cultural phenomena per year, this year witnessed a seemingly endless parade. Be it Canadian bands – the Stills! the Arcade Fire! the Dears! – new wave poseurs – Franz Ferdinand! the Futureheads! – documentary infotainment – Super Size Me! Fahrenheit 9/11! – instant cult films – Napoleon Dynamite! The Aforementioned Documentaries! – if somebody with access to the internet found an album or movie diverting or mildly entertaining, then you were going to hear about it. Oh, were you ever going to hear about it.
On the one hand, there's no use complaining about this. People are naturally hyperbolic when talking about their musical and cultural preferences, and I've certainly engaged in more than my fair share of hyperbole. On the other hand, hype becomes self-defeating after a short period of time. If we need to be shaken out of our creative slumber by some fresh and brilliant band every 8-10 weeks, then we never really woke up in the first place. "Brilliance," if the term is to mean anything at all, must be seen at points few and far between.
Here's a list of all things musical that I thought were at least mildly entertaining. In fact, I thought some of them were really pretty good.
---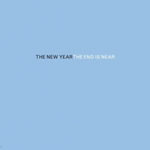 The New Year – The End is Near (Touch and Go)
I've liked nearly everything that the Kadane brothers released, so I expected this album to be good. It was even better than I expected. Songs like "18" and the opening "The End's Not Near" may not differ that much from the material on 2000's Newness Ends, or the material from any one of Bedhead's albums, but they introduced a couple of new tricks. The tempos were just a touch faster, the guitars perhaps a touch less soothing. The melodies and lyrics, thankfully, were as thoughtful as ever.
---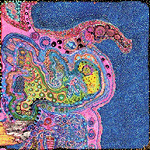 Sufjan Stevens - Seven Swans (Sounds Familyre)
The best thing about last year's Michigan was its band hall array of instruments and its intricate production. Seven Swans, recorded before Michigan, was like a stripped-down counterpoint, with stand-outs like "A Good Man is Hard to Find" and "The Dress Looks Nice On You" probably the simplest, most intimate songs of all. Words has it that he's back at work on the Fifty States project. Given that Sufjan Stevens and the Michigan Militia are currently playing a song about Chicago in concert, I sincerely only hope, as a former resident, that Illinois is up next.
---
Phosphorescent - The Weight of Flight (Warm)
I don't really have much to add to what I wrote about this in my review last month. Dramatic, affecting country rock, and one of the most strangely charismatic vocal styles I've heard in quite some time.
---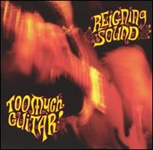 Reigning Sound - Too Much Guitar (In The Red)
A take-it-or-leave-it effort. Detractors argued that the production shoved everything into the midrange and made it sound like crap. Of course, they meant for it to sound that way, but I don't know how that stacks up as an answer to their complaint. What I do know is that there are untold numbers of garage rockers who would be satisfied to write just one song equal to "We Repel Each Other," or "I'll Cry," or especially "If You Can't Give Me Everything." All intense, no frills songs best served by an unrefined production style.
---
Mission of Burma - ONoffON (Matador)
With so many bands working overtime to bring back the post-punk and new wave sounds of the early 1980s, one of the least retro-sounding rock albums came from a band that broke up in 1983. Ah, the irony. But seriously, ONoffON would qualify as one of the best albums of any year, precisely because it doesn't look back. Rather, it tweaks the legendary Mission of Burma formula in ways both inspiring ("Wounded World") and sublime ("Falling," "Prepared") Also, they're still the best live band in the world.
---
David Kilgour - Frozen Orange (Merge)
With Mission of Burma, the New Year, and now David Kilgour, a pattern seems to be emerging: I guess I just don't like new bands. Actually, that's not true. Regardless, there's something to be said for albums that are made without the burden of making a mark or defining a sound, albums like David Kilgour's Frozen Orange, pretty much just a high fidelity version of a Clean album, but one that excels because it sounds just effortless. In the past, I've tried to use Howard Hawks' criteria for a good movie – three good scenes and no bad scenes – to judge a good album. Three good songs and no bad songs: Frozen Orange passes easily.
---
The last few years, Germany's Morr Music has cornered the market on electropop the way SST once owned hardcore and Sub Pop owned grunge. Their trademark style – stately, reserved, yet still completely infectious – was showcased on two 2004 releases: Lali Puna's Faking the Books and Styrofoam's Nothing's Lost. Both were rather straightforward electronic releases that were more about hooks than about pushing stylistic boundaries, but they revealed a new subgenre that's not just a tentative hybrid of rock and electronica, but something that's finally come into its own. The result is an encouraging cross-pollination: Styrofoam's collaboration with American Analog Set's Andrew Kenny, "Front to Back," might be the year's best single.
---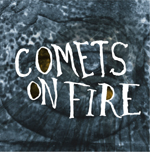 Comets on Fire - Blue Cathedral (Sub Pop)
There can't be a more nimble band than Comets on Fire: halfway through "Whiskey River," the third track on Blue Cathedral, a melody line that had been furiously bulldozed and pulverized by the group suddenly opens up into a bright, up-tempo guitar figure. Celebrating Comets on Fire's musicianship or production doesn't do the album justice. Listen to it, and your attention will never flag. Something interesting has either just happened, or is about to.
---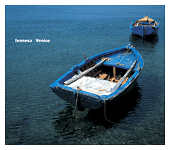 A geopolitical statement about the role of modern Europe wrapped up in a collection of microtonal compositions? Sign me up.
---
Movietone - The Sand and the Stars (Drag City)
I know it was released in 2003, but I didn't get around to buying it until early this year.
---
And of course:
Joanna Newsom - The Milk-Eyed Mender (Drag City)
Animal Collective - Sung Tongs (FatCat)
Deerhoof - Milkman (5RC)
I'm sure that lots of folks will have more to say about each one.
Best reissues:
Pavement - Crooked Rain, Crooked Rain (Matador)
Menomena - I Am the Fun Blame Monster (Fil Guerrero)
Six Organs of Admittance - For Octavio Paz (Holy Mountain)
The Prefects - Amateur Wankers (Acute)
Most Distressing Trend: Intimations of a Culture War
Sniping amongst music fans this year was writ small (some magazines apparently like to pledge themselves to the struggle with the motto under their mastheads) and large, but it was always petty. Nick Hornby offered a defense of youthful exuberance in rock and roll through a rather torturous celebration of the band Marah. Perhaps in answer, and building on a decade worth of prep work by cultural studies, Kelefa Sanneh felt compelled to blow the lid off "rockism" amongst music critics through his column in the pages of the New York Times, decrying a reliance on stereotypes about the starving artist and the songwriter searching for a muse.
Arguments against rockism follow a common pattern: charge that rock critics have built up a phony definition of authenticity – writing your own songs, playing your own instruments, spending several painful years in obscurity – charge that such a definition deprives us of an ability to appreciate new forms of music and/or is impossibly stodgy and dour, perhaps illustrating the point with a celebrated canonical figure who fails to fit the rockist template (e.g. Johnny Cash, who occasionally played standards). Then conclude that critics slamming Justin Timberlake or N.E.R.D. are just uppity bluenoses clinging to a long-obsolete highbrow/lowbrow distinction in popular culture. Only through this kind of inversion does a defense of some of the most crassly packaged music available – backed by millions of dollars in corporate marketing and promotions, several television networks, radio conglomerates, and the publishers at Conde Nast and the New York Times – become the work of a hip rebel out to foil the snobs.
The real villain in this tale is the echo chamber of discussion boards and music blogs that take these sorts of questions seriously. (My gosh, have you ever seen a rock critic's blog? Who in heaven's name has that much time to spend in front of a computer?) Without a grounding in academic literature – aside from Adorno's dated attacks on jazz – there's nothing but an increasingly indefensible notion that nobody takes hip hop or pop stars seriously for the ostensibly rebellious writers to attack. (As Slate pointed out, two of the country's highest profile outlets for music criticism – The New York Times and The New Yorker – belong to critics who are ardent foes of rockism.) Frankly, this seems less like besieging the last redoubt of cultural tyrants than the thought police seeking to wipe out the vestiges of the opposition: you will hear Ja Rule everywhere you go, and you will admit that you have no objective aesthetic grounds for wanting to listen to something else.
All in all, though, another very good year. Here's hoping 2005's as entertaining.

By Tom Zimpleman