Dusted Features

Dusted editor Otis Hart pieces together his soundtrack to the first Boston Red Sox world championship in 86 years.



Mahow About That! by Otis Hart
Like any good Red Sox fan, I tried to live in the present this year, and whaddaya know, it worked out pretty well. Carrying that over to the year in music, I neglected to include reissues or archival material in this annotated list. See below for my favorite reissues, compilations and songs.
---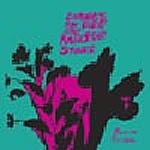 20. Comets on Fire / Major Stars – Live In Europa (Plastic)
Eesh, sorry for the nasty jpeg there. I couldn't find a suitable cover image anywhere, and my scanner is sidelined indefinitely. One of my lasting images of 2004 will be the color photo of Comets on Fire in the Sunday New York Times playlist (nice pick, Brian Turner). Blue Cathedral, however, is more of a grayscale reproduction of this band's scalding live show. This split LP, an already out of print recording from Europa in Brooklyn, captures the intensity as well as any Comets bootleg I've heard, plus it's got the band's forbearers Major Stars to boot. The Stars have been doing the supernova thing for a while and I don't think Wayne Rogers and Kate Village have ever played a bad show.
---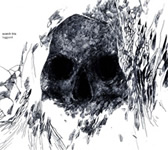 19. Scorch Trio – Luggumt (Rune Grammofon)
Paal Nilssen-Love's performance on percussion is the best of the year, in my opinion. While the Scorch Trio is essentially Raoul Bjorkenheim and whomever he has around, Nilssen-Love keeps me coming back to this. Bassist Ingebrigt Hĺker Flaten keeps things the least bit structured, letting Bjorkenheim and Nilssen-Love make a glorious mess. The metal underpinnings separate it just enough from the improv crowd to make a recognizable dent in the glut of recordings.
---
18. Sightings – Arrived in Gold (Load)
Thankfully, and unlike a lot of artists in the noise community, there's no such thing as just another Sightings record. Arrived in Gold is a complete departure from the cyclone of Absolutes and proof that Sightings don't necessarily need a wall of noise for a canvas. The ghetto electronics foundation leaves plenty of potholes, and the group wisely resists filling them all up – ironic for a band paving the way for music in the 21st century.
---
17. Califone – Heron King Blues (Thrill Jockey)
My favorite late-night album of the year, and I've seen the sun rise way too many times. Tim Rutili's nightmarish Heron King provided an unlikely focal point, and if I hadn't heard the record, I'd be skeptical of any album revolving around an imaginary half-bird/half-man character. But Rutili's songs have never been better and Jim Becker and Joe Adamik have completely meshed with the longtime duo of Rutili and Ben Massarella. That it was made in complete haphazard fashion over a few days is remarkable considering the confidence radiating throughout.
---
16. Claro Intelecto – Neurofibro (Ai)
Anchored by last year's sickest single "Peace of Mind," Mark Stewart rises to the challenge with a full-length almost as good. Crisp, patient melodies start in Detroit and float outward, not so much subtle as perseverant – sort of like their creator. Stewart suffers from neurofibromatosis – a disease that causes tumors to grow along the nervous system – but it apparently hasn't become life threatening.
---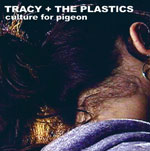 15. Tracy and The Plastics – Culture for Pigeon (Troubleman Unlimited)
Wynne Greenwood is Tracy and the Plastics, and the minimal production definitely exudes isolation. Despite the skeletal construction, there's nothing lacking except another 10 or 15 minutes (it's less than 26 minutes long). Greenwood's voice can still a beating heart, but the icy electro plays the perfect complement, mixing the genuine and manufactured to create an enigmatic simplicity. And I'm still unsure about all the dog references.
---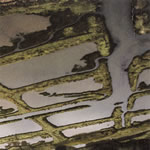 14. Pita – Get Off (Häpna)
Peter Rehberg's computer music spills out in all directions, but it's not messy, and I would disagree with anyone who deems it experimental. These 1s and 0s may not know where they're going, but Rehberg must; chance rarely permits this kind of consistent brilliance. "Like Watching Shit on a Shelf" explodes like a sinkhole in the fabric of time, chaos exposed as alien logic. The experience is not unlike the Simpsons' episode when Homer slips into the 4th dimension and battles antimatter. A higher power is at work here.
---
13. Melchior Productions – The Meaning (Playhouse)
Hard to believe that this is Thomas Melchior's solo debut. That's because the 39-year-old from Berlin has been around forever, making music alongside Baby Ford and more recently the Playhouse stable of superstars. The content is kept almost sacredly concise. Beats and bass spread out silicon thin, with clipped vocal snippets that are intelligible but little else. Similar to how the best horror films use implication rather than gore, The Meaning is all the more sexy because of what's left out. Another worthy candidate for the fledgling microhouse hall of fame, if not quite the equal of Villalobos' Alcachofa or Luomo's Vocalcity.
---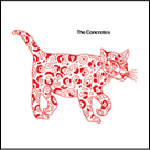 12. The Concretes – The Concretes (Astralwerks)
The best pop album of 2004. Victoria Bergsman sings in English with a heavy Swedish accent, her inflection revealing uncertainty behind the words, be it simple pronunciation or a deeper dysfunction. Awkward expression usually befits the love song – whether it's The Notwist's broken English or Daniel Johnston's presumed logic – because none of us truly know what we're singing about in the first place. Language aside, "You Can't Hurry Love" is the best melody of the year.
---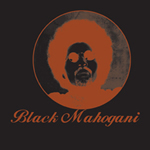 11. Moodymann – Black Mahogani (Peacefrog)
I wasn't sure where to place this album – in the reissue section or among the best of '04 – since the best material was released years ago on the KDJ label, but there's enough new grooves on Black Mahogani to warrant inclusion on the master list. Kenny Dixon Jr. returns with another modern soul classic. Roberta Sweed and Norma Jean Bell provide provocative vocals, and Amp Fiddler sings on "I'm Doing Fine," the best thing he's ever done. When most everything out of New York these days sounds artificial (check out the Sounds of Young New York II for a sobering reality check), Dixon and his Detroit collective sound all the more vital.
---
10. Donnacha Costello – Colorseries (Minimise)
Another ambiguous listing. Costello, probably best known for his appearance on the Kompakt Pop Ambient series, hasn't had any time to relax in 2004. His colorseries of EPs on his own Minimise label are easily some the best techno slices of the year. Some bang, some bubble, all nine blow me away. Hopefully he'll have time in 2005 to throw together a CD for the vinyl-challenged. The A-side of Opal would probably be my favorite.
---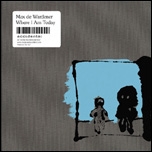 9. Max de Wardener – Where I Am Today (Accidental)
Regal would be the first word that comes to mind. de Wardener blends electronic ingenuity with a classical approach that doesn't follow the usual ambient stereotypes. Where I Am Today fizzles, cracks, sputters, shimmers, breathes with a restrained enthusiasm. The songs often subtly switch directions, with analog beats and plastic woodwinds slowly overwhelming the drone and vise versa. Also a member of fellow Accidental artists Dani Siciliano and Mara Carlyle's live bands, I can't wait to see where de Wardener goes from here.
---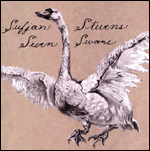 8. Sufjan Stevens – Seven Swans (Sounds Familyre)
The top artist of 2003 did OK for himself in 2004. He released an older record (Seven Swans) to critical acclaim, reissued an even older one (A Sun Came), and refined his live show to accurately reflect his skill as a songwriter. "The Transfiguration," Seven Swans' finale, somehow lives up to its title – a radiant glorification of God that had me spouting the same about Sufjan.
---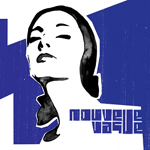 7. Nouvelle Vague – Nouvelle Vague (Peacefrog)
Is it a bad sign when a covers record makes your Top 10? Well, obviously, this isn't the average covers record – hits from the '80s reinterpreted through bossa nova by a French duo and sung by beautiful French women with no prior knowledge of the tune. It's interesting to hear where these songs go without the pop cultural baggage we all take for granted.
---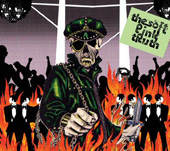 6. The Soft Pink Truth – Do You Want New Wave or Do You Want The Soft Pink Truth (Tigerbeat6)
OK, it can't be a good thing when two covers records crack the top seven, right? Actually, I think the rarity of decent covers make these albums all the more impressive. Drew Daniel's title during the curation of this project was "A Comparative Analysis of Ideological Positions in English Punk Rock and American Hardcore Songwriting" and there's even an accompanying chart: http://brainwashed.com/spt/chart.html. Reimagining rants by straight-edge cynics into sex-soaked party anthems could not have come easy.
---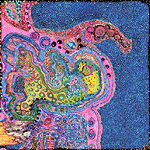 5. Yellow Swans – Bring The Neon War Home (Narnack)
In a year when 1,000 U.S. servicemen died fighting a bogus war, and who-knows-how-many innocent Iraqis lost their lives, sometimes my frustration with President Bush would boil over into belligerence. That's when the Yellow Swans were at their best. A noise record with a pretty overt political bent, I could take solace in these bone-crushing waves of sonic warfare, knowing that by blasting it at full volume out the window I was playing an active role in democracy. Gabe and Pete, your service is important to your country. Keep it up.
---
4. Espers – Espers (Locust)
"Good folk music should haunt you at night," wrote Dan Ruccia in his review of Espers' self-titled debut. It might be my favorite Dusted sentence this year, and it sums up the entire freak folk renaissance that gained steam, and a little notoriety, in 2004. Espers was the premier example of the movement, an album that flowed eerily from beginning to end – serene, psychedelic and bereft of straight answers.
---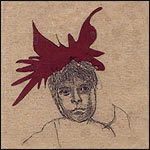 3. The Hotel Alexis – The Shining Example is Lying On the Floor (Broken Sparrow)
The most pleasant surprise of the year. Never have I been so captivated with a CD-R. Sidney Lindner's The Hotel Alexis project falls into the late-night, pedal-steel Americana genre, not too far from his other band Torrez. He's never written songs quite like this, though. His country-tinged voice is wonderfully recorded high in the mix, weathered but optimistic, a house of cards that refuses to fall. These songs aren't about what went wrong; they're about what might be put right again. A subtle yet uplifting record that any label should feel privileged to release.
---
2. Reigning Sound – Too Much Guitar (In The Red)
Greg Cartwright makes rock and roll, not rock – those two genres are entirely different at this point. Rock and roll is a direct descendent of rhythm & blues, a syncretic stew of abutting cultures, while rock is a catch-all that helps record stores keep it simple. Too Much Guitar may be a strict genre piece, but Cartwright is devoted to his craft like few other musicians today. And considering the payola dominating pop music right now, too much guitar sounds just about right.
---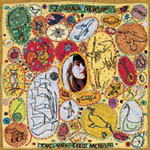 1. Joanna Newsom – The Milk-Eyed Mender (Drag City)
What can we say about Joanna that hasn't already been said? Her voice divides and conquers, creating two camps with irrevocable differences. Some call it affectatious, others call it an acquired taste. Personally, I consider the discussion beside the point. Stepping back, I think The Milk-Eyed Mender is simply different. It sounds unlike anything else released this year or any year, and not just because of Joanna's elfish shrill. Her reference points date back ages, with Elizabeth Cotten coming the closest, and "Libba" never towed around a 100-pound harp. There's an undeniable spectacle appeal to The Milk-Eyed Mender and I can understand how it might frustrate some listeners, but I think any skepticism is grounded in a lack of comparison rather than a situation where style is trumping substance.
---
Songs of 2004 (one per artist):
Ada – "…and more" (from Lovelace 12", Areal)

Animal Collective – "Who Could Win A Rabbit" (from Sung Tongs, FatCat)

Black Dice – "Miles of Smiles" (from Miles of Smiles 12", DFA)

Black Strobe – "The Abwehr Disco" (from Chemical Girl EP, Output)

The Concretes – "You Can't Hurry Love" (from The Concretes, Astralwerks)

Espers – "Flowery Noontide" (from Espers, Locust)

Feist – "Mushaboom" (from Let It Die, Arts and Crafts)

Dan Friel – "Death" (from Sunburn, Velocirecords)

Jane (Scott Mou and Panda Bear) – "Berserker" (from It Keeps Me Smiling, United Bamboo)

Junior Boys – "Bellona" (from Last Exit, Kin/Domino)

Lali Puna – "Faking The Books" (from Faking The Books, Morr Music)

The Legends – "Call It Ours" (from Up Against The Legends, Lakeshore)

The MFA – "The Difference It Makes (Superpitcher Remix)" (from The Difference It Makes 12", Kompakt)

Joanna Newsom – "Sadie" (from The Milk-Eyed Mender, Drag City)

Pixeltan – "Get Up/Say What (DFA Remix)" (from Get Up/Say What 12", DFA)

The Ponys – "Let's Kill Ourselves" (from Laced With Romance, In The Red)

Sagor & Swing – "Postmodernism" (from Orgelplaneten, Hapna)

Spektrum – "Kinda New (Jacknife Lee remix)" (from Kinda New 12", Playhouse)

Sufjan Stevens – "The Transfiguration" (from Seven Swans, Sounds Familyre)

The Walkmen – "The Rat" (from Bows and Arrows, Record Collector)
---
Older songs released/covered in 2004:
Elizabeth Cotten – "Shake Sugaree" (from Shake Sugaree, Smithsonian Folkways)

Cristina – "Is That All There Is? (Long Version)" (from Doll in the Box, Ze)

The Flirtations – "Nothing But A Heartache" (from How To Kill The DJ, Pt. 2, Tigersushi)

International Pony vs. Losoul feat. Malte – "International Snootleg" (from Famous When Dead III, Playhouse)

Kool Blues – "I'm Going To Keep Loving You" (from Eccentric Soul: The Capsoul Label, Numero Group)

Nirvana – "Scentless Apprentice" (demo version, from With The Lights Out, Geffen)

Arthur Russell – "That's Us/Wild Combination" (from Calling Out Of Context, Audika)

Arthur Russell – "The Name of the Next Song" (from World of Echo, Audika)

Arthur Russell – "The Platform on the Ocean" (from Calling Out Of Context, Audika)

The Soft Pink Truth – "I Owe It To The Girls" (from Do You Want New Wave Or Do You Want The Soft Pink Truth, Tigerbeat6)
---

Top 10 Reissues/Archival Compilations:
Albert Ayler – Holy Ghost (Revenant)

Luciano Cilio – Dell'Universo Assente (Die Schachtel)

The Conet Project (Irdial)

Elizabeth Cotton – Shake Sugaree (Smithsonian Folkways)

Globe Unity Orchestra – Hamburg '74 (Unheard Music Series)

The Homosexuals – Astral Glamour (Hyped 2 Death)

Keith Hudson – Flesh of my Flesh, Blood of my Blood (Basic Replay)

Tom Recchion – I Love My Organ (Birdman)

Arthur Russell – World of Echo (Audika)

Arthur Russell – Calling Out Of Context (Audika)
Note: If I were to rate the best albums 1 thru 10 that were released in 2004, half of them would come from this batch. An incredible year for old music.
---
Top 10 Compilations:
Baile Funk 2 – Various Agora e Moda (Black Betty)

Biz Neunzehn (Areal)

DFA Compilation #2 (DFA)

Eccentric Soul: The Capsoul Label (Numero Group)

Famous When Dead III (Playhouse)

It Keeps Me Smiling (United Bamboo)

Ivan Smagghe presents Death Disco (Eskimo)

Lord of the Decks: Fellowship of the Mic 2 (Hotheadz Promotions)

M.I.A. – Piracy Funds Terrorism, Vol. 1 (CD-R)

Shockout (Shockout)
By Otis Hart