Dusted Features

Michael Crumsho takes a closer look at the recent crop of reissues from Ze Records, a label where post-punk, no wave, and mutant disco met to boogie down.



Subtle Discolations: A Ze Records Compendium
Disco was the first type of music I was actively encouraged not to take seriously. This was in the '90s during a period of retro-fetishism that made my elder sister's gag reflex function at peak capacity. "God," I remember her saying, "I hated bell bottoms the first time around." This was a music that exposed itself to me in commercials for pre-packaged hit collections aimed at my generation in the hopes of spurring a second wave of revival sales. Lipstick traces of peak mid-'70s fashion sense filtered into the suburbs quickly, but with a general understanding that none of it was to be taken very seriously. Any fascination I may have had with disco divas (which, admittedly, was very little) had to be kept in check lest I run afoul of one of the largest wholesale cultural revocations of a "trend" this nation had ever seen. This was the image, one of a music symbolized by John Travolta, he of a certain Brooklyn meathead charm bedecked in a white leisure suit with his arm pointed skyward atop a glowing dance floor. This was the music that had – albeit for a brief time – captured people's fascinations before they sobered up and headed straight for the Reaganite culture of the 80s.
Of course this wasn't the full story, but rather one that had been repackaged as kitsch and in VH-1 ready soundbites. Disco music, in its nascent form, was a multicultural combination of influences, sounds, styles and grooves aimed squarely at freeing one's mind so the ass could ostensibly follow. It fostered the type of genre crossovers that those in the "mash-up" business of today can only dream of. And far from dying off, it retreated back underground once the masses had tired of the brothers Gibb and the bloated dance formula their night fevers had come to represent. And yet somehow, in spite of all the formula and tackiness, disco's hedonistic instincts on the dance floor attracted a certain bizarre crop of wily punk, no wave, and dedicated avant-garde artists.
This is precisely the point at which Ze Records, a Paris/New York label run by Michael Zilkha and Michel Esteban, entered the picture, offering up dance music as an invitation to humor, fashion, funk, and whatever the hell else their artists wanted it to be. The past couple of years have exposed a whole slate of these musicians, thus framing the music they created (and in some ways the shadows of disco itself) not as any celebration of junk culture or an invite to laugh at fashion faux pas, but rather as distinctly good music. And now, a thorough and comprehensive Ze reissue program – initiated with 2003's release of an expanded Mutant Disco and a disc of NY No Wave – offers more pieces of the puzzle that is one of pop music's most misunderstood trends.
Both of last year's compilations function as neat bookends for all that Ze accomplished during its initial burst of activity. It served as a label that witnessed the explosion of No Wave's dissonant noise and acted as a platform for many of those same musicians to explore growing fascinations with dance beats and longer, more groove-centered structures. And, like it or not, it helped to lay the foundation for a lot of distinctly terrible and schmaltzy late '80s New Wave. Thus far the series has encompassed three artists – Lizzy Mercier Descloux, James Chance, and Was (Not Was) – all of whom came from different impulses, crossed paths briefly, and ended up in wildly varying directions when the freedom of underground disco petered out by the turn of the decade.
---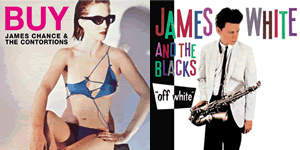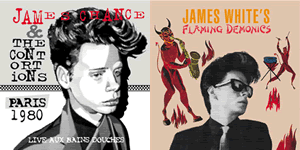 Of those three, James Chance is probably the most highly regarded in avant circles – he of the white boy soul and Albert Ayler saxophone skronk. His Contortions were the funkiest of the No New Yorkers that Brian Eno spotlighted on his compilation of the same name, and their first long player Buy stands as arguably their finest moment – an explosion of downtown New York influences that doesn't sound even remotely dated 20 years later. But almost as soon as the herky jerky rhythms and twisted slide guitar had crystallized in tracks like "Designed to Kill," "I Don't Want to Be Happy," and "Roving Eye," the band switched focus.
Chance expanded his ensemble a bit and revamped himself as James White and the Blacks, exploring funk and disco in earnest instead of through peripheral nods. Although lacking some of the fire that fueled his earlier sessions, Off White is no less enjoyable. The group revamps "Contort Yourself," injecting a pulsing 4/4 beat against female backing vocals to pull off the improbable transition from noise god to disco heartthrob. "Tropical Heatwave" sounds like the bastard cousin of August Darnell's Kid Creole project, while both of the "Almost Black" pieces apply some Contortions-style mayhem to distinct dance floor beats. The Live Aux Bains Douches record is a stellar document of Chance's early days as a raconteur, capturing his Contortions in fine form in Paris in 1980. Here, the group pops their funk effectively, tearing through a cover Michael Jackson's "Don't Stop Till You Get Enough" that reveals the song as a taut mix of Pat Place's slide guitar and Chance's frenzied vocals, taking the song to heights Jacko probably never foresaw. "I Danced with a Zombie" is even better, a slow burning groove if ever there was one, hurried along by Chance's sax and a hushed chorus, crashing into itself again and again. Much of this set focuses on the "classics," giving a good show to revered tracks like "Contort Yourself" and "Almost Black." And despite the muddy sound quality and uneven mix, the disc is a nice snapshot of a group obviously in their prime. Strangely, though, James White's Flaming Demonics, an album that dates from 1983, isn't nearly as successful as any of his early efforts. By this point in his career, Chance seems to have chased the ghosts of Ayler out of his sax playing, instead pursuing a more straight-sounding funk take that while enjoyable in parts (namely in the studio revamp of "I Danced with a Zombie," the opening riffs of "The Devil Made Me Do It," and the frenetic medley of "Caravan/It Don't Mean a Thing/Melt Yourself Down"), downplays the quickly shifting rhythms and discordance of his earlier work. While by no means a bad album, only completists will find a need for the Flaming Demonics.
---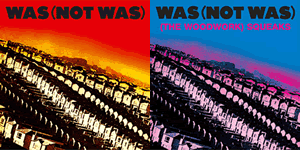 Of an entirely different beast than James Chance were the first two Ze records for oddballs Was (Not Was). Not only did the group pursue more obvious kitsch from the outset (mating the soulful sounds of their hometown of Detroit with a distinctly rockist bent to be sure, but also roping in folks like Mel Torme to help at times) but other children of the '80s may remember their massive hit "Walk the Dinosaur" that came about during their major label days. And despite the fact that their two releases on the Ze imprint had their share of intriguing dance tracks, it's hard not to view them as a bit of a one-trick pony. After all, among the 26 tracks assembled over both the odds and ends collection (The Woodwork) Squeaks and their debut Out Come the Freaks sit 10 (!) versions of their underground classic "Out Come the Freaks."
Opening with the combination of "Wheel Me Out" and the aforementioned "Freaks," Out Comes the Freaks is the more successful of their two offerings, showcasing a band with a diverse array of influences and a wide variety of ideas as to how best pursue a never-ending groove. "Tell Me That I'm Dreaming" is even better, featuring a clutch of exploding polyrhythms and a twisting bass line set against bizarre sound effects and samples of dialogue, while the infectious chorus of "It's An Attack!" mark one of the highpoints of the album. The only problem here stems from the group's predilection for the cheese that would typify their later work. Far from being clever at this point, songs like "Where Did Your Heart Go?" and "Oh, Mr. Friction" haven't aged particularly well and instead seem like an early warning sign of the lows to which '80s pop would drop. The remixes on (The Woodwork) Squeaks, the deal breaker album the group issued in order to make the major label jump, are interesting, but not much more. The "predominantly funk" mix of "Out Come the Freaks" is nifty, paring down the original track to mostly bass and percussion, and allowing the rhythms to scamper and kick over its 12-minute run time. "Dance or Died" is another pretty great track, stabbing ahead in the funk vein while playing down the sometimes forced oddities of Was (Not Was)'s other material. And finally, "White People Can Dance" is a fairly hilarious rap on the sheer absurdity that can abound when light-skinned folk take to the dance floor.
---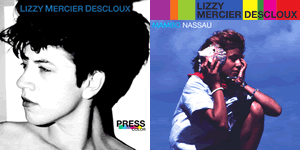 Out of all the reissues that Ze has issued thus far, the most engaging and consistently exciting are the two albums released by chanteuse Lizzy Mercier Descloux. Having relocated from Paris to a loft in New York (which she shared with Patti Smith) at the tail end of the 70s, Descloux's first musical impulses were captured as part of the duo Rosa Yemen on Live In N.Y.C July 1978 (included on the Press Color reissue). These tracks don't sound nearly as chaotic as some of their No Wave peers, but instead rely on D.J. Banes' skeletal guitar structures and Descloux's airy vocals. None of the six tracks here indicated much of what was to come from the mind of Descloux in the coming years, but still remain an interesting look at a lesser known downtown New York group.
To say that Descloux shifted her focus for Press Color, her first release for the Ze camp, would be a tremendous understatement. "Fire" opens with a rush of percussion and a swimming guitar line, establishing an earnest take on dance music that carries an infectious energy. She explores a darker texture with "Torso Corso," relying on a steady beat and an ominous organ swell for inspiration. While the minimal structures that permeate Press Color retain trace echoes of post-punk, Mambo Nassau revels in joyous celebrations of otherworldly dance music that at times seem reminiscent of the Talking Heads' forays into world beat or the Slits' fractured appropriations of reggae. Whereas on her debut Descloux's voice was often hushed and restrained, her second full length finds her confident enough to let go, lurching from a breathy delivery to impassioned vocals that match the snapping bass and wonderful rhythms of "Room Mate." "Sports Spootnicks" works a similar angle, opening up room for horns to scatter around her increasingly manic vocals, while the appropriately titled "Funky Stuff" is a frantic explosion of dance floor energy.
More than anything else, Mambo Nassau finds Lizzy Mercier Descloux brimming with restless energy and a boundless sense of creativity, sounding as much at home amidst the horns of "Mister Soweto" as she does on the otherworldly "Five Troubles Mambo." Sadly, after two records for Ze, Descloux retired from music to focus instead on other artistic efforts. The two records and the handful of singles she left behind serve as a testament to someone with a phenomenal musical acumen, one that perhaps could have captured more imaginations in our current days then she could have in her own time. And cruelly, undoubtedly as she was about to see a renewed surge of interest in her music, Descloux passed away on April 20, 2004, after a long bout with cancer. Although she had not been active in the music community for close to 20 years, these discs will now serve as a reminder to those who first experienced her sound, as well as others just picking up on the threads of mutant disco and post-punk.
While the eight discs that Ze has reissued do provide crucial pieces to understanding the various strains and influences of the oft-maligned "disco music," one hopes that there will be future releases to spotlight other key artists that figured heavily on the sound that this label created between two continents in the early 80s – namely one August Darnell, whose Kid Creole alias provided two of the best tracks (and a few key production credits) on the newly expanded Mutant Disco compilation. It's interesting to examine the various routes this music and its creators traveled, from edgy loft-dwelling punks to the kings and queens of the dance floor, and even all the way up to the "heights" of heavy MTV airplay. Listening to many of these tracks, it's relatively easy to see the influence it had on much of '80s new wave and pop music. Created from the remains of a style of music that most people had forsaken, these artists pursued avenues and ideas without having to be hampered by public expectations. While the close of the pop disco era had, in many people's eyes, laid down the bones of a type of music that had become more hackneyed than anything else, it merely opened the door for others to toy with the corpse – to pick and choose what they liked and mix it with their own sound, reveling not in a mandated style, but rather in an invitation to community and movement.

By Michael Crumsho