Dusted Features

Jordan N. Mamone presents an eight-album tour through Finland's burgeoning psychedelic scene.



Finland Calling
Why settle for refried Swedish garage punk when a cauldron of startling, non-derivative talent is furiously boiling over just a little further east? While the Hives, the Hellacopters and the (International) Noise Conspiracy have been swiping moves from '60s icons, experiencing mainstream success in Scandinavia and enjoying next-big-thing promo budgets in the States, a bold, modern Finnish psychedelia has been pushing the musical envelope, garnering a small core of devoted fans in Europe and remaining relatively unrecognized in America. Sure, it's a little unfair to compare these two contrasting scenes, but it makes for a loud wakeup call and a tidy intro, doesn't it?
These staunchly independent acts, many of which have connections to the art-rock colossus Circle, are not "psychedelic" in the conventional, retro sense. Applied here, the term signifies more of a shared aesthetic than a unified sound; it represents an altered state of consciousness created via repetition, experimentation, extended composition and brain-clouding audio effects. Having spawned eight of last summer's most interesting, inspiring albums, this tiny but fertile community deserves every ounce of hip acclaim it may ever reap:
---


Paine
Dioxidetunnel with a Red-Light and Endless Feeling
(Kaaari)
Paine (translation: "Pressure") combines the strengths of guitarist/keyboardist/voice manipulator Jyrki Laiho (ex-Circle), drummer/keyboardist/bassist Juha Ahtiainen (Ovalki; ex-Circle), drummer/bassist Janne Peltomäki (ex-Circle) and drummer/bassist Veli Nuorsaari (Kuusumun Profeetta). Despite a reliance on taut, oppressive structures that recall their mother band, these veterans have rapidly established their own identity by carving up hollow-eyed, sci-fi metal with unmatched efficiency and exhilarating force. The quartet's sleek, muscular four-song debut, Dioxidetunnel with a Red-Light and Endless Feeling (Kaaari), boasts the brawniest organic-meets-industrial rush since the glory days of Chrome or Hawkwind. Mysterious, spoken samples hover over controlled, robotic riffing, like some NASA broadcast gone horribly wrong. An obvious choice for EP of the year.
---


Ektroverde
Ukkossalama
(Ektro)
Laiho, along with Circle mainstay Jussi Lehtisalo, also appears on Ukkossalama (Ektro), the fifth and best full-length by the freeform Ektroverde. Though this jazzy side project's previous studio ventures intermittently suffered from inconsistency or automated stiffness, the ensemble's latest offering has finally duplicated the potency, spontaneity and funky looseness of its live shows. Nine performers stretch out and spiral heavenward, luxuriating in interlocking sax solos, acid-drenched guitar dribble and detached, impromptu talk-singing. Intergalactic echo and delay washes over everything in sight. Clocking in at over 26 minutes each, the two closing improvisations spectacularly exhibit how Ektroverde's intuitive jamming never strays into haphazard dullness.
---


Pharaoh Overlord
II
(No Quarter)
Lehtisalo, guitarist Janne Westerlund (Chainsmoker, Circle, Ektroverde; ex-Sweetheart) and stopwatch drummer Tomi Leppänen (Aavikko, Circle, Ektroverde) make up the ridiculously named Pharaoh Overlord, whose II (No Quarter)—unveiled by a Philly label that has patronized Earth and Laddio Bollocko—is the sole U.S. release of the lot. Weighed against the chunky stoner grooves of 2001's #1, this sophomore effort initially seems empty and overly subdued. Only the elephantine, post-Sabbath soporifics of "Skyline" display any degree of immediacy or payoff. But a strategy eventually surfaces from the deliberately monotonous murk of subtle feedback textures, dub basslines, skeletal leads and rigid yet understated beats. Hidden beneath this dauntingly stoic exterior, a wealth of profound, fascinating details will handsomely reward patient and attentive listeners.
---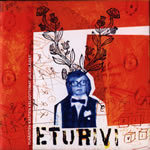 Eturivi
Ylhäisten Kastien Kelvottomat Jälkeläiset
(Verdura)
Executed by Lehtisalo, electronics inventor Mika Rintala (Ektroverde, Verde) and mouthpiece Kalevi Rainio (a.k.a. Kake Puhuu, the multimedia imp behind Keuhkot), the bone-stark, desolate cling-clang of Eturivi's Ylhäisten Kastien Kelvottomat Jälkeläiset ("Worthless Descendants of the Noble Caste") (Verdura) surpasses the already lofty expectations set by "Lempilapset," their first single from 2000. You'd be hard pressed to find many references for this wholly original trio, the handle of which means "Front Row" in English. Rainio's emphatic, satirical lectures punctuate the gray, staccato whizzing and clacking of a homemade, mad-scientist synthesizer known as Ruma. Eastern-tinged, Keuhkot-ish primitivism and Lehtisalo's megawatt guitars regularly rise from the mists to diversify the proceedings. Mere words can't do justice to this peculiar, often disturbing fusion, especially on standouts like the triumphal, Gregorian machine-hymn "Kevätjula."
---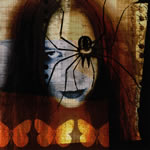 Vuk
Exile!
(Verdura)
Issued by the same record company and blessed with additional insular charms, Exile! (Verdura) is the maiden voyage by Helsinki's Vuk, nee Emily Cheeger, a 22-year-old Finnish-American currently studying at Yale. The cover photo might suggest feminine, angst-ridden Goth, but the disc's contents are infinitely more complex. Imagine a fierier, less frilly Björk, PJ Harvey or Nico lancing every commercial impulse from her repertoire, and you'll have only vague insight into this woman's deep, emotional bouts with death-gospel drama, esoteric organ-and-harmonium requiems, percussive chants and unbridled, youthful whimsy. Vuk's material sometimes succumbs to its own preciousness, but her technical savvy (she plays nearly everything herself) and versatile delivery definitely compensate. She enchantingly swoops from stony declamations to avant-R&B purrs, casting a transcendent spell on such delicacies as the sensual, anguished title track and a giddy tango belted out in French.
---


Markku Peltola
Buster Keatonin Ratsutilalla
(Ektro)
Sporadic Ektroverde participant and Motelli Skronkle member Markku Peltola—the respected actor who starred in director Aki Kaurismäki's recent, Oscar-nominated film The Man Without a Past—favors an equally eccentric but far more reserved approach. Juxtaposed alongside Ms. Cheeger's restless explorations of blossoming adulthood, the earthy, cinematic Buster Keatonin Ratsutilalla (Ektro) comes off like the worldly, cockeyed ramblings of a wise and mischievous uncle. Dazzling gypsy violin, sly acoustic motifs and breezy romanticism coalesce into delightful, well-orchestrated instrumentals that inhabit another time and place, though it's impossible to pinpoint just when and where.
---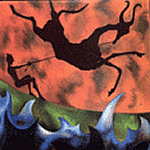 Alien Heat
Awake in a Dream
(Fonal)
Beautifully packaged in sleeve that resembles a hallucinatory cave painting, Alien Heat's Awake in a Dream (Fonal) also steers clear of the darker, harsher tendencies that typify many of the aforementioned artists. Joined by cohorts that include Paine's Veli Nuorsaari, guitarist Teemu Elo (ex-Circle, ex-Ektroverde, ex-Office Building) tries his hand at heartfelt, electric folk rock that pays homage to tradition (especially to the poppy side of Barrett-era Pink Floyd) while evidencing plenty of ingenuity and personality. Crystalline female backing vocals and the odd spot of warped fuzztone or Celtic flute add a customized sparkle to the groovy melodies and comfortably familiar chord progressions. Elo reveals himself as a very capable, sentimental balladeer, seasoning ordinary love-struck texts with fanciful allusions to space, religion and nature ("lord of the royal dragonflies/leader of the parasites," anyone?). Catchy as hell without being cloying, the results are pure sunshine.
---


Deep Turtle
Turkele
(Zerga)
The brief, seven-song Turkele (Zerga) boisterously heralds the return of Deep Turtle, a hyperactive threesome that spat out a flurry of singles, laid down one LP and collaborated with Circle under the moniker Ympyräkonnat prior to going on hiatus in 1996. The combo's pièce de resurgence admirably picks up where the preceding "Tungo" 45 and Flutina EP left off, only with greater emphasis on tunefulness and with lyrics snarled entirely in shockingly well-accented Spanish. Pentti Dassum's truly awesome guitar zooms around the house like a short-circuiting vacuum. A walloping, virtuosic rhythm section supports him by breathlessly charging through crazed, slice-and-dice crescendos, pauses and tempo changes. Deep Turtle's balls-out eclecticism periodically borders on quirkiness, but thankfully, the group's constantly maturing barrage of surprises never fails to impress and entertain. John Zorn would crap his drawers were he smart enough get his mitts on this.
More info: Kaaari (pa1n3@hotmail.com); Ektro (www.ektrorecords.com); No Quarter (www.noquarter.net); Verdura (www.verdurarecords.com); Fonal (www.fonal.com); Zerga (www.deepturtle.net).

By Jordan N. Mamone